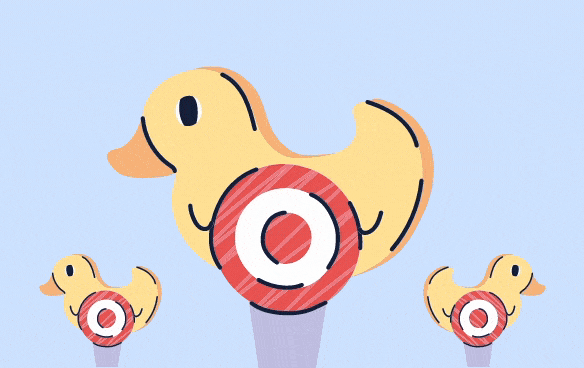 7 ACoS-Friendly Ideas for Your 2021 Amazon Advertising Strategy
What does your 2021 Amazon advertising strategy look like?
Whether you're looking for ideas or confirmation that you've chosen the right Amazon ad strategy for 2021, this post offers insight into some of the most effective tactics companies can use to improve their Advertising Cost of Sale (ACoS), conversion rates, and brand awareness in 2021.
Keep reading to learn more about these seven Amazon advertising ideas for 2021, which include:
Increase conversions with optimized product listings
Drive immediate sales by targeting ASINs
Build brand awareness with category targeting
Secure more product orders with Sponsored Display audiences
Improve ACoS by testing and optimizing campaigns
Grow revenue by expanding into international markets
Maximize performance by remaining flexible
For even more advertising tips and tricks, check out the resource more than 150,000 marketers trust: Revenue Weekly. Sign up today and receive your first email with expert advice for marketing and advertising your business online!
7 fantastic ideas for your Amazon advertising strategy in 2021
Amplify the performance of your Amazon advertising strategy in 2021 with these seven fantastic ideas:
1. Increase conversions with optimized product listings
A successful Amazon ad campaign goes beyond the Amazon Advertising platform.
It also includes search engine optimization (SEO).
With Amazon SEO, you optimize your product listings to appear at the top of relevant search results. Someone selling a milk steamer, for instance, would want their product to appear in search results for that keyword.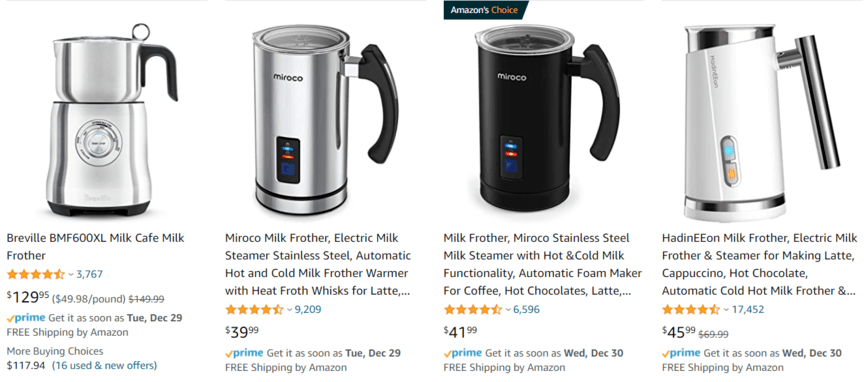 Amazon SEO should go beyond higher product rankings, though.
It should also consider how your business can take a product listing's traffic and increase its purchase rate. Since everyone sees the same listing, whether they click on your ad or your product listing, it's critical to practice conversion rate optimization (CRO).
So, how can you optimize your product listings to drive more sales for your ad campaigns? A few ways:
Test different product images
Experiment with different product features
Tweak product titles
Software like Splitly can make running optimization experiments easier. That's because Splitly will test different variations, say of product features, to determine which one performs better when it comes to sales.
With continuous optimization of your product listings, you can uncover new ways to drive orders through organic and paid traffic. Plus, you will better understand your target audience and what motivates them to buy your product.
2. Drive immediate sales by targeting ASINs
If your Amazon advertising strategy for 2021 focuses on targeting actual search terms, like "milk frother" versus seemingly random strings like "F08PHHTS6W," you'll want to check out this Amazon advertising idea for 2021.
Your Amazon Standard Identification Numbers (ASINs) serve as unique identifiers for your products — and your competitor's products — on Amazon.com. While many shoppers use actual search terms to find what they need, others use ASINs.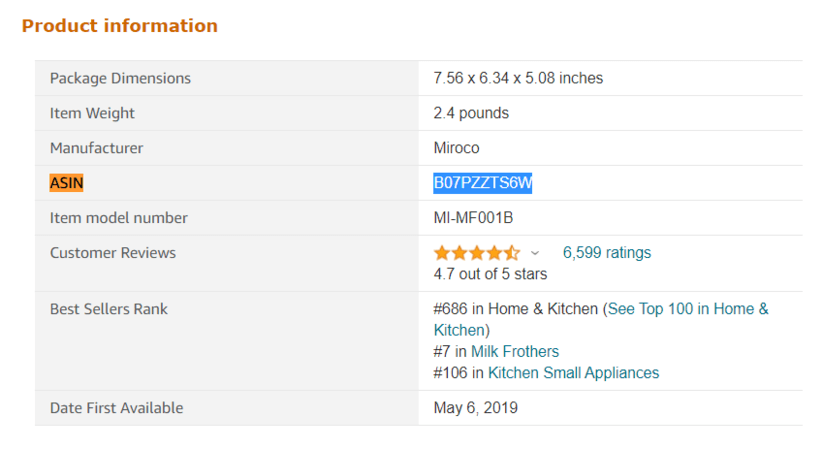 That's why your Amazon ads should target ASINs.
When you include ASINs as keywords, you help your business:
Appear for relevant searches
Target competing products
Drive product sales
If you want to get started with this Amazon ad strategy for 2021, check your Amazon Search Terms report. This report will contain a list of search terms that people used to find your product. If you spot ASINs, search for them on Amazon and see what pops up.
Based on your research, you can decide if it's worth adding these ASINs to your ad campaign.
3. Build brand awareness with category targeting
Brand awareness is an underrated advertising goal.

Building brand awareness helps your company generate sales in the short- and long-term. That's because shoppers trust brands they know, which is why brands claim more than 80% of clicks on the first page of Amazon search results.

When you build a brand, you have the flexibility to sell wherever you want online, including your website. That additional flexibility will almost always translate to more visibility and sales for your business.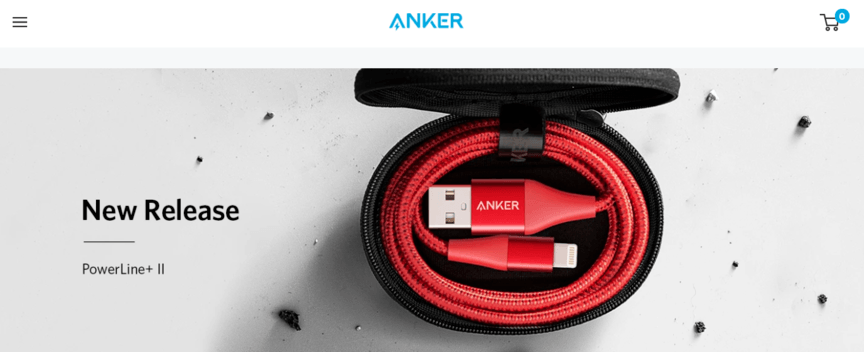 So, besides creating campaigns for driving sales in 2021, set some ad spend aside for building awareness for your brand. A Sponsored Brands campaign, for instance, can help your business promote its brand and attract more shoppers to your business.
Sponsored Brands work well for building brand awareness because they highlight your brand and three product offerings. For someone starting their product research, like on an espresso machine, this kind of ad provides an excellent starting point.

Take this example from Mr. Coffee for the search, "espresso machine."
The ad highlights three products, which serve the same need at different price points. For someone just starting their search on espresso machines, these product listings offer helpful information — like how much an entry-level espresso machine can cost — and convenient purchase options.
Follow the example of Mr. Coffee and take a similar approach with your Sponsored Brands campaigns.
4. Secure more product orders with Sponsored Display audiences
Remarketing is a powerful advertising tactic because it helps your business capture lost sales. With Sponsored Display audiences from Amazon, your company can launch some of the smartest remarketing campaigns.
Sponsored Display audiences allow you to create custom audiences based on a product page's:
Brand
Price range
Star rating
Prime eligibility
You can target shoppers that visited your product page, as well as product pages like yours.
The best part is Sponsored Display audiences help protect and maximize your ad spend.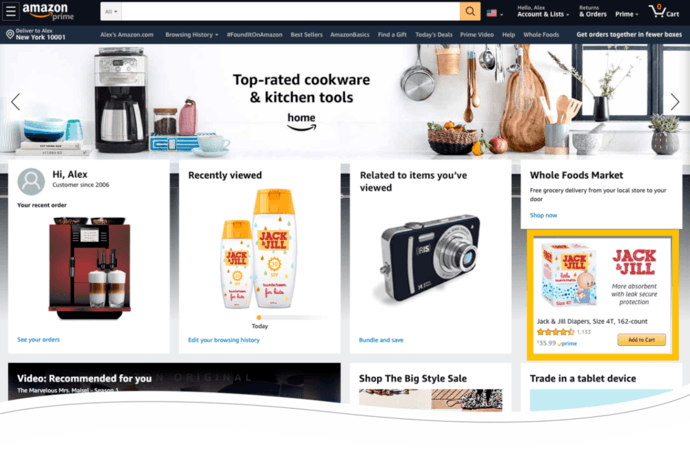 If your product inventory reaches zero, for instance, Amazon will pause your campaigns automatically. Amazon will also update your product ads to include badges that often spur clicks, like Prime eligibility, limited-time deals, and more.
Since most shoppers take six to seven days to make a purchase after their initial search, it's smart to use Sponsored Display audiences in your 2021 Amazon ad strategy. With Sponsored Display audiences, you can keep your business top-of-mind during those six to seven days, which can lead to more sales.
5. Improve ACoS by testing and optimizing campaigns
No matter the ad network, the first version of your ads isn't the best one.
If your company wants to improve its ACoS and increase its product orders, you need to spend time testing and optimizing your campaigns. With continuous testing and tweaks, you can get the results you need and want.
For example, you can experiment with the following elements:
Ad structure
Promoted products
Keyword targeting
Keyword bids
Ad types
Ad targeting
And more
Proactive ad management can help your business make the most of this Amazon advertising idea for 2021. For example, checking your campaigns every week or every two weeks can help you spot problems or opportunities sooner.
P.S. If you're struggling to find the time or ideas for optimizing your campaigns, WebFX can help. With more than 650 pay-per-click (PPC) campaigns managed, you can count on us to find and implement updates that benefit your bottom line. Check out our Amazon advertising services to learn more!
6. Grow revenue by expanding into international markets
Got products with international market value? Then, write down this 2021 Amazon ad strategy.
Since Amazon operates in multiple markets, from the U.S. to the U.K., your company can quickly scale its business to the international level. The best part is that many global markets, like the U.K., boast lower ad costs than the U.S. market.

Before you break into the global marketplace, though, do some research to determine:
Which countries you will sell your product to
How much you will sell your product for in these markets
What taxes and regulations you will have to consider
How you will fulfill international orders
If international markets are worth your investment, start the process to join Amazon Global Selling.
Once you join the global marketplace, you can begin promoting your products with Amazon Sponsored Products. These ads will help your business increase its visibility immediately, which will often lead to an influx of orders.
7. Maximize performance by remaining flexible
Flexibility is one of your best tools, especially when talking about 2021 Amazon advertising strategies.
When you remain flexible, you give yourself the power to adapt to new changes, tools, and tactics, leading to better returns. In comparison, competitors that stick with their original strategy will often struggle to see the same results.
As an example, look at Sponsored Display audiences.
Amazon launched this feature in November 2020. Companies that stayed flexible with their strategies went ahead and began experimenting with this brand-new tool to increase fourth-quarter earnings. In comparison, inflexible sellers pushed forward with their original plan and old campaigns.
Similarly, many businesses take a set-it-and-forget-it approach to their ad campaigns. They let their ads run without setting aside time to evaluate campaign performance, which leads to wasted ad spend and lost sales.
Be flexible in your 2021 Amazon advertising strategy, and you will help your company succeed.
Make your Amazon advertising campaign strategy for 2021 a financial success
Advertising on Amazon is one of the best ways to drive revenue for your business.
With a strategy inspired by the above Amazon advertising ideas for 2021, you can help your company improve its ACoS, increase its sales, and build its brand. If you're looking for some expert advice tailored to your business and its goals, though, WebFX can help.
Contact us online or call us at 888-601-5359 to learn more about our Amazon advertising services!