accessiBe: Optimize for Accessibility Using AI Technology
Improving a website for accessibility is no longer a luxury—it's a necessity. It's not only required by law but also, as a web designer, it's your job to make sure websites are accessible to everyone, including for people with disabilities.
For many years most designers and agencies avoided the topic of website accessibility for believing that it costs way too much to make a website accessible. The truth is it's an effortless process that you can now entirely automate using AI-based software at a very affordable cost.
accessiBe is a tool to do just that. It uses Artificial Intelligence (AI) to optimize websites for accessibility. In this review, we take a closer look at how useful this software really is.
We've even installed accessiBe on our own site to see how it works. Keep reading to see it in action!
Website Accessibility and the Law
Before we get to all the details about this software, it's important to understand how accessibility affects your users and your business.
In many cases, and for many businesses, having an accessible website is a legal requirement. Between 2017 and 2018, website accessibility-related lawsuits sky-rocketed by 181%
Accessible website design, importantly, is also about offering a better UX to all audiences, attracting more customers, and serving every potential visitor with the best possible experience.
What Is accessiBe?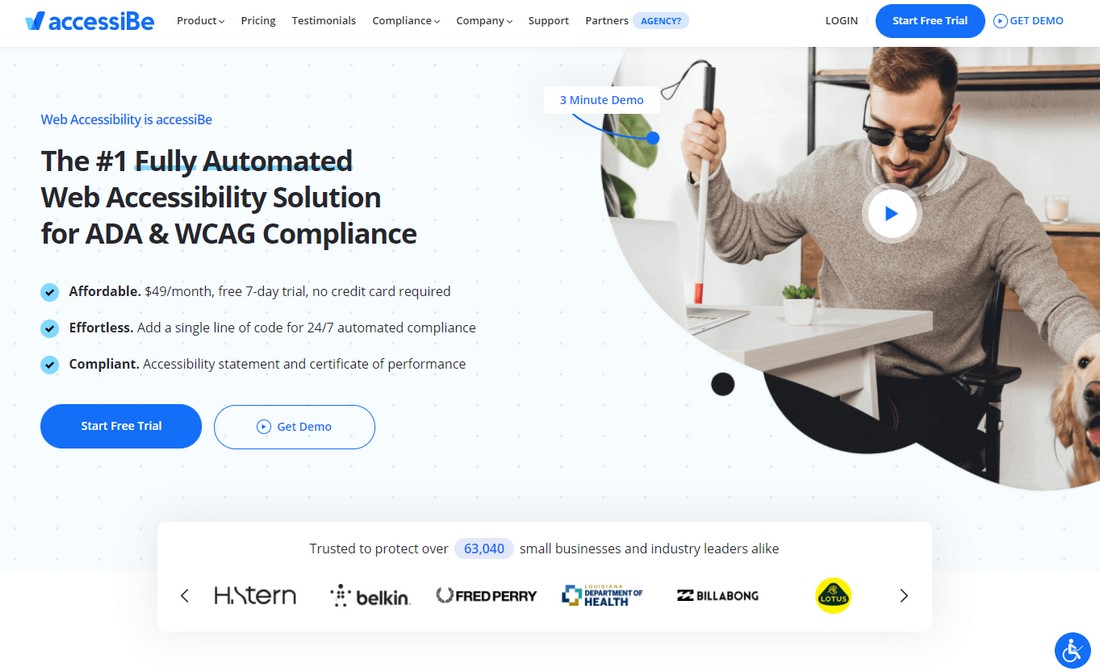 accessiBe is a platform that provides a fully-automated solution for optimizing websites for accessibility. The software solution seamlessly integrates with your website to provide all the necessary tools to make your site compliant with accessibility laws and regulations.
What makes this software most amazing is how it uses AI technology to scan your website for accessibility issues and adjust them based on different types of vision disabilities.
Normally, agencies charge up to $50,000 per year to provide website accessibility services. accessiBe provides the same, if not an even more convenient, solution for a fraction of that cost.
Main Features of accessiBe
Using a fully-automated solution like accessiBe comes with many benefits. Here are just a few of the great features that make this platform more useful.
Powered by State-of-the-Art AI Technology
The main selling point of accessiBe is its' powerful AI that gets powered by machine learning technologies. This AI helps detect accessibility issues in a website almost instantly and optimizes the site.
The AI is trained with OCR and image recognition technologies to scan text and images on your website to adjust them according to accessibility standards.
Multiple Layers of Adjustments
accessiBe improves your website on multiple levels. Including adjustments for screen readers, keyboard navigation, and other design adjustments such as color and contrast, animation, sounds, and more.
The best part is that the fixes are compatible with both desktop and mobile versions of your website. All fully-automated.
Easy To Use for Both You and the Users
Installing and configuring accessiBe is quite easy. You can either let the AI do all the work or easily customize it to your preference with just a few taps or clicks. No coding knowledge required.
The smooth and simple front-end interface makes all this possible by providing a very personalized experience for the users according to different types of disabilities.
Daily Compliance Monitoring
When using accessiBe, you don't have to worry about checking your website content for accessibility every time you publish a new page or make a change to your website. accessiBe scans and monitors your website every day to ensure it's up to the latest accessibility standards.
The solution will even email you a complete accessibility compliance audit of your website every month.
How It Works
To see how effective accessiBe really is, we installed it on DesignShack. The entire process from installing to customizing accessiBe is an effortless process. Here are all the highlights.
Is It Difficult To Integrate?
This is probably the biggest question you have right now and we can assure you installing and integrating accessiBe with your own website will only take a few seconds.
All you have to do is copy and paste a single line of code to your website to install accessiBe. It's similar to installing Google Analytics. From the moment you integrate the service, the accessiBe AI starts scanning the website for accessibility improvements.
However, it could take up to 48-hours to get a website fully compliant and certified with WCAG and ADA.
How Your Visitors Can Use It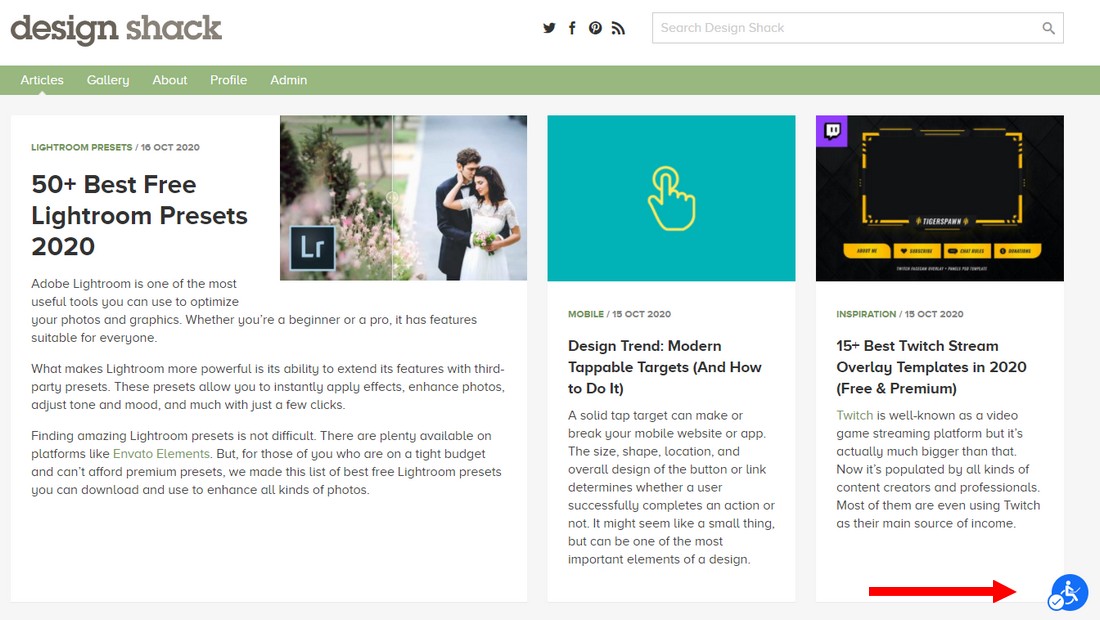 After integrating accessiBe with your website, you'll notice the accessiBe icon appear on your website. Clicking on this icon opens the accessiBe panel.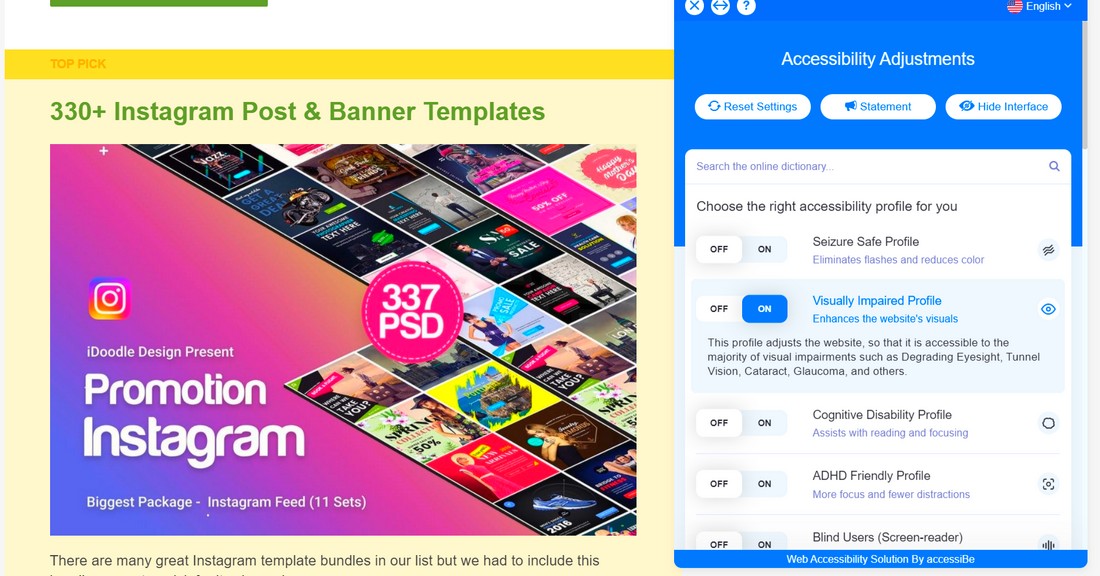 From the accessiBe panel, you can choose to adjust the website design according to your need. A simple click is enough to completely transform the website to serve audiences with different types of vision impairments and disabilities.
How To Customize accessiBe
accessiBe also provides several methods for manually adjusting the website according to your preference.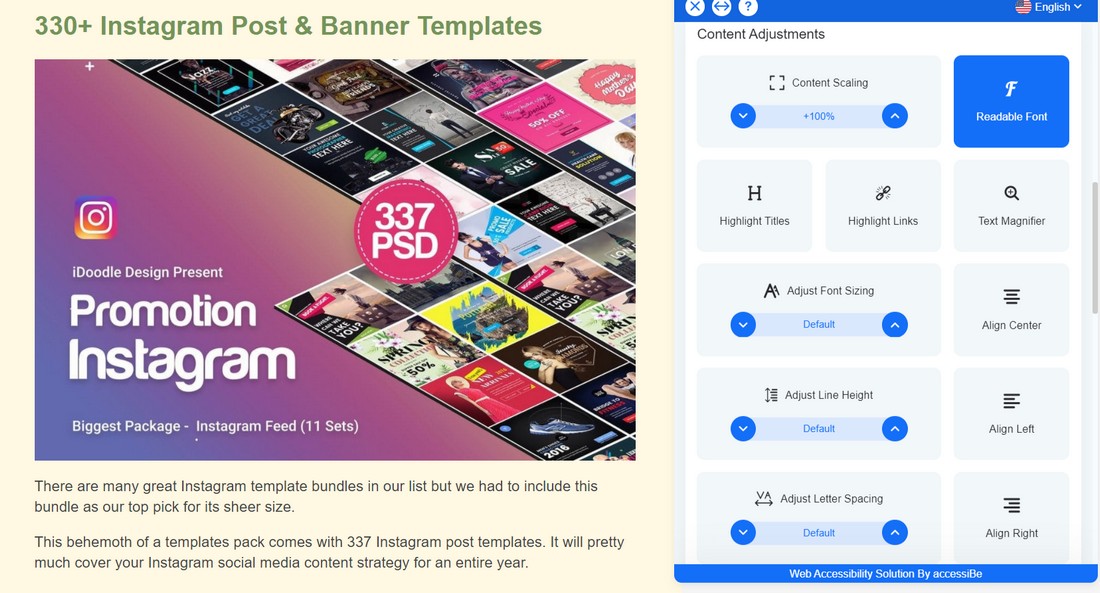 You can easily customize the content design by adjusting the text and fonts.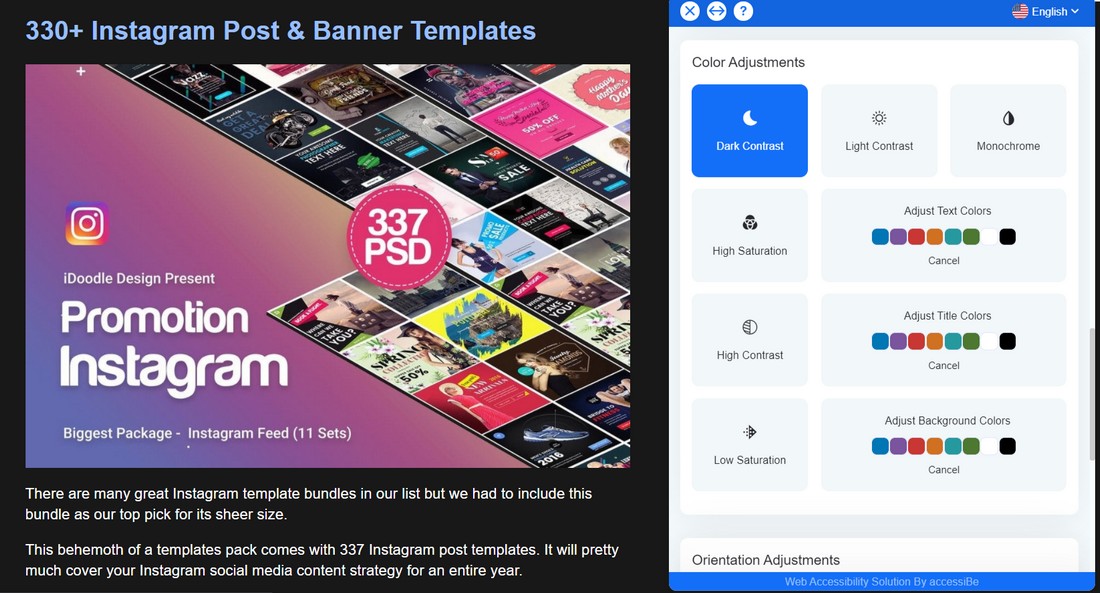 Use the color adjustments section to change the visuals of the website, including the contrast.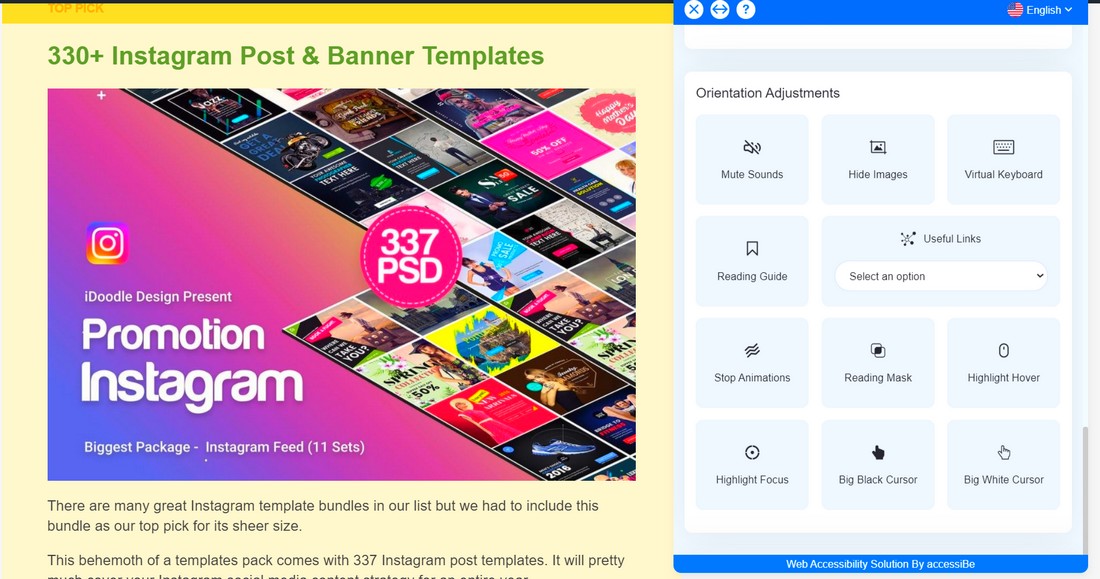 And the orientation adjustments panel lets users change or disable any of the website features that interfere with their experience, like animations and sounds.
After the changes are made, accessiBe will remember these changes the next time you visit the same website as well.
It's truly amazing how simple it is to use accessiBe.
How Much Does accessiBe Cost?
accessiBe offers several convenient pricing plans for you to choose the right option for your website.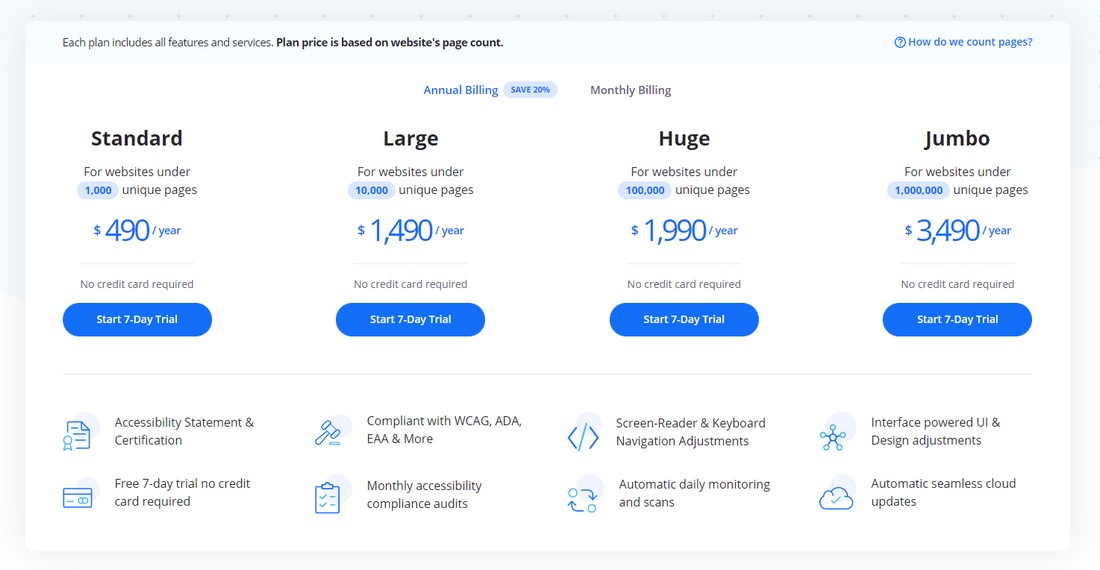 It will cost only $49 per month or $490 per year to implement the accessiBe solution on your website. This plan is designed for websites with 1000 pages or less.
The pricing differs based on the number of pages on your website. The $1490 per year plan is created for websites with up to 10,000 pages. And it's $1990 for websites with up to 100,000 pages. There's a plan for websites with 1 million pages as well.
It's arguably the most affordable way to manage your website accessibility.
Should You Use accessiBe?
First things first, run an audit on your website to see what kind of adjustments need to be made to make your website compliant with WCAG and ADA. Then you'll be able to decide whether to hire an agency or use a software to fix your website.
accessiBe is a great solution for all kinds of businesses for making their websites accessible. It's especially useful for brand websites that target audiences from around the world. For online retail stores that updates their inventory every day. For startups and businesses that sell services and products. And much more.
The fully automated solution of accessiBe will definitely help you sleep better at night knowing your website is always up to standards required by law.
If you're still not sure about using the platform, give the 7-day free trial a try and see it for yourself.