9 Amazon Seller Tips to Skyrocket Sales for Your Business
U.S.-based small to midsized businesses (SMBs) sell over 4000 products each minute on Amazon. This platform is a great place to sell your products and increase sales, but only if you take the necessary steps to maximize your chances of earning a sale.
If you feel like you aren't selling as many products as you'd like and your return on investment (ROI) isn't where you'd like, we're here to help.
Keep reading to get nine Amazon seller tips that will help you reach more customers and drive more sales and revenue for your company! And if you need more helping with marketing your products on Amazon, check out our Amazon marketing resources!
Partner with Ecommerce masters!
Campaigns managed by WebFX have earned over

9000000
TRANSACTIONS IN THE LAST 5 YEARS
Read Case Studies
1. Find relevant key terms for your product listings
First on our list of Amazon seller tips and tricks is to find key terms, which is a critical component of Amazon search engine optimization (SEO). When users search for products, they use keywords to help find relevant product listings.
If you're not optimizing your product listings for critical terms, you're not likely to rank in relevant searches.
So, how do you find relevant keywords for your product listing?
You can use an Amazon-specific keyword tool, like Sonar or Keyword Tool, to identify relevant key terms. You'll use the core keyword for your product and search it in these tools to find relevant terms for your listing.
For example, let's say you sell filing cabinets. If you plug that keyword into Sonar, you can see multiple other keywords you can use on your product listing to help people find your product.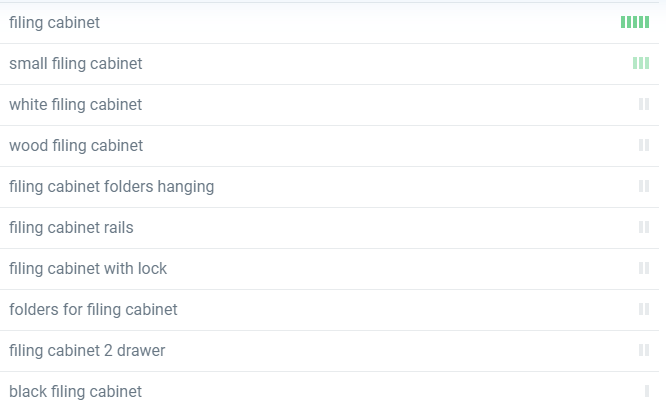 When you find relevant terms, you'll want to determine which keyword will serve as your core keyword, and which keywords are supplemental. With your core keyword, you'll want to integrate it into all parts of your listing, from your product title to your description.
For supplemental keywords, you can integrate one or two into the product description, but you can incorporate the rest of the keywords as backend keywords, which we'll address next.
2. Utilize backend keywords
One of the most critical tips for Amazon sellers is to use backend keywords. As the name implies, backend keywords appear at the back of your listing. Your audience never sees these keywords, but your page still ranks for them.
It's valuable to utilize backend keywords because it helps you appear in more relevant searches than just your core keyword.
You can add backend keywords to your listing by following these steps:
Log into Seller Center
Go to the inventory tab
Look for the Offer tab
Click Keywords
Open the hidden keyword section
When you input backend keywords, keep in mind that you can only use 250 bytes, not 250 characters. Each letter and symbol have a certain bite count, like A-Z and 0-9 count for one byte. So, when you input your keywords, keep this limit in mind.
You can use your Amazon keyword tool of choice to find additional keywords to integrate into the backend so you can appear in more product search results.
Bonus Amazon seller tip: When choosing keywords, make sure you keep the word order logical to the way your audience searches. Someone looking for a "digital wall clock" probably won't search "wall digital clock." Input keywords how your audience is likely to search them.
3. Optimize your product title pages
Next on our list of tips for Amazon sellers is to optimize your product title pages. Your product title page is one of the first things your audience sees when they see your product in search results. You want to provide a clear product title, so your audience understands your product.

You want to make sure you include:
Brand name
Color/flavor/variant
Size/quantity
Keywords
This information is critical to your product listing and helps users determine if your product fits what they need.
Here are some best practices you'll want to follow when writing your product titles:
Don't include commentary in your title like "hot seller," "great item," or "best product."
Capitalize the first letter of every word except articles and phrases like "and."
Use numerals instead of spelling out numbers (3 instead of three)
Spell out measure words (3 inches instead of 3", 3 pounds instead of 3lbs)
Do not use all caps for your title
When you write your title, make sure you comply with Amazon's rules. Otherwise, customers won't find your products on the platform.
To help you write a foolproof product title, follow this recommended format:
---
[Brand] [Feature] [Material] [Key Ingredient] [Product Type] [Model Number] [Size/Package/Count] [Color] [Flavor]
---
4. Optimize your product listings with more informative descriptions
On this list of selling on Amazon tips, the next aspect we'll look at is product descriptions. Product descriptions are critical to helping you sell your products to your audience. When you provide more product details, you help nudge your audience closer to conversion.
There are two different production description areas. The first is at the top of the page in a bulleted list.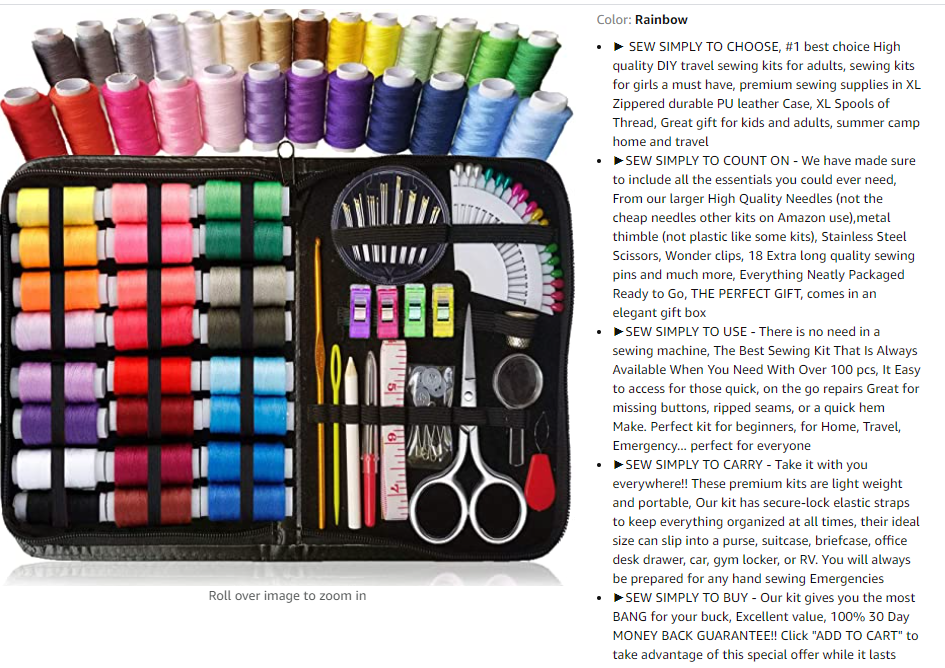 Further down the page, you'll have an opportunity to build out your Amazon storefront by providing more in-depth descriptions of the product and your store.
An informative product description is critical to selling products online. Since your audience can't see the product in person, you need to provide them with as many details as possible.
When you write your product description, make sure that you focus on how your product benefits your audience. Highlight the features they'll love and how your product will make their lives easier. You can talk about the materials, the features, and more.
An informative product description that integrates your keywords will help you rank better in search results too. Focus on your core keyword and one or two supplemental keywords to rank in the right product search results.
5. Check competitor pricing
If you want to know how to sell more on Amazon, start by checking your competitor's prices. You need to price your products competitively to ensure that you keep pace with your competition while continuing to make sales.
When you have a unique product, you might not need to check competitor pricing because someone else will not have the same product. However, if you sell products that other companies offer, you'll want to see how they're pricing their products to set your prices accordingly.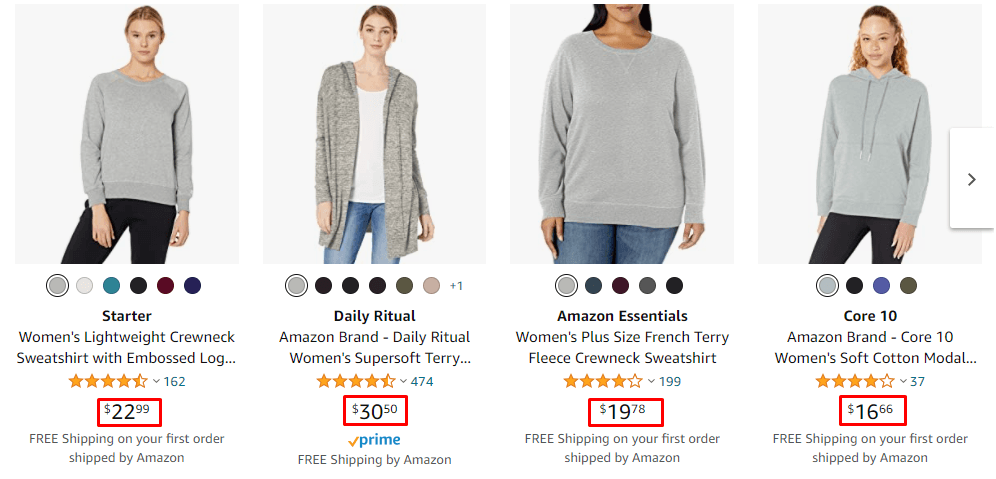 You can use Amazon's low-price feature to help you determine how to set your prices right.
6. Use high-quality, professional images
Next on our list of tips for Amazon sellers has to do with images. Your photos are a critical component of your Amazon listing. As stated previously, your audience can't see your product in person, so they rely heavily on your product description and your images.
You need high-quality images to help you sell your products. You want to take photos from all angles of your product, so your audience gets a full picture.
Make sure you use clear, high-quality images. High-quality images are critical to building users' trust. Don't use grainy or stretched images as it won't help people see your product and leads your audience to distrust your product.
Bonus Amazon seller tip: The first photo on your listing must have a plain white background and only feature your product. Your other images can have any background or other items in the picture.
7. Leverage product reviews
If you want to know how to sell more on Amazon, be sure to leverage product reviews. This tip is one of the most important tips for Amazon sellers because reviews have an enormous impact on whether people purchase products. In fact, 92% of people trust recommendations over brands.
When people buy your products, encourage them to review your product. You can send them a personal follow up email and encourage them to provide you with feedback.
In addition to encouraging reviews, you'll also want to monitor your reviews. Not everyone will have a positive experience with your product. You'll want to monitor reviews and respond to people who have a less than stellar experience.
If you have dozens of negative reviews, future shoppers may hesitate to buy your product. When you provide great customer service, your audience may feel compelled to update their review and provide a more positive review on your product listing.
Bonus Amazon seller tip: Be proactive with your customer service! When someone purchases your product, reach out to them and ask them to contact you with any issues or questions. That way, if someone has a problem, you can resolve it before they leave you a review.
8. Manage your inventory
One of the essential Amazon seller tips and tricks regards managing your inventory. When you sell on Amazon, you need to proactively manage your product inventory, especially if you're selling products on your website as well.
You don't want to sell an item and then not have the item in stock. Additionally, you can get your Amazon account suspended if you sell products that you don't have available.
You'll want to track your inventory numbers in a spreadsheet so that you're always aware of how many units of a specific product you have. You may want to consider setting aside a specific amount of products to sell on Amazon and then adding more as you sell out.
9. Try to win the buy box
Last on our list of Amazon seller tips is to try to win the buy box. The buy box is the box that appears on the right-hand side that enables people to add your products directly to their cart and order it immediately.

Unfortunately, there isn't a precise way to acquire this box. Amazon's algorithm is a secret, so there's no way to guarantee that you'll get the buy box. But you can follow best practices to try to obtain it.
Here are a few best practices:
Keep your inventory up to date
Offer competitive prices
Obtain positive customer reviews
Maintain a high seller rating
Following these best practices can increase your chances of winning the buy box.
Put these Amazon seller tips to work
You've got all the Amazon seller tips you need to optimize your Amazon storefront and drive better results for your business.
If you're feeling overwhelmed by everything you need to do, WebFX is here to help. We have a team of over 250 marketing experts that know how to help Amazon sellers sell more products.
We offer a wide variety of Amazon-related services to help your business grow online:
Amazon SEO
Amazon pay-per-click (PPC) advertising management
Amazon review management
Amazon consulting services
We have over 550 glowing testimonials that attest to the excellent work we do! Find out what it's like to partner with us by calling 888-601-5359 or contacting us online!