Graphic Design Is My Passion Meme Explained
According to PayScale, the average annual salary for a graphic designer is around $40,000. This attracts a lot of people that offer their services without real experience and knowledge. Surely you have at least one person in your environment who says: "Graphic design is my passion". And he's not always really talented, is he?
It was because of such "professionals" that the famous meme appeared. So let's have some fun today, laugh at the graphic design memes and look at a few cool design templates for those creators for whom their profession is truly their passion.
Graphic Design Is My Passion Origin
"Graphic design is my passion" is a clichéd phrase that is especially popular among designers. And not all of them are really professionals in their field. You can see this phrase in every second resume of any digital specialist, comments on Reddit, and other social networks.
Tumblr users got so tired of this phrase in 2014 that they began to parody it using a cloudy gray background, cartoon characters, and this very phrase written in the Papyrus typeface.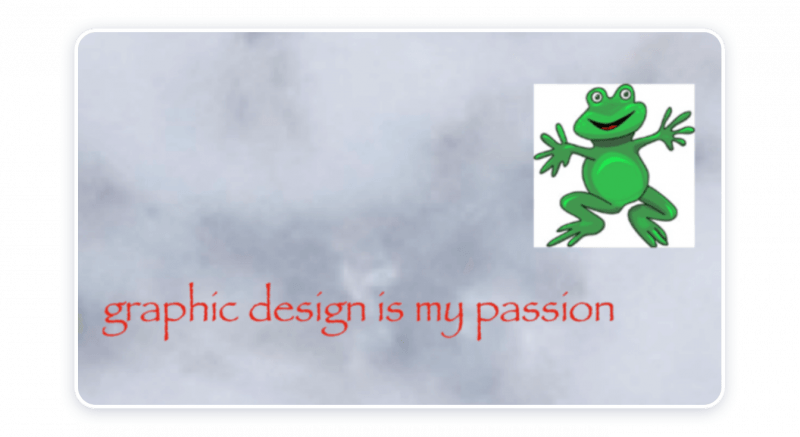 This post collected 325,000+ notes in a year. After a while, many other users also began to offer their own variations of this graphic design meme, already with other weird backgrounds.
Graphic Design Is My Passion Meme
Internet users loved this sarcastic meme so much that since 2014 it has only been gaining popularity. The original meme with a gray background was gradually forgotten, but in its place came a meme with a rainbow and the same inscription. Sometimes you can also see the same meme with another inscription, "web design is my passion".
According to the Google Trends statistics, since 2015, interest in the meme has not subsided. Let's take a look at its different funny variations.
Graphic Design Is My Passion – Rainbow
Below is the most typical example of this meme – a rainbow background and a cartoon character on a white background. This meme epitomizes the way some poor creators choose fonts and work with images.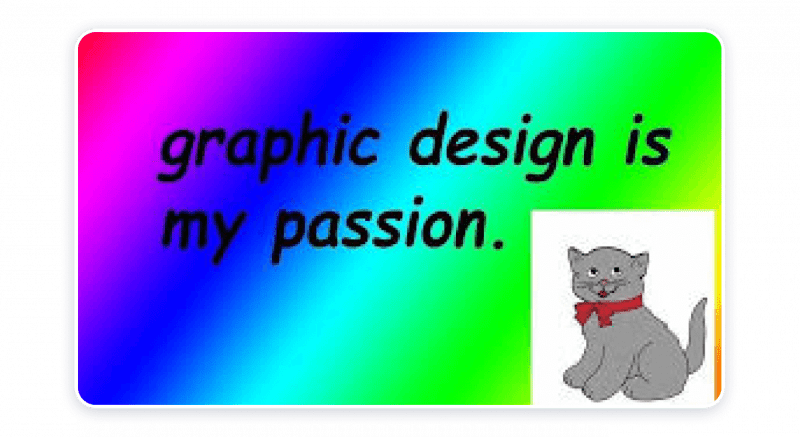 Graphic Design Is My Passion Meme With Different Fonts
Remember your first exposure to computers and trying to create something beautiful in the Paint editor? The meme below is totally about it. Indeed, so many creators mix incompatible fonts and use a garish set of colors!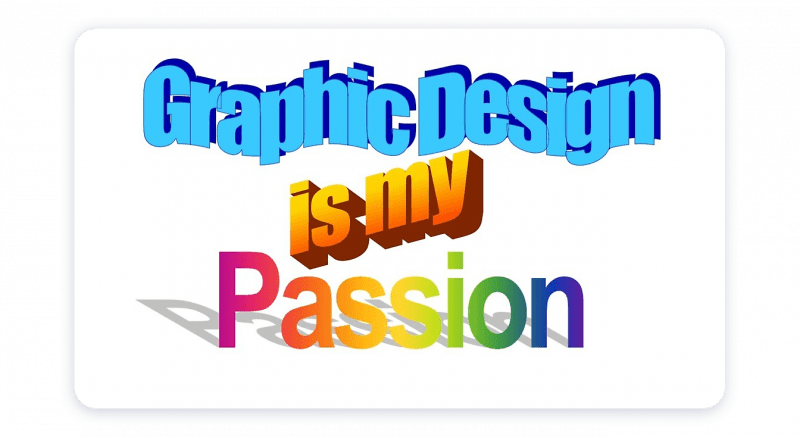 Graphic Design Is My Passion GIF
All the colors of the rainbow, letters of different sizes, strange tilt, and crazy animation – everything here literally screams about bad taste. Just look at those blinking and iridescent letters!

Web Design Is My Passion — Well-Designed Templates
And now jokes aside, ladies and gentlemen. Of course, what is considered beautiful is an open question. But there are still some points that determine how good the design is. For example, padding, color combinations, etc. At Weblium, we love quality layouts. We enjoy sites that we want to open again and again and that are easy to use. With this in mind, we create our templates to let our users create their websites really fast and easily. If you are a designer in any field and want to create a beautiful website for yourself, take a look at our templates below.
Lightning Design Studio Website Template
This is a fairly simple yet functional one-page site for a lighting design studio. Also, if desired, it can be remade for virtually any other type of activity – for example, for a custom furniture studio.
Highlights:
Slider with convincing CTAs.

Gallery tile with featured projects.

Block with information about your team.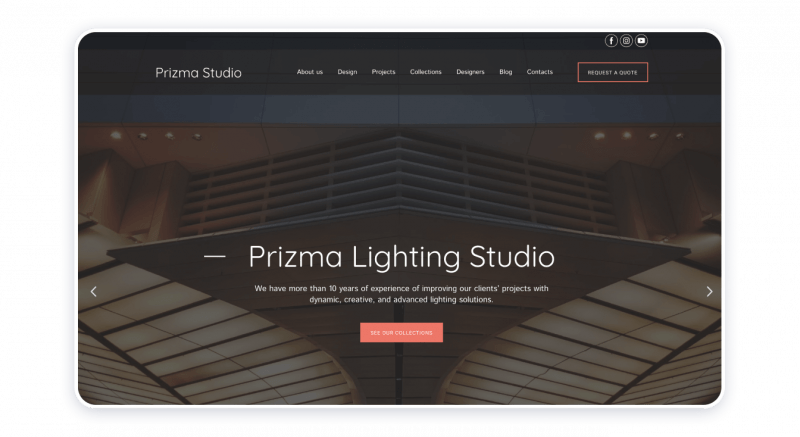 Web Design Agency Website Template
If you want to quickly create a website for your agency, this is your chance! This template looks great and provides all the necessary blocks for your agency website. This stylish site will definitely convince your clients of your professionalism. So that you can not just tell them "graphic design is my passion", but really prove that with your stunning website.
Highlights:
Portfolio with the latest projects.

Testimonials.

Blog and Careers blocks.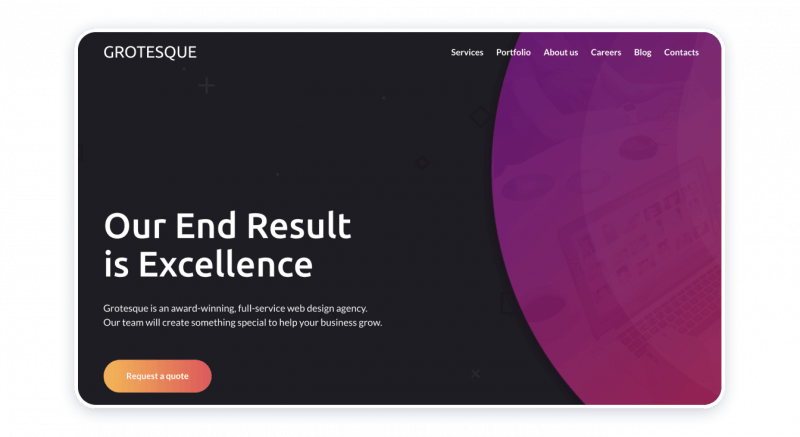 Interior Design Website Template
If you are an interior designer or run a studio, you'll like this plain and minimalistic template. It has everything you need to introduce your services to your clients. If necessary, this multi-page template is also easy to change for a furniture, lighting studio, and so on.
Highlights:
Several internal pages.

Portfolio block.

Before & After block.

Testimonials.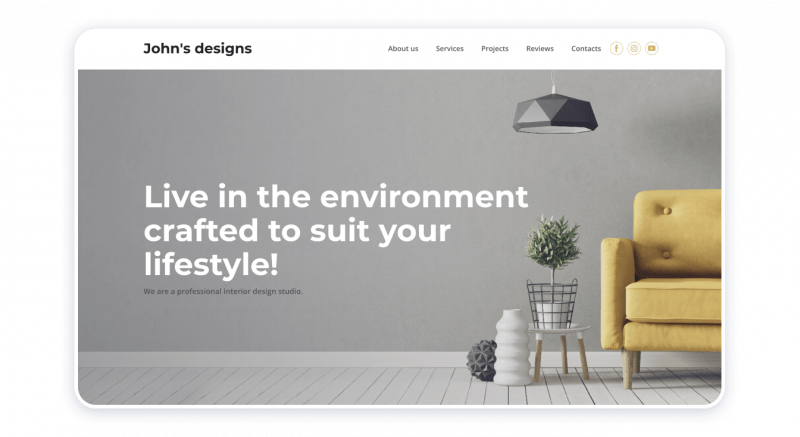 Design Agency Website Template
This is one of our favorite templates. It looks very modern and beautiful. This template is suitable for design and branding agencies, as well as graphic and web specialists.
Highlights:
Two different types of schedules.

Pricing block.

Testimonials.

FAQ section.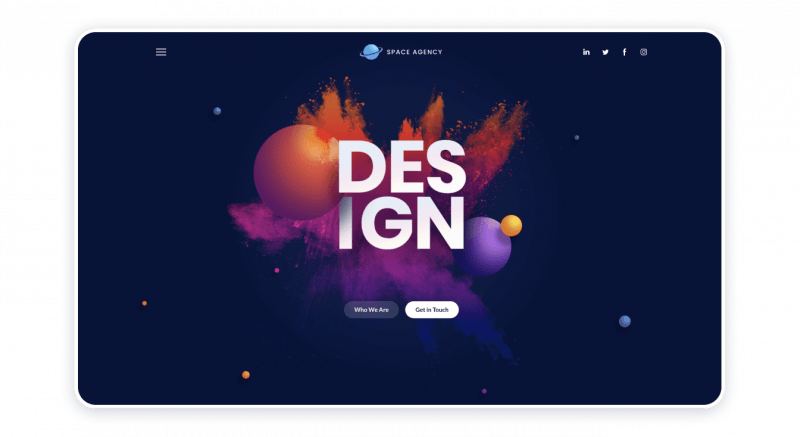 Interior Designer Website Template
Here's another example of a well-designed website template for an interior designer. It's a nice one-pager with everything your clients might want to know about you and your services.
Highlights:
Promo video.

Gallery and Recent Projects blocks.

FAQ.

Testimonials.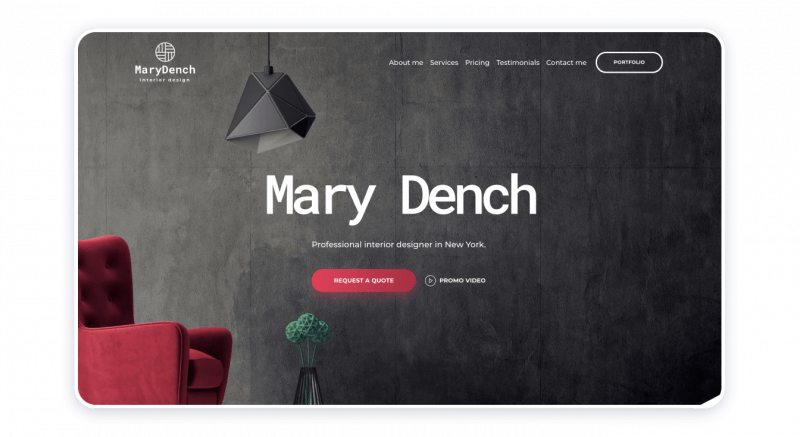 Summary
The "Graphic Design Is My Passion" phrase became a meme in 2014 and is still popular nowadays. It pokes fun at those who really don't understand much in this field but loudly declare that they are experienced and talented specialists.
Of course, graphic design is largely a matter of taste. But still, there are some rules that make the design really beautiful and functional. We advise all digital specialists to read more, look at other people's works, and improve themselves.
And if you want to create your own website, Weblium will always come to your aid. We have many well designed templates for creators in different fields. Plus, you can create a unique website from scratch in just a few hours.
Create Website
FAQ
How to make the rainbow background that's in the "graphic design is my passion" meme?
Just google "graphic design is my passion meme background", and you will see many images of this rainbow. Alternatively, you can use a meme generator or create this rainbow in Photoshop.
Who made the original "graphic design is my passion" meme?
This meme was created by user Yungterra and first appeared on Tumblr in 2014.
Where did the "graphic design is my passion" picture come from?
This is a mockery of a clichéd phrase often used by creators in their self-advertisement. This meme deliberately uses the weirdest fonts and wild color combinations to emphasize the absurdity of such a claim.
Related articles:
7 Differences Between Good and Bad Web Design (Upd: 2020)
20 Best Modern Website Design Examples (2020)
Graphic Design Portfolio Website
Breaking Bad: 21 Bad Website Examples (Upd: 2020)