Affinity Designer vs Illustrator: Pros & Cons Compared
It's been more than three decades since Adobe introduced us to Illustrator. All this time, Illustrator has been the go-to software for vector graphics design.
Ask any expert designer and they'll tell you how they can't even think of switching software. Illustrator is now part of their workflow and career. Adobe used this loyalty to their advantage, by converting their software licensing to a subscription plan.
You now have to pay a monthly price to keep using the software. For some people, it'll still be a great deal. But for others, you'll likely ask yourself if it's still a good investment. That's why you're here, right?
Affinity Designer is everything that you want a graphic design software to be. Needless to say, it's the best Illustrator alternative available today.
But, is it powerful enough to provide all the tools you need to do your work? Does it have all the essential features of Illustrator? To answer these questions, we compared Affinity Designer against Adobe Illustrator. Let's find out which software is best.
What is Adobe Illustrator?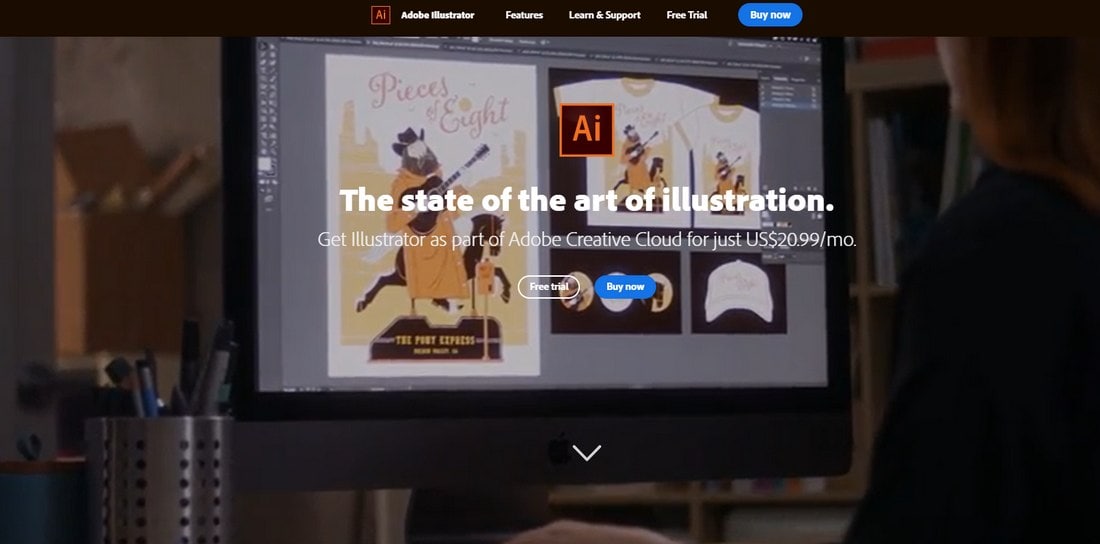 Since it's initial launch in 1987, Adobe Illustrator came a long way to become the industry-leading software for vector graphics. It's now used for all types of vector design work from logo design to stationery design, poster design, and much more.
The latest version of Illustrator CC packs quite a lot of amazing features and tools that make it powerful enough to serve all types of creatives from freelance designers to Hollywood movie poster designers and everyone in between.
What is Affinity Designer?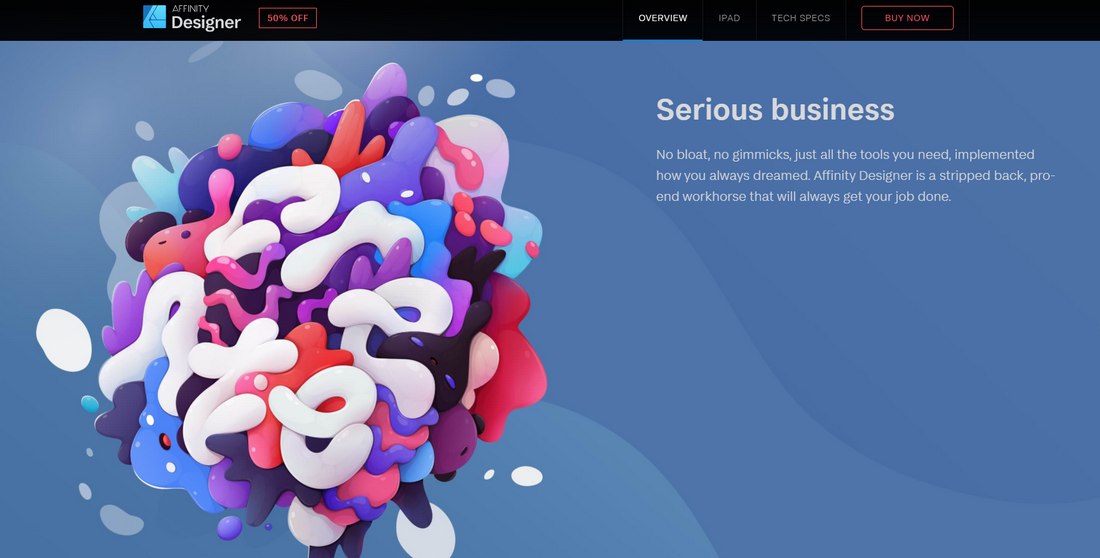 Affinity Designer, initially released in 2014 exclusively on Mac devices, arrived on the Windows platform in 2016 with a promise of a better alternative to Illustrator. It was quite a bold approach to compete with an industry leader such as Adobe with decades of experience. Somehow, Affinity made it possible.
Affinity Designer offers all the essentials you need for vector graphics design and possibly more. One of the reasons it became so successful is not just because of the affordable price, there are even free Illustrator alternatives out there, but because of the quality of the app.
Affinity Designer Vs Adobe Illustrator
Let's take a closer look at the tools and features offered by both software.
Ease of Use
If you've ever gone to any sort of a design school or even learn graphic design online watching tutorials, you'll notice that they all use Adobe software to teach you the ways of design. That's mainly because everyone uses Adobe software. But also because of their ease of use.
Adobe Illustrator, on the other hand, has a very complicating user interface. It's really difficult to find your way around the software without watching some tutorial videos.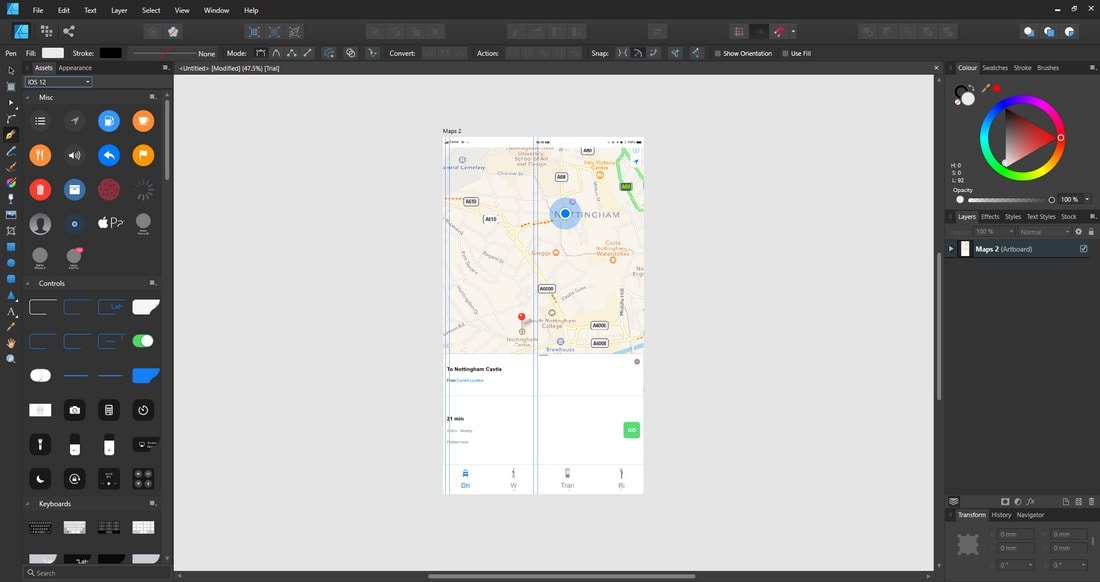 The same goes for Affinity Designer. But, it has a simpler user interface than Illustrator. Probably because it lacks some of the more advanced tools offered in Illustrator, like the mesh tool, blend tool, knife tool, and the large collection of filters and effects. They are slated to be added in future updates. But of course, they are non-essential tools you can certainly learn to live without.
Unique Tools
Adobe had decades of research and development to fine-tune all its software, including Illustrator. It's now a complete package that offers everything you need for any kind of design work. Especially the CC versions are much more advanced than it used to be.
Clearly you can't expect that same level of tools and functionality with Affinity Designer, which is fairly new in the market. However, the software has a tool palette with all the necessary tools to make it a vector editor suitable for professionals. In a way, Affinity Designer is at a stage where Illustrator was at when the CS5 was released.
Artboards
Artboards quickly became an essential part of Illustrator. It's especially a useful feature creative designers used to easily organize their work in one place. Illustrator has a dedicated tool for creating artboards on the fly and customizing them to your preference.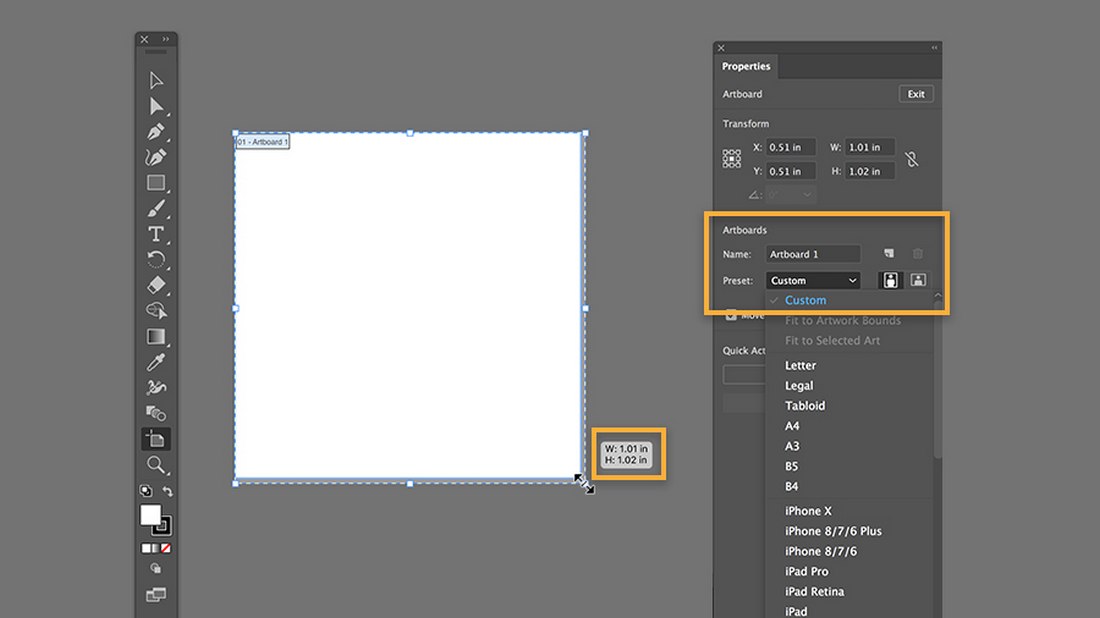 Affinity Designer falls short in this area. You have the option to enable artboards when creating a new document. However, the software doesn't have a dedicated tool or options for better artboard management.
Drawing Pad (Tablet) Support
While vector editing apps aren't the best option for drawing and artwork creations, many designers still use drawing tables to craft various graphic designs such as logos, typography, and hand-drawn icons.
If drawing pad support is essential for your work, Illustrator is the best choice. Adobe has made sure it supports all popular drawing tablets.
Drawing tablet support in Affinity Designer is still a work in progress. While it works well with popular tablets, many users have expressed their frustrations of tablet compatibility issues on popular forums such as Reddit.
File Types and Compatability
When it comes to supported file types, Affinity Designer is way ahead of Illustrator. Especially because of the shared file type used by Affinity Photo and Designer software. This allows you to easily edit and customize the same file on both software. In addition to all the other popular file formats, the software also supports Adobe Illustrator AI and Photoshop PSD file formats.

Affinity Designer also has a feature called Personas. Which lets you switch between vector and pixel designs. Like for working on shapes and images at the same time. It's like having Photoshop and Illustrator in the same place.
Needless to say, Illustrator also supports all popular file types. However, having to keep both Photoshop and Illustrator opened at the same time to work on the same file can be frustrating at times.
Pricing Difference
The pricing difference is the main reason why many users lean towards Affinity Designer. It only costs a one-time price of $49. And you get to use the software for the rest of your life and get all future updates for free.
Adobe Illustrator comes as a part of Adobe Creative Cloud subscription. You have to pay $20,99 every month to use just the Illustrator software. It would cost over $250 to use Illustrator for a full year. If you want access to all Adobe software, you have to subscribe to the $52.99 per month plan.
Templates and Resources
You'll find resources in abundance for Adobe Illustrator. There are thousands of templates, UI kits, icon packs, vector graphics available in various design marketplaces.
Affinity Designer assets and resources can also be found in abundance. But not as much as Illustrator. Since the community is still growing, we'll surely see more support for the app. On the plus side, all Illustrator files are compatible with Affinity Designer. So you can still use those Illustrator templates in Affinity Designer as well.
Undo Mistakes
If you tend to make a lot of mistakes or prefer to have a backup plan in case something goes wrong, Affinity Designer will have you fully covered. It lets you undo your changes for up to 8,000 times. And it includes history snapshots as well.
Illustrator has a limited amount of Undo's allowed by default. You can change this in settings.
Clearly, no one would be crazy enough to spend hours clicking the undo button for 8,000 times. But, it's nice to know you have the option.
Which Vector Editor is Better?
Even though we absolutely love everything about Affinity Designer, we still have to award the crown to Adobe Illustrator as the best software in the vector design industry.
In terms of usability, tools, features, community support, development, and overall functionality, Illustrator is still way ahead of all other vector design apps. For professionals, it's the best app to use and to build a career around it.
However, you can still use Affinity Designer without all those unique traits of Illustrator. It will take some time to get used to the new environment and shortcuts, but Affinity Designer is a great alternative that's worth giving a try. Especially if you're new to graphic design, you should get started with Affinity Designer instead of Illustrator.
A free trial is available with all Affinity software. Give them a try to see if it's worth the investment. And be sure to read our Affinity Photo vs Photoshop comparison as well.