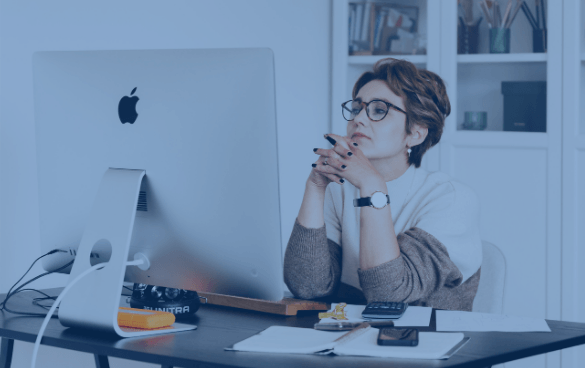 How to Create an Email Marketing Campaign Your Readers Will Love
When it comes to an email marketing campaign, it's easy to send one, but it's hard to send a good one.
That's why we've created this guide, which shows you how to create an email marketing campaign that engages subscribers, turns them into leads, and makes you the MVP of your sales team. Even better, this guide includes seven email campaign examples to help you build a successful email marketing campaign.
Keep reading to learn how to run an email campaign for your business!
Table of Contents
What is an email marketing campaign?
How to create an email campaign in 10 steps
7 email campaign examples to get you started
What is an email marketing campaign?
An email marketing campaign is an online marketing initiative where a business sends an email (or emails) to one or more subscribers. A successful email marketing campaign will persuade subscribers to take action, like by visiting your website, purchasing your product, or contacting your company.
How to create an email campaign in 10 steps
Start learning how to create an email campaign for your business by following these 10 steps:
1. Define your email marketing goals
Before logging into your email management system, like MyEmailFX or Mailchimp, you need to answer some questions. While you may not like the delay, these questions will provide you with the answers to creating a successful email marketing campaign.
These questions include:
What do I want this email campaign to accomplish?
What is my budget for this email marketing campaign?
Who is working on this email campaign with me?
Once you know what you want to accomplish, like promoting your latest product or keeping your business top-of-mind, you can start building your email marketing campaign — and budgeting your spend to different places, like design, software, and copywriting.
2. Build your email list
Every email campaign needs an audience, which is why you need to build your email list.
Companies can create and grow email lists in a few ways, including:
Gating content, like a downloadable guide or whitepaper
Producing high-quality content regularly, like blog posts
Creating exit-intent popups
Adding email opt-in forms across your site
And more
While you can purchase email lists, you'll want to avoid this strategy.
Yes, it'll grow your list of email subscribers, but it'll also damage your brand. People who didn't ask for your emails will start receiving them and instantly associate your brand with spam. Besides the hit to your brand image, your email campaign will also have a high unsubscribe rate.
Help your brand grow its image (versus crush it) by building a high-quality email list instead.
While this process takes time, help from a content marketing agency like WebFX can speed up the process because they often have the resources, connections, and experience to create high-quality, viral content. This kind of content, like an infographic or guide, can help you build a qualified email list fast.
3. Segment your audience
Once you start attracting subscribers, you'll want to start segmenting.
Segmenting is a super-effective email marketing tactic. Some businesses have seen a 760% revenue increase from segmenting their email subscribers, which is why every email marketing strategy should use segmentation.
You can segment (or organize) your subscribers a few ways, like by:
Purchase behavior
Website behavior
Age
Location
And more
With segmentation, you deliver more relevant emails to your readers.
For instance, if you operate a clothing store, you want to send email campaigns that share the most relevant information with your shoppers. Women shoppers, for example, may receive announcements about the latest styles for ladies versus hearing about your upcoming menswear line.
Email marketing tools make email segmentation easy.
With a tool like MyEmailFX, for instance, you can easily create audience segments. Plus, you can include and exclude these segments when sending campaigns, which becomes useful as your number of email campaigns grows.
4. Research your audience
Every successful email marketing campaign includes audience research.
While you may know what you want to accomplish with your campaign, like generating pre-orders for your upcoming product, you need to understand your audiences' wants to achieve your goal. Otherwise, your emails will flop.
So, research your audience, which you can do by:
Talking to your front-facing team members, like your sales team or customer support team
Browsing go-to blogs and news sites in your industry
Researching influencers for products like yours
Reading online forums
Researching common Google searches in your market
Checking social media posts and comments
And more
Once you know what gets your target market talking, you can answer questions like:
What issues or pain points should our email cover?
Should our email campaign use jargon?
What should our email offer readers?
What topics does our audience want to learn more about?
Are there partnership opportunities we should consider, like with an influencer?
With your answers, you can create a map of how and when to communicate with your subscribers.
5. Outline your email campaign
Now that you have your email goals, subscriber list, and audience research checked off, you can move on to the next step in how to create an email campaign: Outlining your email campaign. This step relies on all your previous research, so it should go well.
As a part of your outline, you'll want to include:
How many emails you will send or if the campaign is ongoing
How often you will send these emails
What each email will cover (if limited) or what the first few emails will cover (if ongoing)
What call to action (CTA) will the emails use?
Assign stakeholders to all email tasks, too. For example:
Who will write the emails?
Who will edit the emails?
Who will design the emails?
Who will send the emails?
Once you know who is responsible for what, you can create your email marketing campaign!
6. Design your email template
The design of your email campaign is critical to its success.
That's because email designs can send positive (or negative) signals to users.
If an email looks unprofessional because of its blurry company logo, for instance, it can make readers hesitant about following your CTA, like to purchase your product. In comparison, high-quality email designs make people confident about interacting with your email and your business.
For the best results, make sure your email design follows these best practices:
Sticks to 1-2 fonts
Includes your company's name, address, phone number, and website
Features an unsubscribe link in the footer
Uses your logo
Displays on mobile devices correctly
Since most email marketing tools, from Mailchimp to MyEmailFX, offer drag-and-drop email builders, it's common for non-designers to create email templates. For the best results, though, have a professional designer create (or at least look over) your design.
They can often spot quick wins, which can lead to an even more successful email marketing campaign.
7. Write your email campaign's content
All successful email marketing campaigns need content. Email content, however, is a challenge.
That's because most emails are short.
One study by Campaign Monitor, for example, found that the ideal length for email content is 50 to 125 words. While that doesn't provide your business with a lot of room to tout your product's benefits, it does force your team to get to the point.
Keep in mind that not all emails are 50 to 125 words.
You can write emails that exceed 125 words, and there are plenty of successful email marketing campaigns that do. If you want to see if your campaign is one of them, conduct split testing and see which email (the longer or the shorter version) performs best.
Once you finish drafting your email, have someone proofread it and then make any updates.
8. Brainstorm your subject lines
Almost every guide on how to create an email marketing campaign will talk about your subject lines.
In email marketing, subject lines are essential. They decide whether someone will open your email or open the one next to it. If you want your emails to get opened, then you need a concise yet engaging subject line.
Some best practices for writing subject lines include:
Tell readers what is in your email
Use personalization, like a reader's first name
Have power words like "start," "discover," or "send"
Make the email urgent with phrases like "fast," "soon," or "act now"
If you A/B test your email subject lines, you can learn which tactics work best with your audience.
Even if you decide not to A/B test, you'll often benefit from spending the extra five minutes brainstorming additional subject lines. That additional time can help you think outside the box and develop a subject line that breaks your previous record for open rates.
9. Send your email campaign
With your email campaign designed, written, and proofed, you can now send it.
Before you deliver your email, though, complete these last-minute checklist items:
Review your included and excluded send lists
Check your email and subject line for any typos
Ensure your personalization tags (if present) have a fallback
You can also send the email to your inbox first so that you can preview it from your desktop, tablet, or mobile device. Seeing and interacting with your email within your inbox can help you spot improvements, like tweaking your subject line or fixing a broken link.
Once you complete these checklist items, go ahead and schedule your email to send.
P.S. If you're curious about the best time to send your email, you'll have to experiment. While some studies credit Tuesday and 4 p.m. as the best day and time to send emails, your ideal timeframe will depend on your audience.
10. Track your email campaign results
Tracking, measuring, and analyzing your email campaign results is a critical aspect of how to run an email campaign. Send your emails without following up on their performance, and you won't have an answer when your boss asks, "So, we get anything from that email campaign?"
If you use an email management tool, it's easy to track your results.
MyEmailFX, for instance, will provide you with information like:
Open rate
Links clicked
Unsubscribe rate
Bounce rate
Subscriber interactions
And more
This data is all valuable, and you can use it to understand your users and campaign performance.
Besides your email management tool, you can also use Google Analytics. This tool, which is free and a must-have for any business, will allow you to see the traffic driven to your website via email and that traffic's behavior on your site.
With this data, you can provide answers to any questions about your email campaigns' performance.
7 email campaign examples to get you started
Sure, you know how to create an email campaign, but that doesn't mean you're ready to get started. When it comes to learning how to run an email campaign, many companies find it helpful to view other email campaign examples.
If you feel the same, check out these examples of successful email marketing campaigns:
1. Retail: Target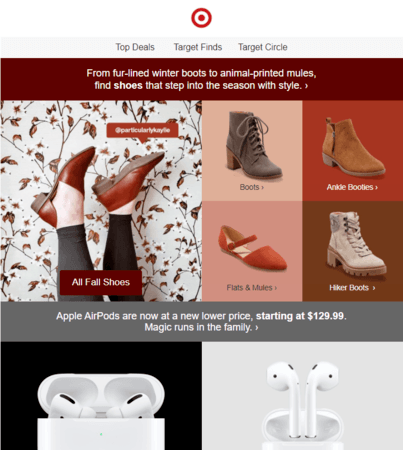 Goal: Drive product purchases
Audience: Women
This email campaign example from Target is an excellent example of segmentation. The email targets women, highlighting the store's newest fall shoes in both the email content and the subject line, to drive clicks and purchases.
2. B2B: FedEx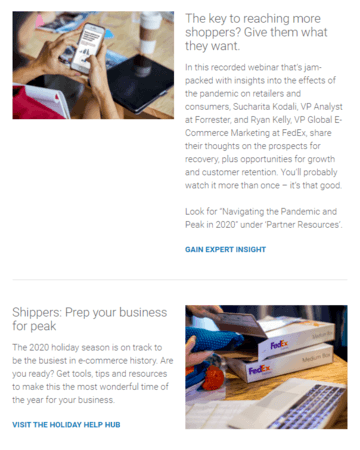 Goal: Educate clients
Audience: Business-to-business (B2B) and business-to-consumer (B2C) companies
In this email marketing campaign from FedEx, the company aims to educate its clients. The email shares relevant articles about shipping and selling during the holiday season. Notice that this email, while short, breaks away from the rule of keeping emails to 50 to 125 words — and succeeds.
3. Ecommerce: OtterBox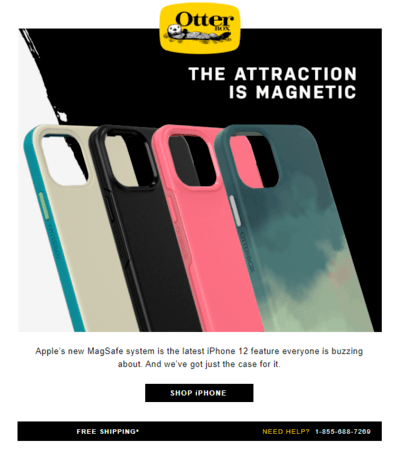 Goal: Drive product purchases
Audience: iPhone users
OtterBox creates a successful email marketing campaign by keeping its email short and to-the-point. This email highlights the company's newest cases for the iPhone 12 through a big, bold image and then provides an easy-to-understand CTA. It also highlights the brand's free shipping offer.
4. Financial: QuickBooks
Goal: Drive product purchases
Audience: Free trial users
QuickBooks uses a hyper-targeted email marketing campaign to drive purchases of its software. In this email campaign example, the company notifies a user that their free trial ends soon and invites them to become a customer. QuickBooks also explains what will happen to the user's account data if they don't.
5. Real estate: Zillow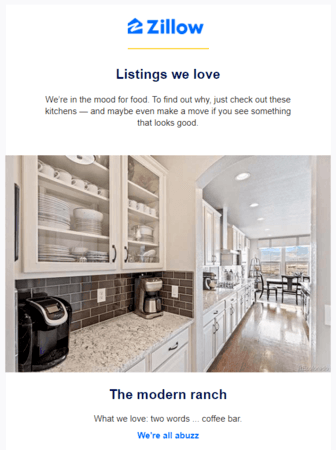 Goal: Drive website traffic
Audience: Previous website visitors
Zillow adopts a creative approach to driving website traffic: Highlighting listings based on their features. In this example, Zillow compiles a list of listings with stunning kitchens in different styles to get users back on the site.
6. Medical: CVS Pharmacy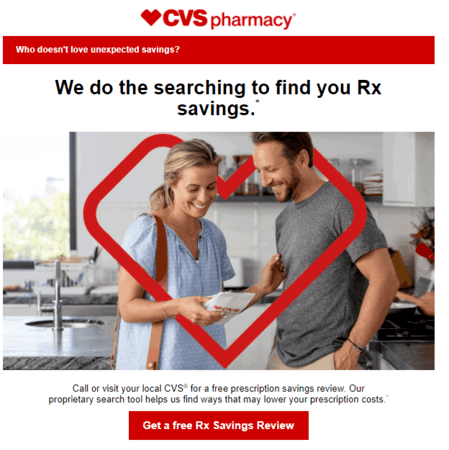 Goal: Promote brand loyalty
Audience: Past or current clients
In this email campaign example, CVS Pharmacy delivers a personalized email that invites the reader (a past or current client) to get a free prescription savings review. The email also explains the direct benefit to the subscriber: They may find ways to lower their prescription costs.
7. Industrial: Grizzly Industrial, Inc.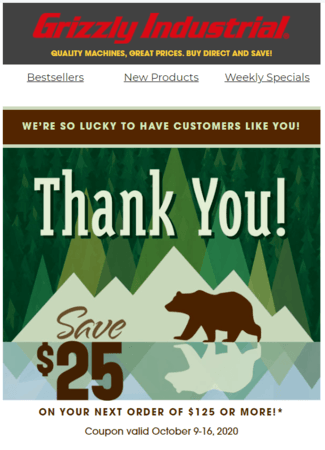 Goal: Drive purchases
Audience: Past clients
Grizzly Industrial, Inc. delivers a must-open subject line ($25 Off Thank You Gift Enclosed!) to its subscribers. The email also contains valuable information for clients, like when they must use the $25 and where they can use the promotional discount. It also provides quick links to product categories.
With these seven examples, you can get started with your email campaign!
Launch a successful email marketing campaign for your business — without the work
A successful email marketing campaign is a milestone for any business. With a successful strategy, your company can drive more website traffic, qualified leads, and sales from email, helping you reach the latest performance benchmarks for your business.
Of course, learning how to run an email campaign that drives results takes time, especially if you're new to email marketing. That's why companies will partner with an email marketing agency, like WebFX, so they can skip the learning stage and start generating revenue.
If that's your business, go ahead and browse our email marketing services. You can also give us a call at 888-601-5359 or contact us online if you'd like to chat one-on-one with a strategist about building a successful email marketing campaign for your organization.