D2C: Meaning, Pros & Cons, Brands & Companies, Marketing Fundamentals
Until recently, the vast majority of brands sold their products through intermediaries: dealers, resellers, third-party stores, and so on. As a result, a huge chain of interactions was built. This complicated the work of such businesses, deprived them of some of their profits, and made their products more expensive for the end customers.
But today another business model, D2C, is gradually becoming more and more popular. In 2020, D2C e-commerce sales may reach $17.75 billion.
Let's take a closer look at what this business model is, what are its pros and cons, and what D2C brands are there on the market right now.
D2C Meaning
D2C means direct-to-customer sales, that is, attracting customers through mobile applications, social networks, websites, and other channels directly to the manufacturer.
Unlike traditional sales through retail chains, D2C companies develop their own distribution channels.
D2C vs B2C
The main difference between D2C companies and traditional businesses is that they take on all tasks from production to customer acquisition and sales. Here are the main differences between the D2C and B2C models:
In the D2C model, products are sold

directly to the end users

via different online channels. In the B2C model, sales are made through dealers.

With the D2C approach, each customer

can contact the brand

and ask any questions regarding the product, delivery, etc. In a B2C model, the manufacturer does not interact with its consumers.

D2C companies

ship customer orders themselves

. In the B2C approach, all logistics issues are taken over by dealers.

D2C companies

provide personalized experience

and care for their customers. B2C companies are much less emotionally involved.
Peculiarities of D2C Model: Pros and Cons
The main feature of D2C is full control of the entire cycle, from production to distribution, which means there are no gray areas. There's no need to collect data from different departments/businesses as it's one business and one CRM.
D2C Benefits
Full control

. D2C brands gain more control over their product, customer service, reputation, and so on.

More customer data

. It is much easier for D2C companies to compile a detailed consumer portrait as they interact with their customers every day. It also allows them to come up with personalized offers and other marketing features.

Higher customer loyalty

. The brand is on the same page with its customers, it communicates with them, receives feedback, and quickly responds to it.
D2C Drawbacks
The supply chain can be difficult to manage.

If you have only 3 products and 100 buyers per month, there are no problems. But if you are a large independent brand with hundreds of buyers a day, supply chain issues can be really tough to coordinate.

Every mistake you make is very noticeable

. Since B2C brands are actively interacting with customers on social media, all mistakes (for example, delivery delays) are noticed.

You need to be an expert in different fields

. In the traditional business model, you are only concerned with creating a quality product. In the direct to consumer model, you also have to understand shipping logistics and other processes.
Top 17 Examples of D2C Brands & Companies
D2C companies today are mostly small independent brands. But more and more large companies in various industries start switching to the D2C model. Let's learn more about them below.
Bombas D2C Shop
Bombas is undoubtedly one of the leaders in the D2C revolution. This brand literally lives and breathes its values. Bombas doesn't just sell socks, it also has a strong social mission to help the homeless.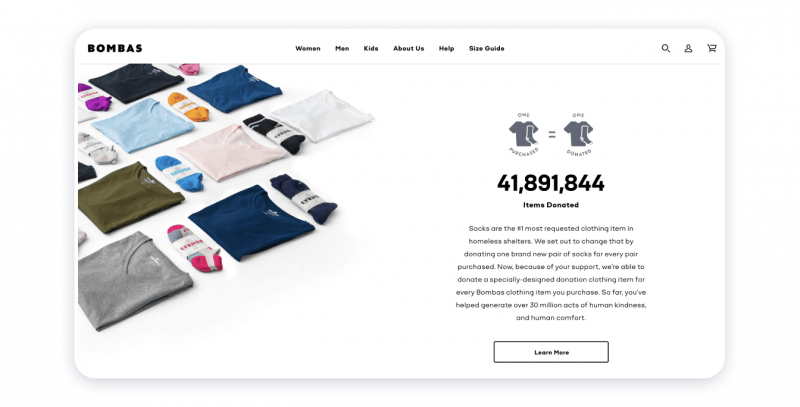 Bombas is undoubtedly one of the leaders in the D2C revolution. This brand literally lives and breathes its values. Bombas doesn't just sell socks, it also has a strong social mission to help the homeless.
Highlights:
A compelling purpose embedded within the brand identity.

Socially responsible business.

Focus on customer service.
Me Undies
This brand tests different approaches as it has two types of purchases: in an online store and via a subscription service. It was the D2C model that gave the brand such flexibility.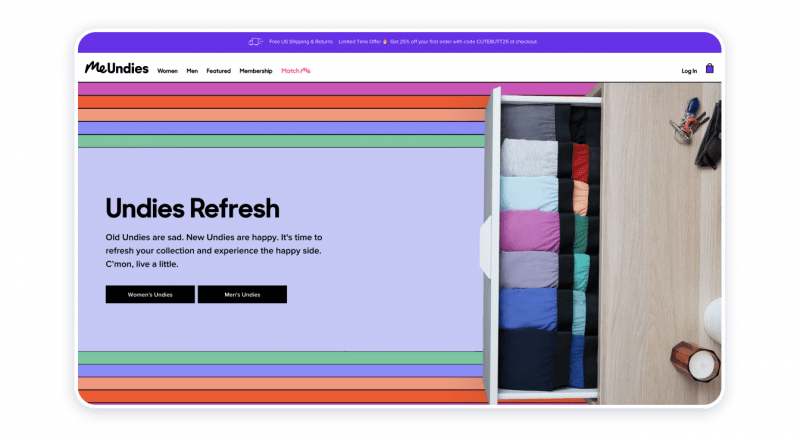 Highlights:
There are Our Fabrics and Our Factories pages with helpful and compelling information.

A diversified approach expands marketing opportunities for this brand and allows it to create small, limited collections.
Dollar Shave Club
Opposing modern sophisticated razors, Dollar Shave Club advertised the following idea: "Do you really need a razor with a vibrating handle, flashlight, scraper, and a dozen blades?" And customers tired of oddly designed razors happily signed up for a regular, classic razor.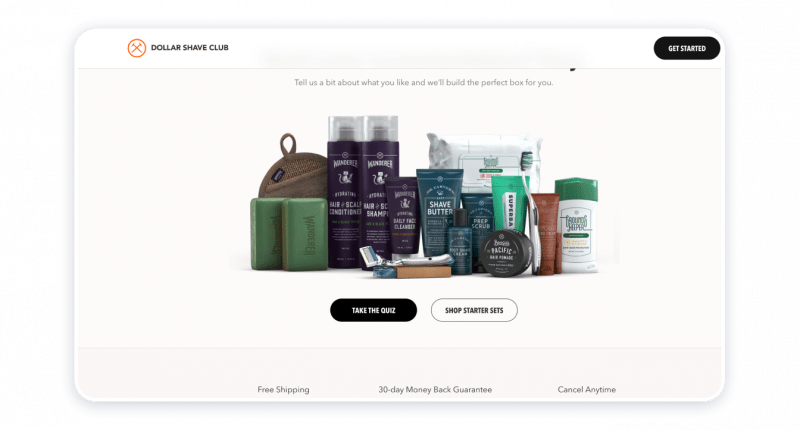 Highlights:
Personalized approach to each client.

On the site, you can take a quiz to select the best shaving products (and people love quizzes!) or order a starter set.

The ability to individually manage the delivery date of new shaving products.
Ritual
It's another subscription service in the wellness niche, producing all the vitamins on its own.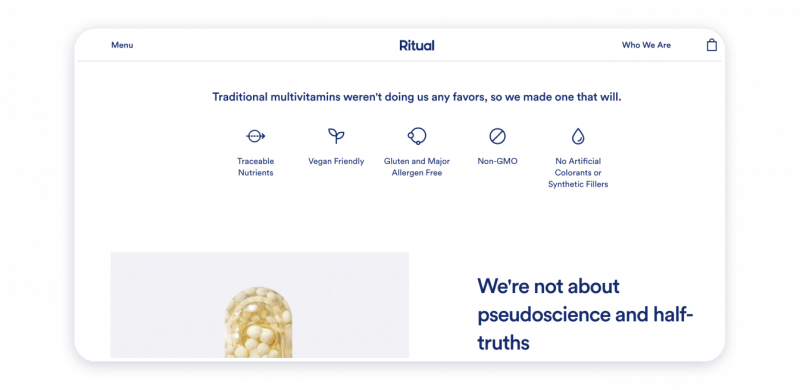 Highlights:
A convincing site with clinical research results.

The ability to manage the delivery date and cancel your order for free.

Activities presence on all social networks, from Instagram to Pinterest.
Glossier
It's a chemical-free cosmetics brand that uses only high-quality ingredients. There are hundreds of companies with the same concept but Glossier differs from them in its business model and direct contact with its customers.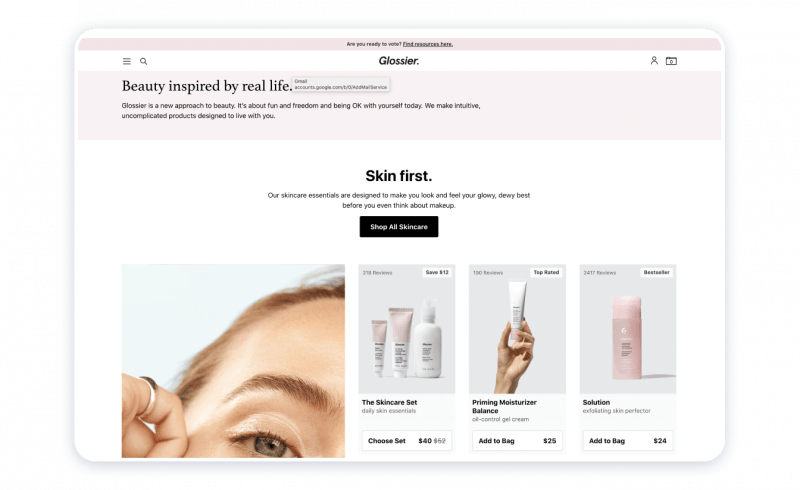 Highlights:
Sales are carried out only through the site.

2 million Instagram followers make up an active community.

Great PR and collaborations with famous bloggers.
Chubbies
This brand manufactures and sells men's shorts of all types, from swim shorts and trunks to casual shorts. What makes this brand unique is its tone of voice and marketing campaign.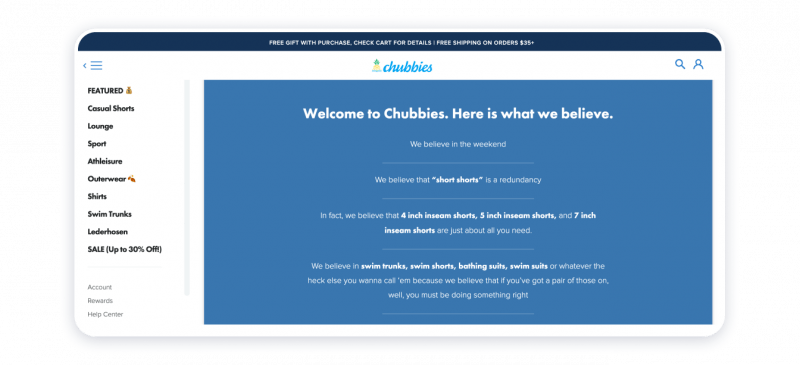 Highlights:
Group and military discounts.

Focus on one niche – men's shorts.

Friendly tone of voice.
Warby Parker
It's a $1.75b D2C company that produces and sells glasses and frames. And it has a very interesting personalized idea.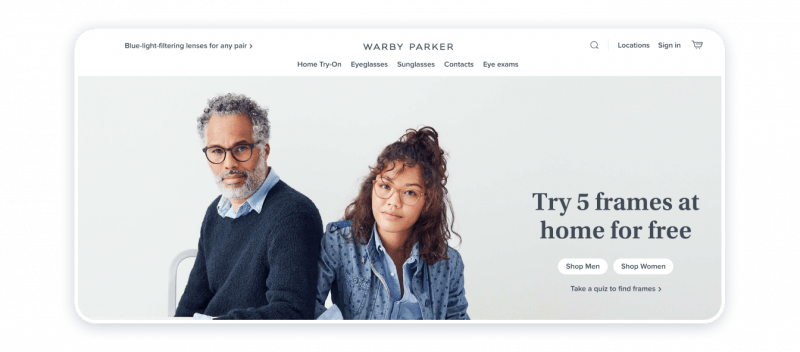 Highlights:
You can try up to 5 frames at home for free or even try them virtually!

Take a quiz to find the best frame or glasses for you.

Familiarize yourself with all types of frames and glasses before the purchase thanks to great educational content.
Away
There are hundreds of luggage brands around the world, and the independent brand Away brings a personalized touch to сhoosing a suitcase.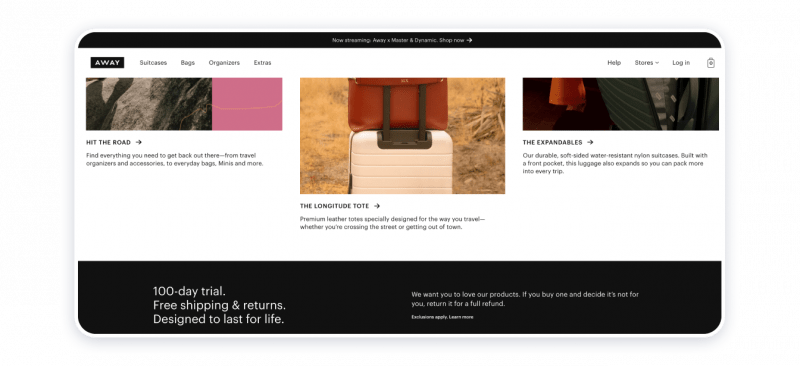 Highlights:
Customers can try any suitcase for 100 days.

A lifetime guarantee for each product.

Huge selection of colors for each product, including atypical travel bag colors – yellow, burgundy, plum, etc.

Ability to add an individual inscription to the suitcase to make it really yours.
Reformation
The clothing industry is one of the hardest to start a new business. It would seem that everything has already been invented, and there is no place for a new company. But Reformation found its way.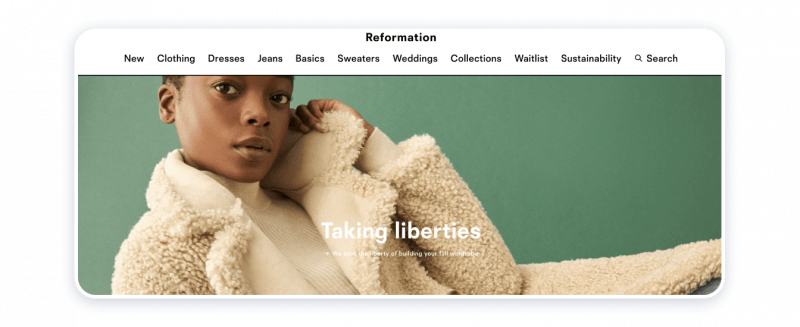 Highlights:
Focus on sustainability.

Free express shipping worldwide with all duties and taxes included in the final price.

A Waitlist option heightens customers' interest in the brand's new products.
Julep
This is another cosmetics brand on our list. But unlike Glossier, Julep has a more youthful tone of voice. "Beauty should be fun(ny)" is the slogan of this brand on social networks.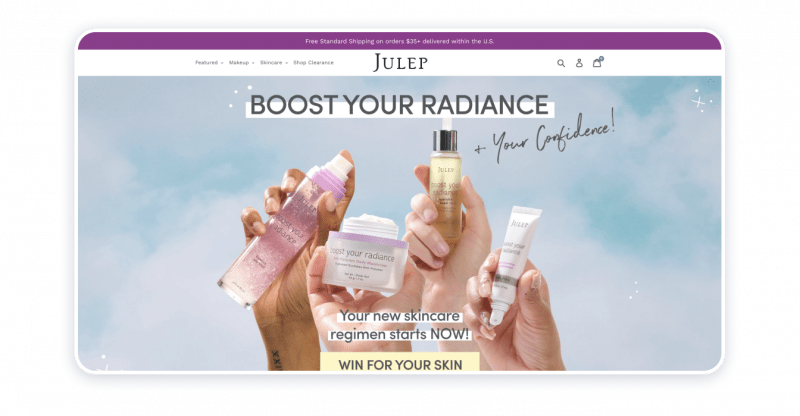 Highlights:
Strong online presence and 126,000+ followers on Instagram.

15% off on any order if you sign up for a newsletter on the Julep website.

The target audience of this brand is millennials and zoomers.
Cards Against Humanity
This is an absolutely awesome card party game for those who like bad words.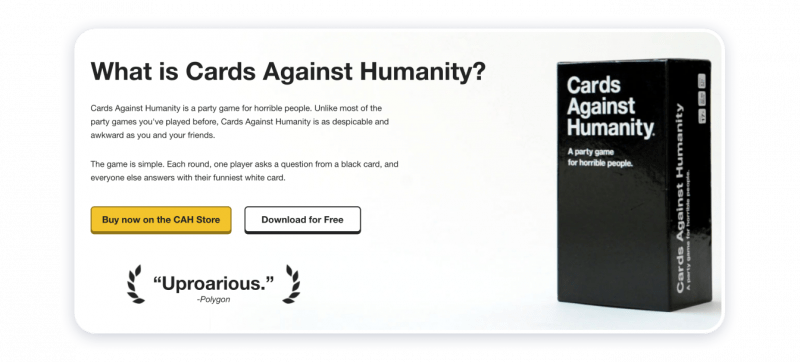 Highlights:
In addition to the option to buy this game from the store, you can download the app for free.

You can also download a PDF for free to make your own deck.

There is a very simple but stylish site with a store on a subdomain.
BarkBox
This is another subscription service, this time for dog lovers. Or, rather, for their dogs.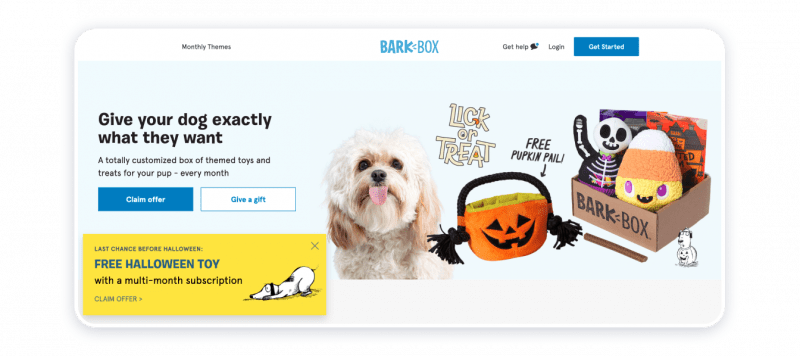 Highlights:
New themes every month.

It is possible to give the subscription as a gift to a friend.

Excellent communication with users – if for some reason your dog does not like the gift box, BarkBox promises to resolve this issue.
Casper
You might think that the D2C model only works well in entertainment, subscriptions, fashion, and cosmetics. But that's not true. How about one of the most popular mattress brands?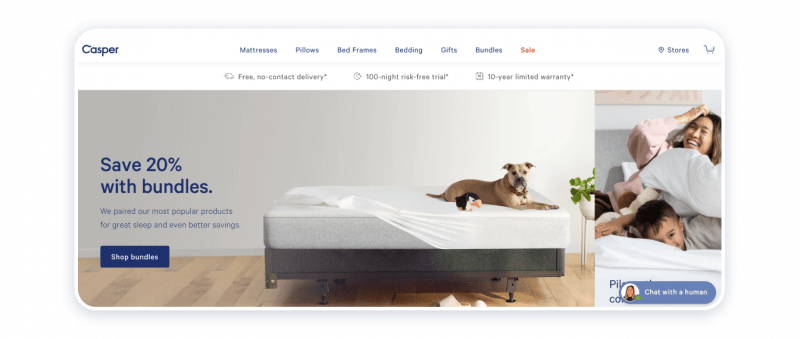 Highlights:
A 100-night trial.

A virtual appointment with a specialist to find the perfect mattress for you.

Award-winning customer service.
HIMS
It is one of the best D2C cosmetics brands and one of the few brands that develop and sell cosmetics exclusively for men with an emphasis on typically male problems: baldness, skin-irritations, and even erectile dysfunction.

Highlights:
Killer minimalistic branding.

90-day money-back guarantee

.

This brand runs its own free meetings for people with mental health problems.
Nanit
This brand sells devices that monitor a baby's sleep and breathing and allow parents to go about their business. You definitely can't sell such products in a supermarket, and they would quickly get lost among hundreds of other products on large sites. Therefore Nanit followed the D2C model.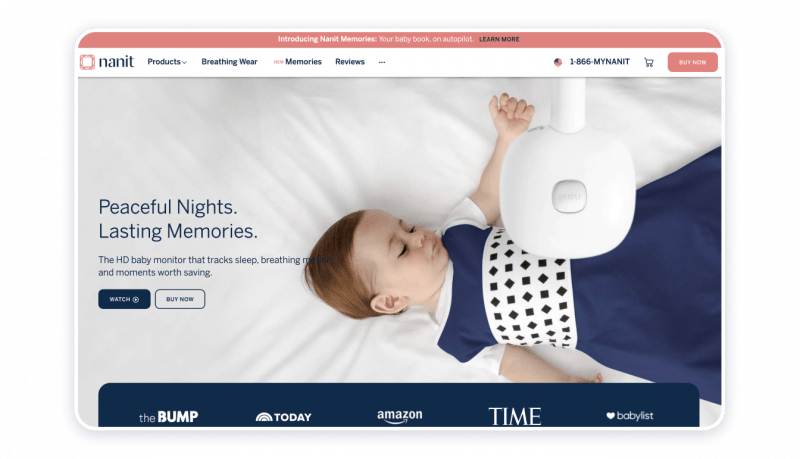 Highlights:
It's possible to create your own bundle with a discount.

There are phone numbers on the site, you can call them at any time and ask questions about the Nanit gadgets.

A personal sleep coach for your baby is right on your phone.
Blue Apron
While we can always get meals delivered by UberEats, sometimes we want something special, not just a salad or hamburger. Blue Apron is a company that keeps your dinners interesting.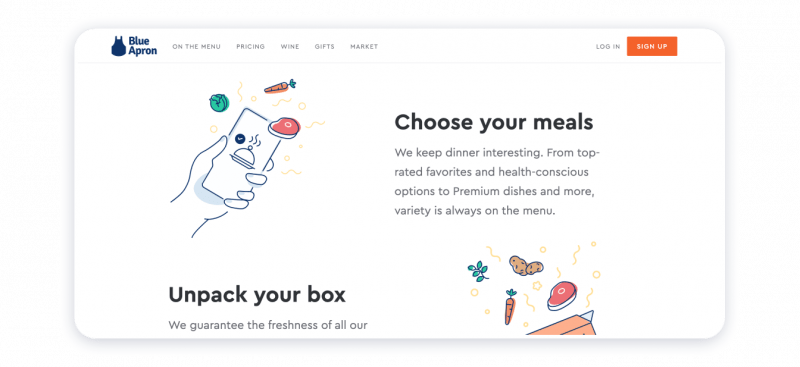 Highlights:
Blue Apron delivers the ingredients for a delicious dish and the recipe to your home. This makes cooking dinner fun for the whole family.

Responsibly sourced and quality ingredients.

You choose a plan and can cancel it at any time.
Weblium D2C Site Builder
Weblium is one of the simplest yet most powerful site builders on the market. We adhere to a human approach and help each of our clients not only to create a website but also to make it more effective.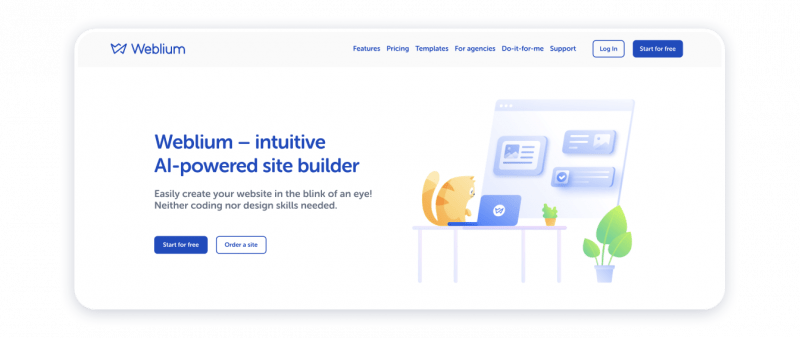 Create a Website
D2C Marketing Fundamentals
Whereas previously it was enough for a company to produce goods and supply them to resellers, now the source of sales is its own website. Therefore, a site is a must for any direct to customer business.
It takes only 0.05 seconds for users to form an opinion about your website and whether they will stay or leave. Plus, 47% of website visitors check out a company's products/services page first of all, and 52% of visitors want to see "About Us" information.
Thus, your site should be beautiful, functional, and have answers to all questions from buyers.
Digital marketing is also very important for companies with a D2C business model. Here are the basic tools that any D2C business should use to be successful:
Online store.

In 2019, 1.92 billion people

purchased

goods and services online and this figure will grow every year. Your online store should be simple and straightforward so that your users can order whatever they like in two clicks without having to talk to a consultant or go to an offline store.

CRM.

CRM software

can boost

sales by 29%. You should collect all your customer data into one database to better understand them. In addition, with the help of

CRM

, it is easier to manage all orders.

Analytics.

T

o understand exactly how your users interact with your site, where visitors come from, and whether they find what they were looking for on your site, it is worth using Google Analytics

. 29.3 million websites

use

Google Analytics. Do you?

Retargeting.

Retargeting can

raise

ad engagement rates up to 400%.

Facebook Pixel

connected to your website will show your products on social media to those who have already viewed them but haven't made a purchase for some reason.

Email mailings.

Email marketing is considered one of the best ways to return investments from your product advertising. For every $1 spent on

email marketing

, you can

get

$42 of revenue.

Popups

. The average conversion rate for popups

is 3.09%

. You can

customize popups

for different events and thus retain users, inform them of important news, increase loyalty, and so on.

Live chats.

79% of consumers

prefer

live chats because this way, they get instant responses. And 63% of those who have used

live chat on your website

will more likely return to you. Live chats give businesses a more human face, and this is one characteristic of the D2C business model.
All of the above tools are available on Weblium. In just a few hours, you can create a beautiful website, connect effective tools, and start selling your products and services directly to buyers!
Create Website Now!
Summary
D2C business offers not only products directly from the manufacturer. Such brands always give customers more – care, guarantees, and a more human approach.
The formula for success in D2C is personalization. You need to find an approach to each client in order to satisfy his/her needs and attract attention. If a company wants to succeed in direct to consumer sales, it needs to implement automation, analyze consumers' behavior, and increase their loyalty.
And, of course, all this will only work if you are active on social networks and have a beautiful, functional, and understandable website. Then direct sales will be truly impressive.
Create Your Website
Related articles:
Marketing Basics 101: 4 Important Lessons for Small Business
10 Effective Ways To Collect Your Website Leads
Do I Need a Website for My Small Business? (2020 updated)