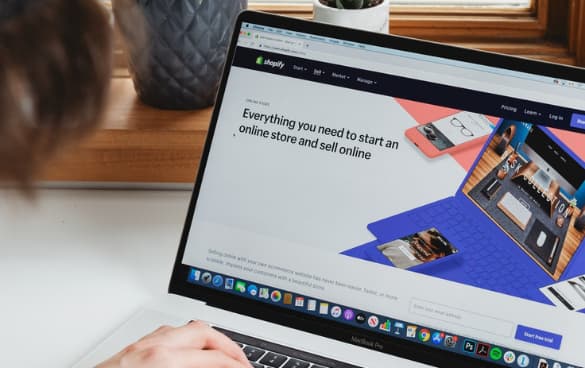 How to Promote My Shopify Store [3+ Tips to Market Your Shop]
You took the time to design and set up your beautiful Shopify store, but unfortunately, it won't attract shoppers on its own. You may find yourself asking, "How do I promote my Shopify store?"
Luckily, WebFX offers Shopify store optimization services, along with a handful of tips to help you attract customers to your online store.
Keep reading to get five tips on how to promote your Shopify store! And don't forget to subscribe to our email list to get the latest tips and tricks for marketing your business!
Partner with Ecommerce masters!
Campaigns managed by WebFX have earned over

9000000
TRANSACTIONS IN THE LAST 5 YEARS
Read Case Studies
1. Optimize your website for search engines
If you're wondering how to promote your Shopify store, start by optimizing your store for search engines. When users want to find a relevant product, they search for it on search engines like Google. If you optimize your website to appear in these relevant searches, you can drive more qualified leads.
Here are some ways you can do search engine optimization (SEO) effectively:
Optimize for relevant keywords
To appear in related searches, you need to integrate the right keywords on your page. You can find relevant keywords by conducting keyword research. Using a keyword research tool like KeywordsFX will help you find applicable terms for your product pages.
When you have a list of keyword options, focus on long-tail keywords. Long-tail keywords contain three or more words, like "extra large beach towel."
Long-tail keywords are better for your shop because they drive more relevant leads. Since long-tail keywords are precise, users have a more specific search intent and are more likely to check out your business, since they're also likely ready to convert.
Once you have your keywords selected, you can integrate them into your pages to help you rank for those terms. Don't overuse them, though, because it will lead to keyword stuffing, which negatively impacts your ranking.
Optimize your title tag and meta description
Your title tag and meta description are critical components for helping you rank in search results, so you need to take time to optimize them.
Your title tag is the tile people see in search results when your listing appears. Both users and Google use your title tag to help determine if your page is relevant. To get the most from your title tag, integrate your core keyword toward the beginning and stay within the 60-character limit.

The meta description is the short blurb beneath the title tag that details the content of the page. It's a summary that provides users with a preview of what they can expect on your page. Use your core keyword in your description and stick to 155 characters or less to maximize results.

Ensure your site loads quickly
Users don't want to wait for your site to load to buy your products. If your site takes too long to load, you run the risk of people leaving your site and shopping at a competitor's store.
Use Google PageSpeed Insights to check your site's current load time. This site will enable you to see how quickly your site loads and what you can improve to drive better results. You can also opt to invest in page speed services if you'd like to have a digital marketing company improve your site's load time for you.
2. Use pay-per-click (PPC) ads to reach more qualified leads
If you want to promote your Shopify store effectively, use pay-per-click (PPC) advertising. PPC ads are paid advertisements that appear at the top of the search results above the organic listings.

PPC ads help you earn more profit for your business. In fact, you make $2 for every $1 spent in Google Ads.
To get started with PPC ads, you need to select keywords. Keywords trigger your ads to appear in relevant search results, so you must choose the right keywords for your ad.
Like SEO, it's best to focus on long-tail keywords. As we mentioned, long-tail keywords cost less since they typically have less competition.
Once you have your keywords, you'll bid for placement. You set a maximum bid, which is how much you're willing to pay if someone clicks on your ad. The bid amount is adjustable and you can change it as needed.
Your bid amount and something called quality score will determine your placement. Quality score is composed of factors like ad relevancy, click-through rate (CTR), and more. Generally, an ad that's highly relevant to the keyword will get a higher quality score.
After you upload your ad content, you'll launch your ad and start attracting leads to your business.
3. Use social media ads to showcase your store
When you ask, "how do I promote my Shopify store?" many people will suggest using social media advertising to help your reach people interested in your business. Social media ads are an excellent way for you to target people interested in your business.
These ad platforms offer advanced targeting, making it easier for you to reach people most interested in your Shopify store.
You can use numerous platforms to reach your target audience, including:
Instagram
Twitter
Facebook
Pinterest
LinkedIn
To create successful social media ads, follow these quick tips:
Use high-quality visuals: Visuals are a vital component of social media ads that help catch your audience's attention and get them to engage. Ensure your visuals are clear, high-quality, and visually pleasing, so you can draw your audience in to learn about your business.
Try different ad formats: Many social media platforms offer different ad formats, so don't be afraid to experiment! The formats will vary depending upon the platform, but you must try other forms to figure out what works for your business.
Monitor and refine: To get the most from your social media ads, make sure you monitor their performance and refine them as you get results. It will help you maximize your investment.
4. Use email marketing to engage people close to conversion
If you want to know how to market your Shopify store, email marketing is a great option. Email marketing enables you to send tailored content to people you know are interested in your business.
To start promoting your Shopify store through email, you need to have a list of subscribers. You can get subscribers by adding an email sign-up bar to the header or footer of your website. You could also use email sign-up pop-ups to catch your audience's attention.

Once you have a list of subscribers, you'll want to segment them into groups based on their interests. You don't want to send everyone the same emails — people are interested in your business for different reasons, so you need to deliver information relevant to their interests.
You can send numerous types of emails to your subscribers, such as:
New product announcements
Newsletters
Blog posts
Videos
Sales or promotions
Special offers
You want to ensure you personalize your audience's experience and send them the type of content relevant to their interests.
When you have a direct connection with your audience, you can deliver valuable information to them.
5. Create a referral marketing program
One of the easiest ways to promote your Shopify store is to use referral marketing. Referral marketing is when you rely on your current customers to refer their friends and family to your business.
This marketing strategy is extremely effective because people trust recommendations from people they know. Over 92% of people trust recommendations over a brand. So, when you encourage your current customers to recommend others, people are more likely to follow through.
So, how do you set up your referral program for success?
When you create your referral program, you typically want to offer a benefit for both the current customer and the referral.
So, for example, you may offer 30% off any order for both parties. That way, the referrer is encouraged to recommend your business to friends and family because they'll receive money off when the referral shops. The referral is likely to shop because they're getting money off for their first order.
Let the experts help you promote your Shopify store
Now that you know how to advertise your Shopify store, you're fast on your way to reaching more leads and earning more sales for your business. If you're feeling overwhelmed with trying to promote your Shopify store, WebFX is home to Shopify SEO experts who are here to help.
We have a team of over 250 marketing experts ready to help. In the past five years alone, we've driven over $2.4 billion in sales and managed over 11.6 million transactions for our clients.
Want to see what it's like to get top-notch marketing services? Contact us online or call us today at 888-601-5359 to speak with a strategist about optimizing your Shopify store!