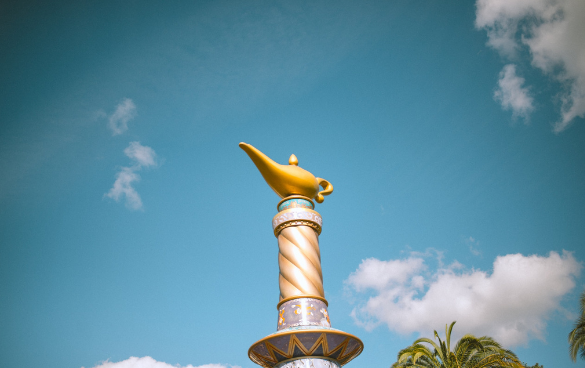 Why SEOs Need to Be Genies in a World of Masters
After four years working in the SEO field, I finally unlocked the perfect SEO analogy and the best explanation of how to win at SEO.
SEO's and Internet marketers need to be genies in a world of masters.
via GIPHY
It might sound a little fruity at first, but stick with me.
Oh, and if you're already convinced you need SEO, WebFX is the most reviewed SEO agency in the world!
Now back to my corny comparison.
The name of the SEO game is to please
When you look at the crux of SEO, it's all about giving the people (and Google) what they want. You, as an Internet marketer, are the genie, and every potential customer is your master. Here's what I mean.
You're not going to rank in search results unless you:
Write content that is based on target keywords that users
Write content that is formatted in a way that users can easily digest. Think bullets, explanatory headings, etc.
Write content that not only targets users' favorite keywords, but talks about the exact topics they want to learn from those keywords. Think search intent.
Serve pages that load lightning-fast so users don't have to wait.
Add multimedia to content to make it more enjoyable and improve user experience.
If it sounds like SEO is essentially a game of serving users exactly what they want on a silver platter — you're right. And from what I've learned, it's the only way to get to the top.
Now, Google is the grandmother to all users — it wants to give users exactly what they want. So, when you cater to the user, Google will favor your efforts as well. When you follow SEO best practices, Google will rank you highly in search results — and we all know what that means!
Ranking highly in search gives you the opportunity to reach even more target customers — so it's a win-win overall.
SEO analogy: The genie method and why you need it
A term I've dubbed, the "genie method" can help you rank highly. But why does this SEO analogy work wonders?
Here's my hunch:
Users are spoiled, already — and if you're a consumer of any kind, you are too.
With algorithms keeping tabs on your location, your previous purchases, your most frequented websites, and your search habits, the online world knows how to serve you exactly what you want at exactly the right time.
That expensive handbag you were looking at, "just to look" — it's probably going to follow you around for a while. Same with the groceries you ordered last week, and location-specific ads for stores you've visited online.
We are catered to online, and we're used to it. Whether you find it creepy or beneficial, consumers don't realize just how much they're catered to.
Now let's compare that to search results. We're all so used to getting exactly what we need at exactly the right time (thanks, cookies!), so when we don't get exactly what we want in search results, we become frustrated.
And, if your content doesn't fit the exact format or topic that a user is looking for, they'll probably just bounce.
Users have come to expect their information on a silver platter — and with no missing condiments — and the genie method for SEO helps you deliver.
How you can be an SEO genie
We've already talked about a few ways you can cater to consumers, but here are a few more ways to ensure that you're satisfying users and Google.
1. Pay attention to search intent…and provide custom content
Yes, it's crucial to pay attention to search intent and understand fully what information users are expecting to get from your content — but copying the exact format of competing pages won't get you very far.
As much as users want something specific in terms of content, there are always ways to put your own spin on how you present it.
That said, pay attention to what the users want in terms of:
What questions they want answered
What pain points they have
What call to actions they expect
But, feel free to put your own spin on your content in terms of:
Multimedia used (videos, images, infographics, etc.)
How you break up your content with CTAs and other modules
Kinds of lists you use
The point of writing content is to both hit search intent (give users what they want), but also give them what they didn't know they needed. This is where your creativity comes in.
2. Optimize for page speed
Users and Google both want to see a fast load speed — three-second load time to be exact.
That's because page speed creates a fantastic user experience, and again, it's all about giving users what they want.
If you're not confident that you can optimize for page speed on your own, consider opting for page speed optimization services — they're well worth the investment.
Check out our free page speed SEO checker to analyze your site!
3. Target keyword variations
You will have a core set of main keywords to target but take it a step further by targeting variations of those keywords.
For example, if you want to target the term "low-fat banana cream pie," you could also target "banana cream pie that's low-fat," "low-fat banana pie," etc.
This allows you to work within the same search intent but rank for more keywords and expand your territory in search results.
4. Provide plenty of CTAs
As a part of a great user experience, you should guide users through the buyer journey by providing them with plenty of calls to action (CTAs) along the way.
On every page, you should have numerous CTAs letting users know what they're supposed to do next. For example, your phone number counts as a CTA, and so does a contact form.
But there are other ways you can place CTAs throughout your content to let users know exactly what they're supposed to do next.
For example, if you're talking about a specific service or product, insert a CTA that talks about how readers can learn more.
It's all about keeping users moving through your site and directing them to conversion.
5. Link internally
Internal links are crucial to the genie method since they help users find other content that they might be interested in based on the content they're already reading.
For example, if you're writing about that banana cream pie recipe, you might link to another recipe that you have on another page about the benefits of low-fat whipped topping.
Linking to that page will not only keep users on your site, but they'll silently thank you for providing them with another related resource that they didn't know they needed.
You can internally link in the body copy of your content, in sidebars, in navigation bars, and more. Just make sure you do it!
WebFX delivers measurable SEO results
WebFX has helped us expand our digital footprint not only in Central PA and the mid-Atlantic, but also throughout the Continental U.S.

All Pro Trailer Superstore

See the testimonial

113%

YTD SEO

Conversion Increase

46%

YTD SEO

User Increase
Give 'em what they want!
After a few years in the industry, I've learned that the best thing you can do for your website visitors is say "yes, master."
And when it comes down to how to explain SEO, it's all about giving readers exactly what they want.
Google is happy when users are happy, so serving up content that's optimized for both users and search engines will help you rank higher and drive better results.
Need help with your SEO? WebFX has more than two decades of experience, and we'd love to help you get the best possible ROI.
Check out our case studies, and contact us online to learn more!