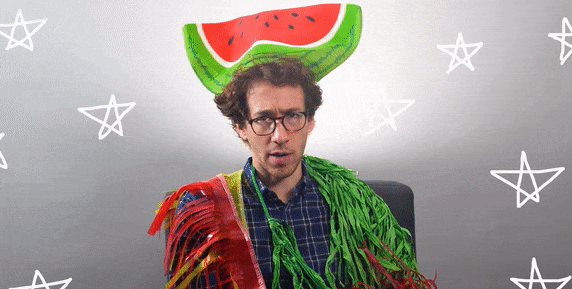 What Is a Content Marketing Strategy? (And How to Create One!)
Transcript:
https://youtu.be/cgPCi31eMy4
With a content marketing strategy and a corresponding plan in place, you can create content that resonates with people at every stage of their buying journeys.
Maybe someone's just searching for tips, or they're looking to make a purchase. With a content marketing strategy, your business will have the solutions that matter for this customer to make their search so much easier.
What is a content marketing strategy?
In this video, I'm going to talk about your content marketing strategy and your content marketing plan.
Keep in mind, this is just a content marketing strategy for beginners, so you can dive into more details on our website.
As the Content Marketing Institute says, a content marketing strategy lays out your reasons for creating content.
Who do you want to reach? What goals do you want to achieve with your content? What will make people choose your content over your competitors' content?
A content marketing plan takes those goals and objectives from your content marketing strategy and makes a sort of roadmap of what you're going to do to hit them.
This includes the types of content you'll create, like videos and blog posts, as well as the different channels you'll use to reach your audience, like Twitter, Instagram, YouTube, and whatever else fits your business.
How to develop a content marketing strategy
I'm sure you've heard this before, but I'll say it anyway. You need to understand your business to create a content marketing strategy.
This includes:
The goals you want to achieve with your content

Your audience and their needs

What content performs best and where

What your competitors are doing with their strategies

The tone and style of all of your content
If you're not sure about any of these things, it's time to do some research.
For your goals, sit down and think about what you want your business to get from your content. Do you want more people to be familiar with your brand?
Our digital marketing campaigns impact the metrics that matter most!
Over the past 5 years, we've generated:
1.5 Billion
in client revenue
4.6 Million +
leads for our clients
1.8 Million
client phone calls
Learn more about our results
Maybe you need your content marketing plan to focus on generating informational content and building your social media presence.
Your goals will also help determine what metrics to track.
If you want to focus on leads, you'll put an emphasis on conversions.
If you just want people to read your content, things like time on page and bounce rate will likely be more important to you than conversions.
Understanding your audience is crucial, too.
If you're creating content that doesn't appeal to your audience, you're wasting your time.
Creating personas can help you get into your customers' minds to address their problems and needs. You can read more about using personas on our blog.
Doing an audit of you and your competitors' content can help you figure out which types of content perform best.
It's good to know what your competitors are doing so you can do it better. It's also good to know what works well (or doesn't work) on your website so you can choose the right places to focus your energy.
Do videos perform really well for your business? Maybe you should make them central to your plan.
Is there certain messaging that resonates well with site visitors? See how you can use that information to make improvements to any existing website copy and any new content you create.
Through all of this, you can't forget about consistency.
When you're looking at older content and creating new content, you need to keep the tone and style in mind.
If your business is a law firm, you'll probably want everything from your graphics to your social media posts to feel serious and professional.
If your business is a frozen yogurt shop, you can get away with being more fun and casual.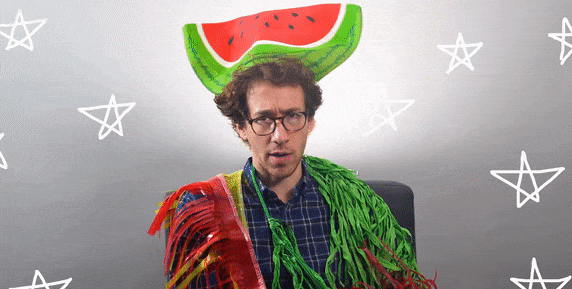 This all ties back to knowing your business and what you want to accomplish.
How to create a content marketing plan
If you've skipped the part of this video where I go over how to create a content strategy, stop. Reverse.
Go back to the beginning of this video.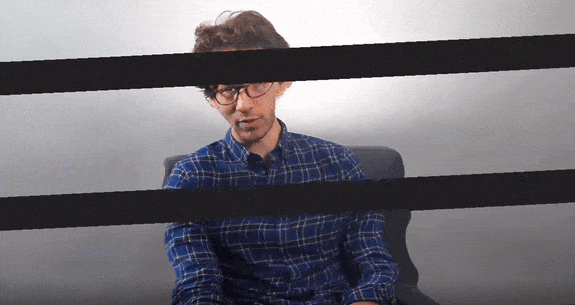 The plan puts the strategy into action and helps keep everything and everyone working towards the same goal, so I would strongly advise that you strategize before spending hours making stuff without a purpose.
Once you've done that, four things you'll sort out with your content marketing plan are:
Topics and keywords

Content type and length

Distribution

Schedule
These four elements aren't the only things you'll sort out with your content marketing plan, but they're a good starting point. You can find more details on our blog.
With your content marketing strategy as a framework…(See? I told you strategizing is important)…lay out the topics you want to cover with your content.
Get even more specific by researching keywords to use in your content so you can show up when people search for those keywords.
SEO and content marketing work hand-in-hand, so keyword research isn't something to ignore.
Using keywords to optimize your content for search engines can help you rank better, thus getting more eyes on your content—and your business.
We have our KeywordsFX tool to help with generating keyword ideas if you need it, and it's free!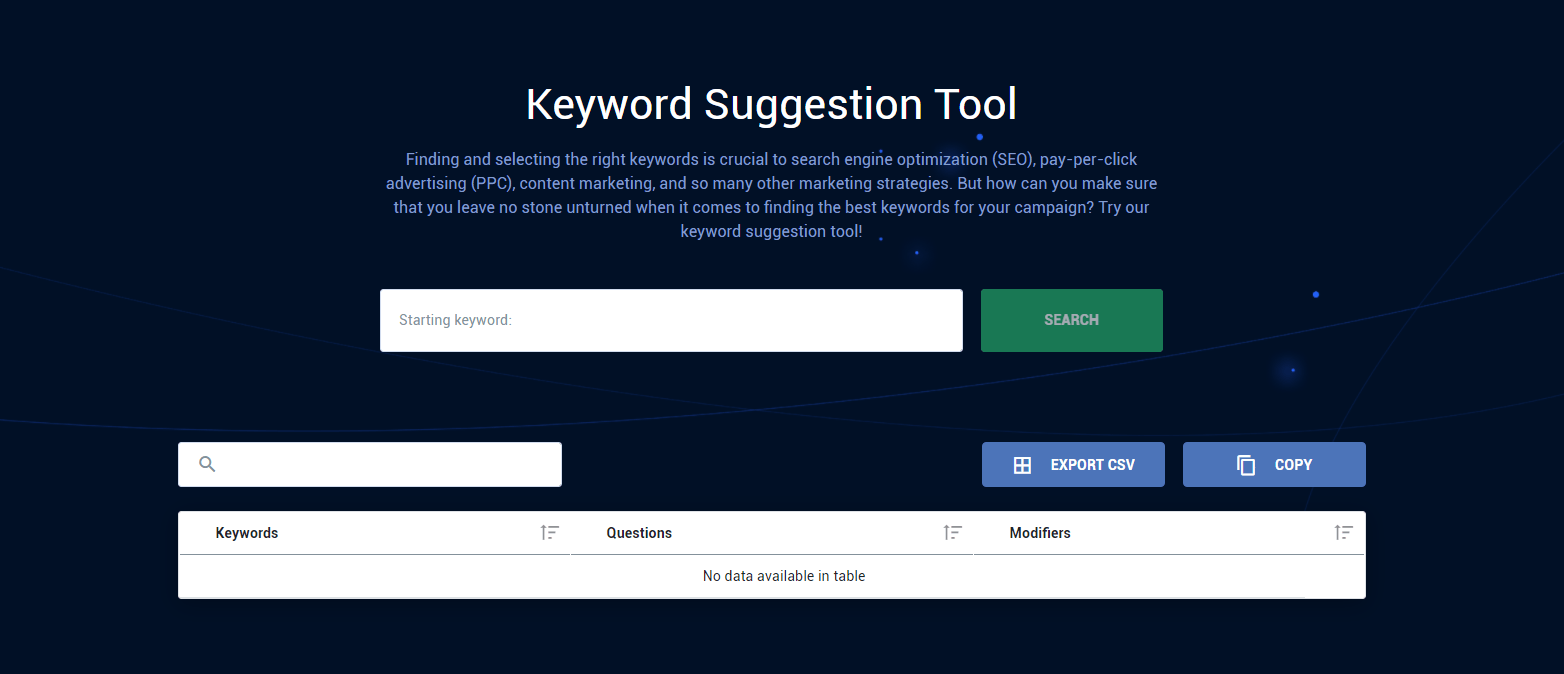 Here's an example of SEO and content marketing in action.
If you run a furniture store and see a lot of popular content out there about the best fabrics for pet owners, it's probably a good idea to publish something from your business on that topic.
You would dig into the keyword data to figure out the best target and related keywords, and then move on to the next step in the plan: figuring out the content type and length.
The content type really depends on what your audience would like best and what your competitors are doing.
If 10 other well-known furniture stores have short pages with 5 types of fabric pet owners should buy, add some photos of the fabric.
Include links or images of furniture you sell with that fabric, or even make a quick video of someone from your store explaining the pros and cons of each fabric type.
Do something that makes your content stand out.
The type of content and the distribution also comes into play with the length.
A furniture guide for new homeowners would likely be longer than a blog post outlining the benefits of a memory foam mattress.
On the distribution side of things, a 10-minute video about furniture trends would probably do better on YouTube than it would on Facebook.
I'd definitely recommend researching each channel you're using so you know the best practices.
I'm going to shamelessly plug the WebFX blog again.
Lastly, creating
an editorial calendar
can help you organize your content distribution.
This is where you'll determine when your content goes live, when you share on social media, when you brainstorm new ideas, and more.
You can find a template…you guessed it…on our blog.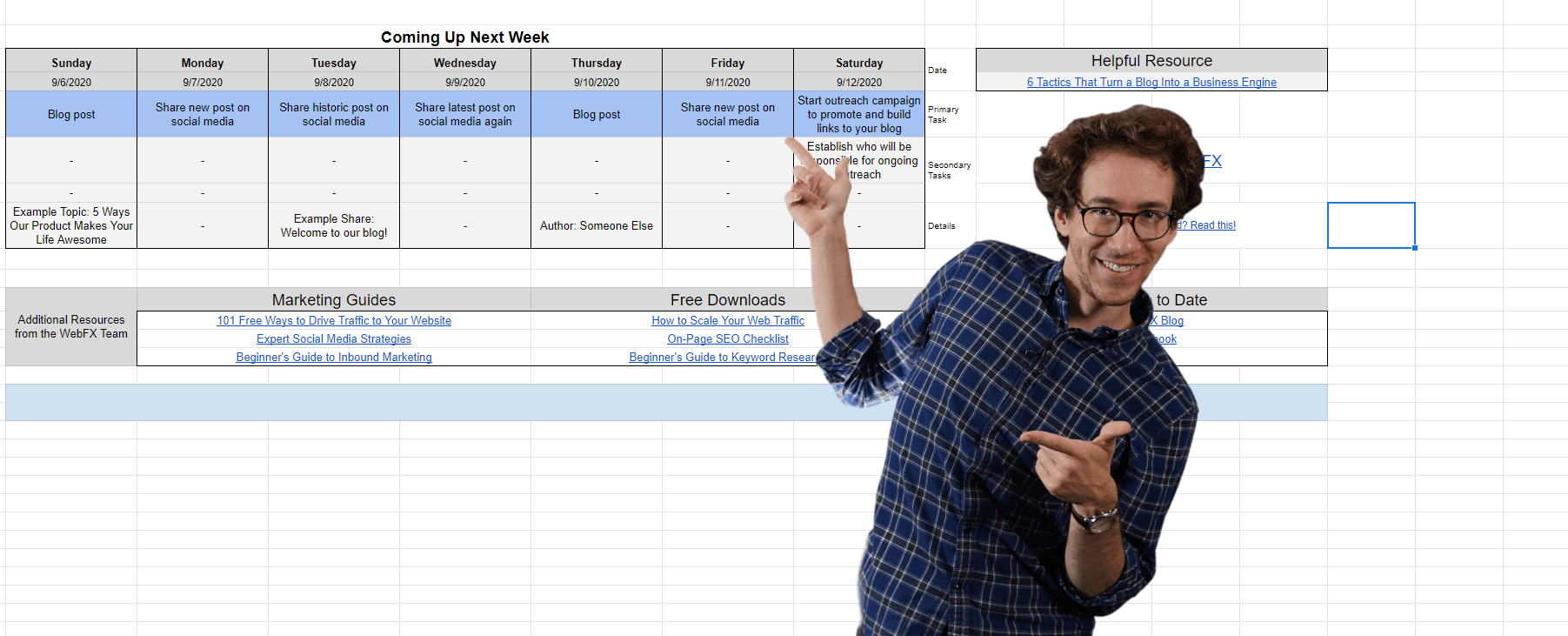 And that's it for how to create a content marketing plan and a content marketing strategy.
I hope you're not left wondering, "What is a content marketing strategy?"
As I'm sure you've heard throughout this video, we have plenty of content marketing resources on our website, so head on over to webfx.com to learn more.
And if you enjoyed this video, give us a thumbs up and subscribe to our YouTube channel for the latest in digital marketing.
Thanks for watching!