2020 Premium & Free Instagram Highlight Covers for Your Business
Intro to Instagram Highlight Covers
How to Create Instagram Stories Highlight Covers
50 Free Instagram Highlight Covers
Premium Instagram Stories Highlight Icons
Conclusion
---
Intro to Instagram Highlight Covers
Instagram is one of the most promising social media platforms for business promotion. The popularity of this network keeps growing. At the same time, Instagram users demonstrate high involvement in interaction with each other and with brands. Instagram allows you to publish and consume visual content much faster than a text one. Add here the ability to use Instagram on mobile gadgets on the go. Isn't it an ideal social media for a man of today? Unlike traditional social networks, platforms for sharing visual content successfully generate immediate conversions.
Instagram Stories feature allows you to create photos and 10-second videos with text, emoji, and handwritten notes. Unlike the usual posts in your feed, they do not live forever on your account and are deleted after 24 hours.
All available stories are displayed at the top of the screen as circles with users' avatars inside. New stories appear once they are posted, and a day later they disappear. Note that the stories are sorted not in chronological order, but by the number of playback cycles and comments.
Not long ago, Instagram introduced Instagram Stories Highlights to post information related to your business directly on your Instagram profile. This is the best and most important content and short videos that you do not want to lose. You can find Instagram Stories Highlights under the header and above the feed.
The best Instagram Stories Highlights are those which icons align with the brand. The cover, name, and image can be changed in the story.
---
How to Create Instagram Stories Highlight Covers
Instagram makes the first photo you add to the highlight of the cover. To express your own fantasy and creativity in making custom Instagram Highlights covers, you will need to use any free graphic design platform. Canva is popular and frequently used. You will need to create your account to get started.
Further, let's check the instructions on how to customize your Instagram Highlights icons and covers in Canva desktop version.
1. Go to the Canva website.
2. Click 'Create a design' on the left pane and choose 'Use custom dimensions.'
3. Enter "1080 x 1920" pixels in the boxes suggested and click 'Design' after.
4. Now you can upload your Instagram Highlights icons, which can be previously downloaded from the numerous resources on the Internet.
Check out some of the most popular icons below.
You can either drag and drop the .PNG file from the folder, or locate it manually.
5. The next step is to choose a background color or pattern which represents your brand most of all. Choose the 'Background' option on the left. Choose a color or pattern.
6. Now you need to add your icon and resize it. Select an icon by clicking 'Uploads' on the left. Canva will put the icon on your background. Click and drag the corner of your icon to resize it.
As an option, you can add text instead of an icon. Just select the Text option on the left, choose your font at the top, and type your text. Center your icon or text on your background.
7. To create more covers, click on the '+Add a new page' button below your image and repeat the same steps until you are ready with the desired number of the covers.
8. At this stage, you can download your new Instagram Stories Highlights covers. Click the 'Download' button at the top of the page, choose the appropriate format and transfer them to your phone.
9. Make sure your Stories Archive is turned on. Just go to the settings; click 'Story Settings'; choose 'Save to Archive' option, and switch it on.
10. Now you can upload your highlights covers to the Instagram Story. They should be posted as your Instagram Stories, so to be active within 24 hours, and then remain in your Instagram Stories Archive.
After your cover is added to your Instagram Stories, choose the 'Highlights' heart icon on the bottom right.
11. When you click 'Highlight,' you can either add the post to an existing Highlight or create a new one.
12. To edit, add to, or remove a Highlight, click the 'More' ellipsis in the bottom right-hand corner of the image.
---
50 Free Instagram Highlight Covers
Now when you already know how to make Instagram Stories Highlight covers with the help of Canva, I recommend you to check out some free Instagram Stories Highlight icons to make your business more profitable and popular! So, now you can simply download these free Insta icons and customize them by just dragging different objects. Here come our free covers for Instagram.
Here comes a collection of 20+ Instagram highlight covers with a grey background and black icons. These are perfect if you have an account related to fashion, travel, motherhood, lifestyle, blogging.
100+ free Instagram highlight covers come with free post backgrounds! The collection includes marble Instagram highlights, simple with black icons for travel, friends, beauty, gym, beach, family, makeup, beauty, Christmas and more.
This free Instagram highlight pack features 145 total elements that you can use for any social media application. In the download, you'll receive access to twenty-one colored backgrounds, five hand-drawn script files, and twenty-six vector and raster icons. The typography and icons both come included with four color variations: black, white, cream, and gold.
A set of 13 Free Retro Instagram Highlight Covers includes stylish vintage icons that will be an elegant decoration for highlights in your account. They are suited for personal and business purposes. Check them out to add an elegant vibe to your Instagram profile.
The pack includes 2 different styles for you to download for free. There are 20+ in each pack with all different, but common icons for your use. I feel like this first style is more glam, while the other one is more on-trend.
These 20 free icons for Instagram are designed in a soft way. Just look at its nice greenish color with white light touches. The most interesting thing in these highlight icons is that you can choose from totally white icons and from white and green ones. Fits for any topic!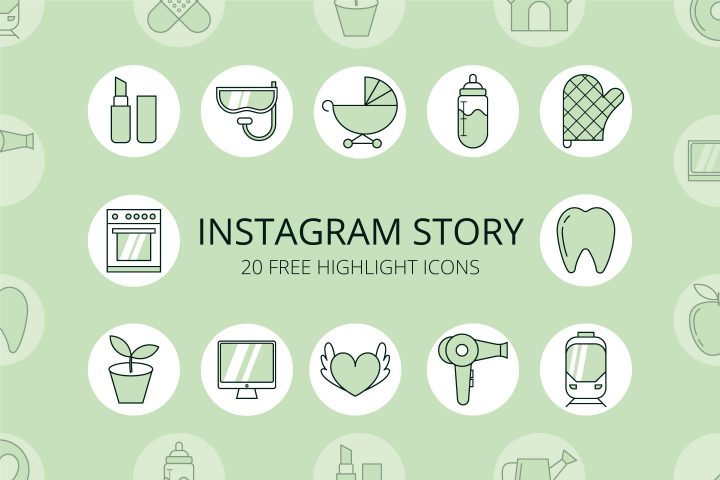 The following Instagram Stories Business Quotes will be appropriate for those who want to promote his business and inspire people with wise and helpful business sayings. Grab the bundle of 10 free icons which includes icons with black text, white background and white text, black background.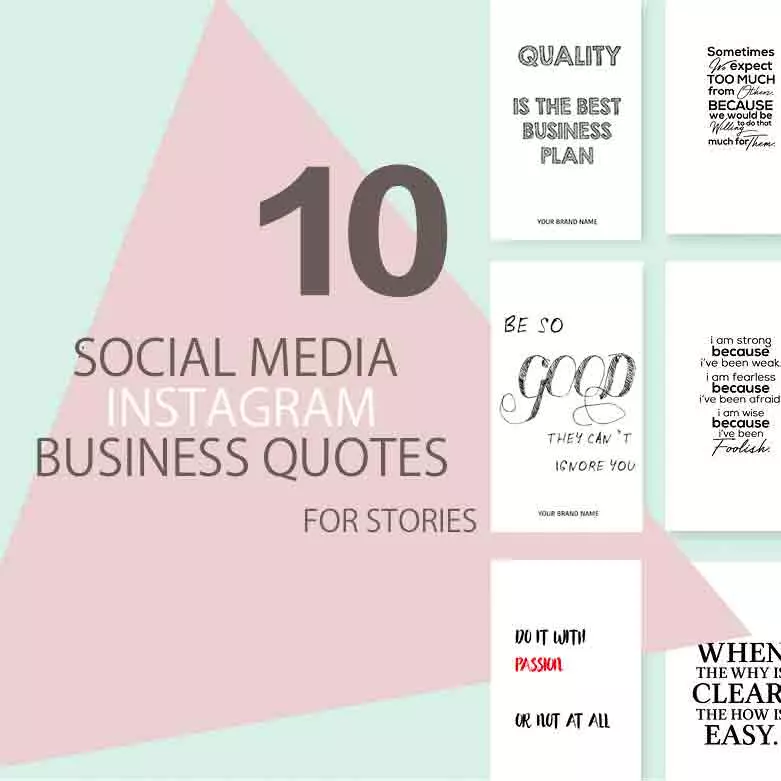 The next 9 story icons differ from others. Each of them has a real-looking color scheme which makes them alive and it creates a feeling that it's a little png photo of high quality. Make the icons for your Instagram live!
The set of following Insta free icons includes 10 icons for such topics as Party, Food, Fashion, Beauty, Travels, Makeup and so on. The feature is the elegant icon on almost the same color scheme background.
This Coffee Cup Set of free icons is definitely for Instagram of the owner of a tiny coffee shop or just for any coffee lover. The brownish color scheme and little cups would add to your account more trust and design.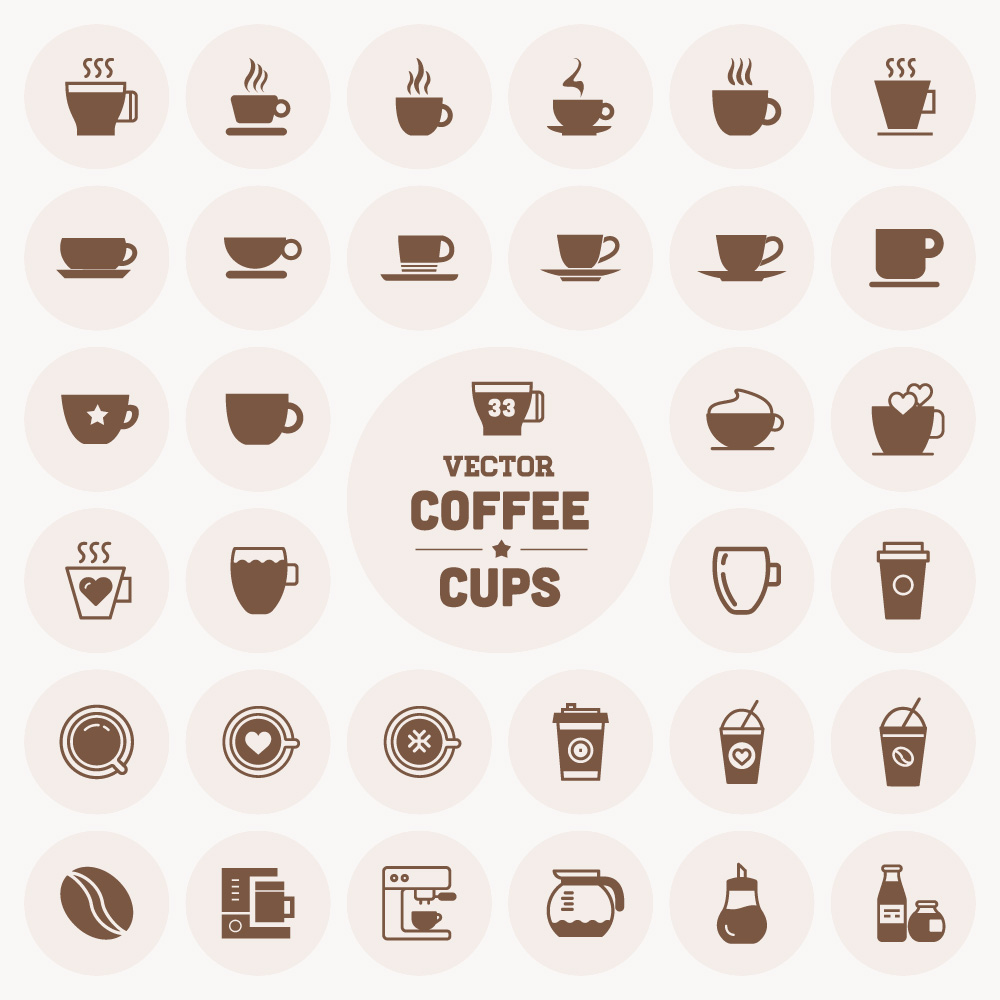 Here come another Instagram highlight icons with the great coffee design! Here you can see icons with coffee machines, coffee beans, coffee cups and so on.
These Insta story icons can grab the attention of a traveler. Its design combining soft orange and tasty pink colors are exactly for travel lovers. Promote your Insta account with travel Instagram icons!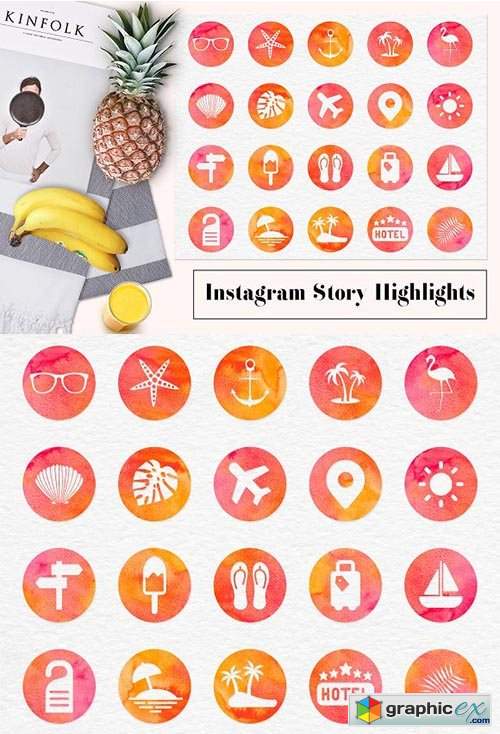 Why not combine traveling and summer? The following Insta icons will be perfect for those who want to capture his summer.
The following story icons can be right for beauty bloggers and fashionable girls. The gentle pink in a combination with a white object on it will absolutely be memorable for your followers.
In this set of free Instagram highlight icons (also for beauty bloggers or just for cute girls who loves fashion and makeup), you can find pinkish objects on a white background.
This pack of Instagram highlight covers includes icons with alphabet yellow letters from A to Z on black blots on a white background. Let's be different!
Check out icons for Instagram for those who like pink and blue! Because here you can find its combination with objects of black and white colors.
If you like the soft bluish color and white objects on it, check out these icons for Instagram. You can use them for any theme in your Insta account. This set of icons, which you can make the Insta ones, is perfect for jewelry products. Download and promote your jewelry business.
The following Instagram icons on different themes with black lines can have a blue or white background. Check out Instagram story icons with a combination of pinky and violet colors. They can have a white or white and pink color scheme.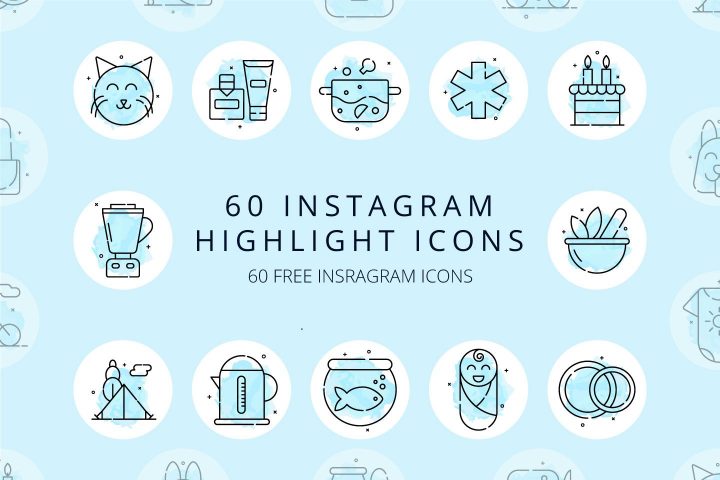 These icons can be customized for Instagram for the health care industry and be a good promotion for various kinds of clinics. The following cute minimalistic icons for Instagram on many themes on a pink or white background will definitely be remembered.
If you own a café or a restaurant and want to boost your business, check out the icons concerning food with numerous delicious food icons! If you need to create Insta icons concerning fast or street food, try this pack of free icons and become more popular with them.
If you work in a food field and like a minimalistic style, here you can find white food on a dark background! But if you're an optimist working in a food field and like diverse colors, I recommend you to check out these free Instagram highlight icons. Here you can see white food on the backgrounds of different colors.
And what is better than the backgrounds of different colors is the pack of icons representing food in its real color scheme. Here you can find food and drinks in its natural colors. We're continuing with a food theme. The Instagram story covers a number of kitchen appliances that can be found here.
We have icons that you can customize into the Instagram ones, even for the real estate field. Find them here.
Icons for Instagram can also be related to the office! Check out some office icons. Find here some funny icons which you can customize for your Instagram story icons. They're just like from the cartoons!
Who doesn't like Game of Thrones? If you a fan, check out these icons. The following story icons could be a good promotion for surgery because it contains many parts of the human body! One more pack of highlight icons for healthcare business. Ideal round icons!
For the most wonderful time of the year, I mean Christmas, you could have the bundle of free Christmas Instagram icons.
When Christmas is already celebrated, here comes The New Year! Look at these Insta free covers designed with a variety of colors for celebrating one of the greatest holidays of the year.
We didn't have yet any dentistry icons! If you're a dentist, you need to promote your business with these dentistry icons. Who knows, maybe you like to capture weather of any kind or just like weather forecasting, you can check this pack of Instagram highlight icons where you can find the sun, clouds, rain, and more weather icons.
We even have free icons for eCommerce! Check here the variety of perfect round icons concerning this field. Nowadays we hear the word "logistics" more often than before. If you work in this field and want to improve your company, take a look at these free icons for logistic delivery.
Today more and more people selling clothes boost their business with Instagram. If you're a one of this kind, take a look at these free icons of black line clothes on a white background. The bundle of free Insta icons of bluish clothes on a light background you can find here. Numerous clothes from shirts, pants, skirts, and scarfs.
If you would like to have some Insta icons of colored clothes, check out this pack of free Instagram highlight icons. If you want to promote your business with the help of social media, you can advertise it through Instagram. For this purpose, you can check some social media free icons here. You can find here the logos of Skype, WhatsApp, Amazon, YouTube, Periscope, iTunes, Twitter, and others.
We're continuing with social media icons for Instagram. These ones are designed in a nicer way than the previous ones, have a more accurate and colorful design. Check them out here. These perfect round Instagram highlight icons have a red and a bluish color scheme. Here you can find different social media icons.
The pack of minimalistic social media icons, different logos, and brand for Instagram story highlights can be found here. You can see that the design of these icons is elegant and done in a white and black color scheme. Here you can find free social media icons designed in a half-cartooned way. Amaze your subscribers with these interesting Insta icons!
If you are sick and tired of modified social media icons, the design of the following pack of story covers is made in the most realistic way. If you are a sportsman and have many competitions and achievements to show it to your auditory, then check out these Instagram story covers. Each of them has a stunning design concerned with victory, running, medals, awards, and other sports objects.
You won't believe it, but we do have a spa Instagram icons collection! Here you can find icons with different spa tools and procedures. This pack is ideal for those who own a spa salon or for its workers who want to get more clients.
Check out the following Instagram icons for floristics. These ones are great for those, who owns a flower shop and want to have more customers. Or if you like flowers and want to show them to all, you should check out these icons of cute multicolored flowers.
Are you a musician and want to show to the world your talent with the help of Instagram stories? I have something in store for you! Instagram icons for musicians! Are you an active person who likes to play baseball, football, volleyball, swimming, horse riding, and music? Check out these Instagram highlight covers in order to group all your activities.
---
We think this product will fit you as well:
Instagram Stories Highlight Icons
---
Premium Instagram Stories Highlight Icons
With free Insta icons, you have a good profile. But you can make it professional with Premium Instagram Stories Highlight Icons. These premium icons are easy to customize and with them be sure your business will look more prestigious and can attract muc
h more visitors on your profile. So, check out the following and choose the most attractive one.
The first pack of premium Instagram Story Highlight Icons contains more than 50 Insta icons on diverse themes. Here you can find such categories like sport, blogging, fashion, and medicine. You can easily change the colors and the text. Surprise your followers with these various Instagram highlight covers and help them to find in your IG highlights what they are looking for.

Download
Try Ultimate Instagram Highlight Icons if you want to promote your business in the most stylish way! The pack contains 54 highlight icons on different themes. Here you can find the icons for party time, shopping, coffee, food, and many more diverse icons. The background has light colors of pink, blue and gold. Amaze your Insta followers with these premium IG icons!

Download
I have not only Insta icons for you, but also templates for IG stories! Check out Instagram Story Template Package For Fashion Business Social Media. Make your fashion business more trustworthy and cool-looking with these templates. The pack has a black, white, red and grey color scheme which is perfect for fashion.

Download
Christmas is the ideal time for sales and especially for discounts! Check out the following Christmas Instagram Stories Banners for making your stories professional. The pack contains 10 story templates designed in a black, white and grey color scheme. You can easily customize these templates the way you like the most. Promote your business with these Christmas story templates.

Download
One more IG story template for you! CANVA Infopreneur Insta Stories contains 15 files made with the help of Canva! Promote your business with these story templates. The perfect bonus for you is free fonts and free photos!

Download
The following Instagram Stories PSD Templates are designed in the most fashionable way. With the help of these 16 templates, you can advertise different products, tell about any meeting, workshop and other things you would like to inform your followers. The templates are created with the help of Photoshop. Moreover, you get free fonts.

Download
The next Insta story template is Clean Style Instagram Story Package. The stylish and fashionable story templates can boost the business of any type. They are great for the fashion business, informing new recipes, advertising coffee shops, and many more business things you would like to promote.

Download
---
20 Instagram Post Ideas To Overcome Creative Block [Free Ebook]
By clicking the button you agree to the Privacy Policy and Terms and Conditions.
---
Conclusion
In December 2017, Instagram introduced a revolutionary update – Instagram Stories Archives. Keep your stories until you get bored: now you can save them for longer than 24 hours. Stories can be divided into different albums or categories. Your subscribers will have a small "wow" effect when they see your Instagram Stories Highlights covers. Focus on the color of the brands and a structured collection. Do not lose the chance to use this cool Instagram feature to develop your business and your relationship with your audience, and get more traffic to your website.
---
2020 Instagram Highlight Covers for Your Business FAQ
How to optimize an Instagram profile to make it look more appealing?
Today, mostly every person is on Instagram. Every third dream of a solid number of subscribers. Especially, it's important for professional bloggers and social marketing managers. Leading a page on Instagram means also to give a new impetus to your business and increase an area of potential clients. The only thing you need is to keep everything tidy and stylish. Rely on us! We promise to provide you with the best products to create diverse effects on Instagram! Keep on reading!
How to Add Instagram Highlight Covers?
- Hold down the "window" Storeys Highlights.
- Click "Edit Highlight" and then "Edit Cover".
- Open your gallery at the very bottom to insert a graphic you like.
- Select an image and click "Done" save the cover.
Why it's better to use Instagram highlight covers?
To engage subscribers watching your Instagram stories (as the result to spend more time on your page in general), from time to time make stories with exclusive gifts or discounts coupons. You can also add a unique code to track how many sales this type of content generates.
First of all, get assured your stories look attractive and appropriate. No need to design special templates in Photoshop when you use ONE Social Media Pack. There are unlimited downloads for unlimited projects. Subscribe!
---
Read Also
How to Market With Instagram Stories?
Master the Hashtag Game! Top Tools to Track Instagram Hashtags Performance
Instagram Live: How to Use and Manage Live Broadcasts on Your Business Page
6 Free Analytics Tools For Instagram Business Accounts
The Ultimate Guideline for Making Ads in Instagram Stories: Instructions and Recommendations