Prototype Faster & Easier With Justinmind 9
Justinmind 9 is revamped and ready to help you create website and app prototypes faster. The new release is packed with features that will make work life easier. (And that's something we could all use right now.)
Here's a look at Justinmind 9 and all the features you'll find with this tool.
Whether you're looking to take your UX design to the next level, save time with the array of tools you use, or start building fully interactive prototypes, Justinmind is a tool very much worth considering.
What is Justimind 9?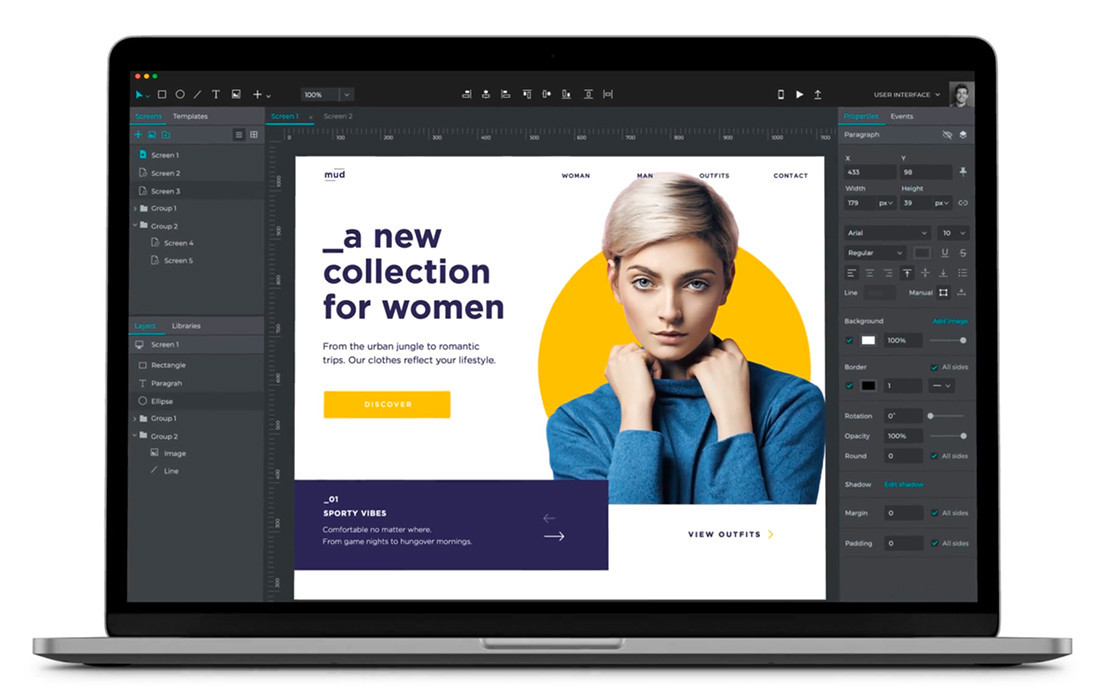 Justinmind 9 is a prototyping tool that puts the focus on user experience. That includes your experience as a user with the prototyping tool and the experiences of your web or app users.
Justinmind is a high-fidelity prototyping tool that web designers already trust and use.
This prototyping tool can help you boost productivity and create amazing designs that you can't wait to share with clients.
The neat thing about this tool is that if you poke around the Justinmind website, everything there was created with their tools.
Justinmind is a high-fidelity prototyping tool that web designers already trust and use. The new release includes additional features, speed, and tools to make prototyping even easier and faster.
It's easy to use and has an intuitive interface. Even if you haven't used a prototyping tool before – or are switching from something else – it just takes a couple of minutes to download the software and get up and running with Justinmind. It's that easy.
Benefits of the App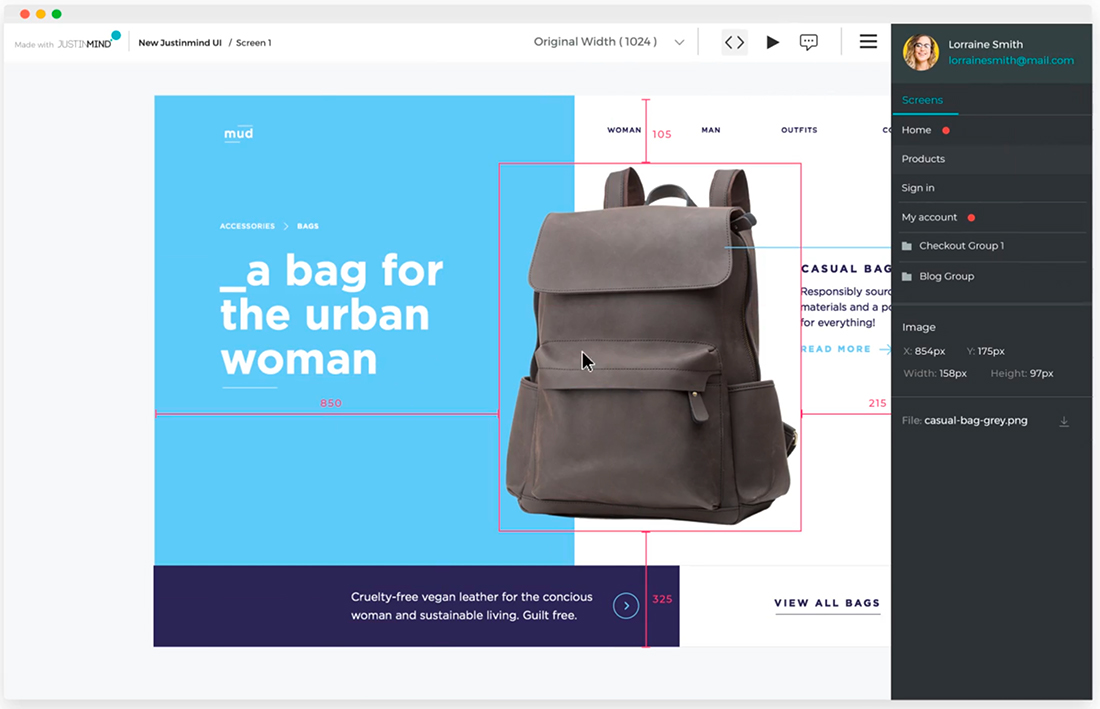 What UX designers will love about the app is that is it made for prototyping. Justinmind is another tool that includes a prototyping feature. It is a prototyping tool.
It includes plenty of toolbar shortcuts to help you work more efficiently
Design features and elements are where you need and expect them to be in the interface, making the workspace intuitive. (That's also a productivity bonus!)
It includes plenty of toolbar shortcuts to help you work more efficiently and new tools within the canvas to improve your user experience while you work.
But the biggest benefit of the app might be how fast it is. Even with huge file sizes, Justinmind 9 is zippy. (It's actually 10 times faster than the previous release.)
It's also made for collaboration so designers and developers can exchange projects seamlessly. Developers can access assets, inspect CSS, and get all the UI info without installing anything.
Plus, it works on Windows and Mac OS systems. (Perfect for remote and work from home teams!)
Key Features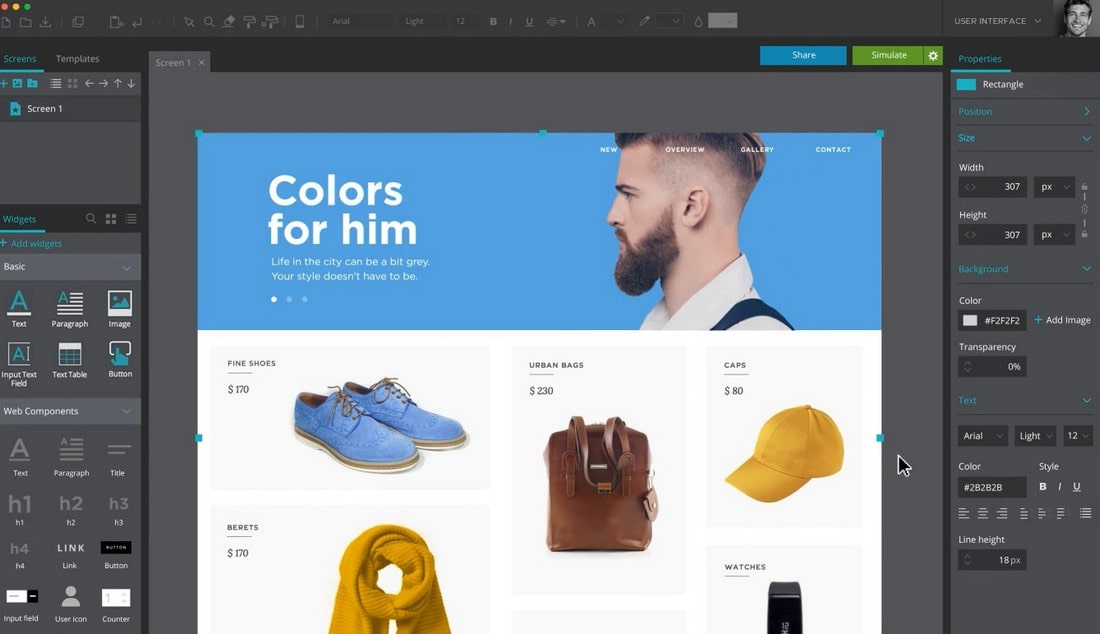 New features with Justinmind 9 make it easier to use than ever. If you haven't tried this tool yet, now might be the time to give it a try.
New features include:
Revamped workspace for complete control over how you work
Enhanced handoff for developers that's completely web-based
New design tools – direct selection tool, enhanced text editing, tweaked zoom, widget preview, and redesigned color palette
Smart guides
More pixel perfect edits for borders, and the size and position of elements
In addition to everything that's new with Justinmind 9, there are plenty of other tools and elements made to help you work as easily and efficiently as possible.
Other key features in the new release include:
Naming conventions allow any character
Embedding HTML allows things to be placed on top of it, including video
Transition effects between screens keep the background color
Screens, variables, templates, and masters have folders
Icons in the Layers palette
Click and drag for element selection
Rotate dynamic panels
Different users can make changes to shared libraries
Connect embedded HTML to the rest of the prototype via JavaScript
Customize search areas and search by category
Organize Scenarios in folders
Redesigned interface for review comments
Developers only need a web browser and email invite to work (no download required)
Ability to import comments from other prototypes to consolidate feedback
Ability to configure Justinmind to work like an older version
Pricing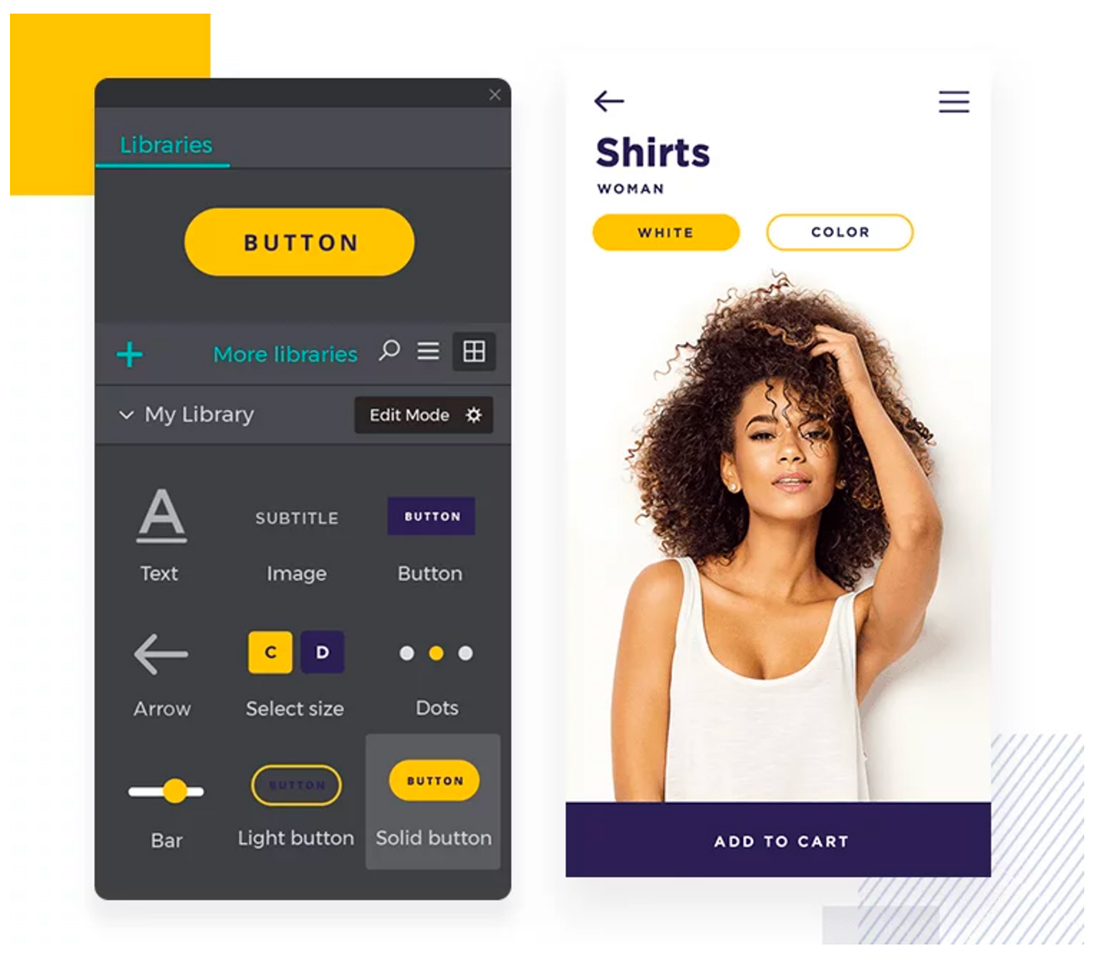 Ready to get started? You can download Justinmind 9 free to give it a try and see if this is the right web and app prototyping tool for you.
Then if you like it you can move to a paid plan – you only have to pay for users that create prototypes – and every plan comes with the ability to create unlimited prototypes and have an unlimited number of reviewers.
You can purchase a monthly subscription or a perpetual license (one time per user as long as you use Justinmind).
Subscriptions start at $19 per user per month (annual billing) and $455 for a Professional Perpetual license. The professional plan includes all pro features including UI kits, rich web interactions, mobile gestures and transitions, animation and effects, sharing and feedback, device testing, forms and data lists, export and documentation, designer-developer handoff, dedicated ticketing support, and 300 MB of storage per user.
For higher-volume users that need integrations, design systems, and requirements management, and enterprise-level plan is available.
The download is free. You can try it here.
Conclusion
Justinmind 9 is faster and more efficient than other releases of the prototyping tool. The user interface is intuitive and makes it more fun to work.
If you haven't tried it yet, download the tool and try it out. We think you'll love the tool built into this prototyping app and the collaborative functionality.