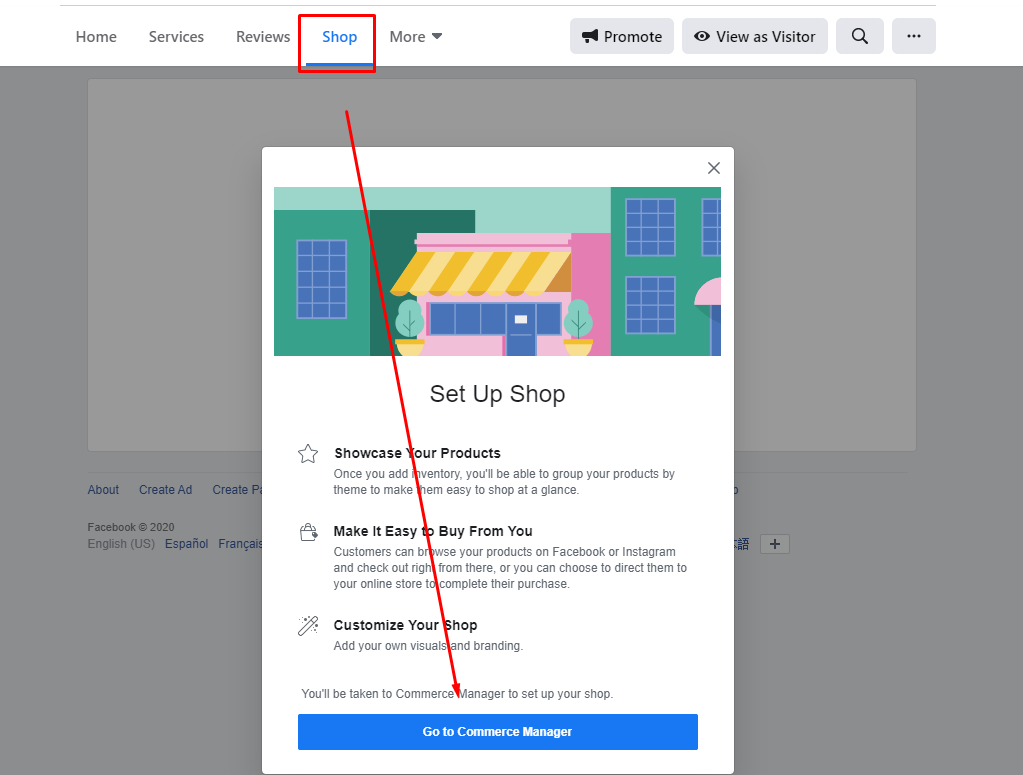 How to Sell on Facebook With Marketplace for Business and Shops
In 2020, shopping online has never been easier. Sites like Amazon and eBay allow individuals and businesses to easily buy and sell online — and ecommerce sales continue to rise.
Now, your small or midsized business (SMB) can sell directly on social media too with platforms like Facebook Marketplace for Business and Facebook Shops.
Even if you already sell your products via an online marketplace like Amazon or on your own website, selling on Facebook provides an additional channel for maximizing online revenue.
With 74% of people using social media to make purchase decisions, the ability to go beyond simply advertising on Facebook and actually sell there is huge.
Here's an overview of both Facebook Marketplace for Business and Shops that covers what they are and how they work. If your SMB is interested in selling on Facebook, WebFX's team of 200+ experts can help you get the best results — just get in touch with us today!
How to sell on Facebook Marketplace for Business
Facebook Marketplace was first developed as a means for Facebook users to buy and sell items locally.
The idea was that someone with, say, an old chair could put it up for sale on Marketplace, where people who lived in the seller's area could view it. If someone wanted to buy it, they could meet up with the seller in person and complete the exchange.
More recently, though, Facebook unveiled a version of Marketplace for SMBs. Facebook Marketplace for Business allows SBMs to sell products online via the social media platform.
Facebook Marketplace for Business features
As one of the major two sales platforms on Facebook, Marketplace offers plenty of attractive features like:
In-app purchases: Users can buy directly through Facebook, without having to visit your website.
Advertising capability: Marketplace allows you to easily advertise your products to boost awareness of your offerings.
Tax and chargebacks: You can easily manage sales tax and chargebacks in Marketplace for each purchase.
Ecommerce compatibility: Marketplace can integrate with ecommerce platforms like Shopify to keep your product inventory up to date.
Direct deposit: Marketplace can deposit the money from each purchase directly into your company's account.
Confirmation notifications: You can notify customers through Marketplace when you ship their packages.
Direct customer interaction: You can engage with customers in a live chat through Messenger to answer questions.
How to use Facebook Marketplace for Business
Using Facebook Marketplace is a simple process. It takes only a few clicks to upload your products for people to buy.
Here's the process for posting in Marketplace:
Click on the Marketplace icon on the side or top of the screen.
Click the blue button on the left side of the screen that says, "Sell Something."
When a popup appears, walk through the steps it gives you. This will involve filling out information about the product and which page you want to list it by.
Once you get to the end of the popup, post your listing.
It's that simple! With that done, people can view and purchase your products on Facebook Marketplace for Business.
How to sell on Facebook Shops
For a while, one of the best options for selling on Facebook was to use a Facebook Page Shop. Page Shops looked a lot like standard Facebook pages, but with options for purchasing products.
Unlike Marketplace, your Page Shop would be limited solely to products from your business.
In 2020, Facebook rolled out a replacement platform: Facebook Shops. Selling on Shops is similar to how to sell on Facebook Page Shops, and they function in almost the same way, but with a much different presentation.
Rather than resembling generic Facebook pages, Shops pages let you design them to look like your website or brand.
Facebook Shops features
Like Marketplace, Facebook Shops offers several features, many of which are shared between the two. Here are some of the most significant ones:
Visual customization: You can customize the appearance of your page in Shops, changing colors, and designs to make it fit your brand.
In-app purchases: Users can purchase items from you directly through Facebook if you enable it. You can also direct them to your website if you wish.
Ecommerce compatibility: Like Marketplace, Shops can sync with external ecommerce platforms to update your product inventory.
Direct customer interaction: Customers can ask questions and get fast responses through Messenger, WhatsApp, and other forms of live chat.
Loyalty programs: Shops is developing in-app loyalty programs that let you reward customers who stick with your business for a long time.
How to use Facebook Shops
Now that we've reviewed the perks of using it, it's time to talk about how to sell on Facebook Shops.
Compared to Marketplace, the process is more in-depth, but it also has the potential to give you greater control and yield more effective results.
Here's how to get Facebook Shops up and running for your business.
1. Set up a Commerce Account
To use Shops, you have to create a Commerce Account to manage your product inventory and transactions. Follow these steps to set it up: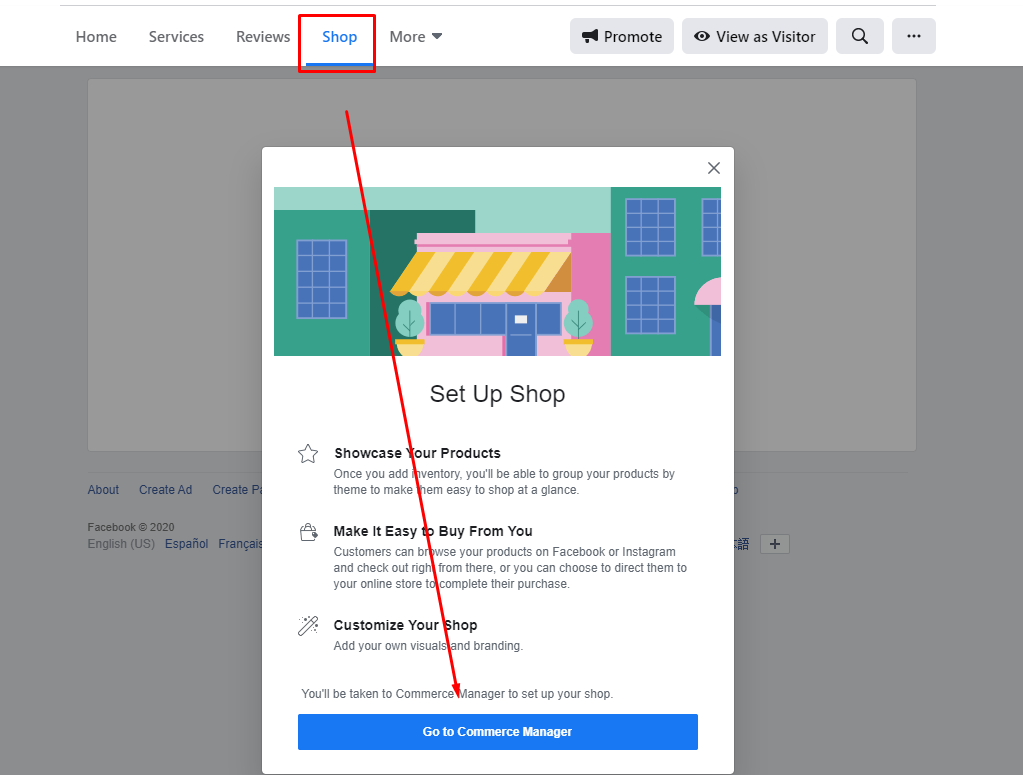 Go to Commerce Manager.
Click on "Create Your Shop."
Follow the steps it gives you until you arrive at the "Create Your Commerce Account" page.
Provide your business information.
Create a catalog and create your desired settings. This will later be used to hold your product inventory.
Set up your payment options for all transactions, such as your company's bank account. These can't be changed later, so make sure you input the information carefully.
When you've gone through this list, you're done setting up your Commerce Account.
2. Upload your products
Once your Commerce Account is set up, it's time to upload your product inventory. For each product you list, you'll have to provide four pieces of information, so be prepared to do so for each one. Here's the information you'll need:
An image of the product
A title for the product
A description of the product and its function(s)
Information about any variants on the product (due to size, color, etc.)
Repeat this process for each product you upload.
3. Customize your storefront
With the meat of the process completed, you can now get to the fun part: customization! To start, select your shop in Commerce Manager and click "Edit."
Once inside the editor, you can apply color schemes and graphics to match your business's brand. There's no inherent right or wrong way to do this, other than to approach it as you would approach any type of web design.
Above all, stay true to your brand and design your storefront to draw users in. Once you've finished, all that's left is for you to publish your shop and wait for the purchases to begin!
Unmatched WOW Services
Net Promoter Score is the leading metric for customer satisfaction.
WebFX clients score 394% higher than the industry average.
Sell more on Facebook with WebFX
We've gone over how to get your products up for purchase, but there's still more work to be done after that point. You can't just post your products and then peace out — you have to monitor your sales and be ready to respond to customers' questions.
But it's not always easy to know how best to run your page, either on Facebook Marketplace or Facebook Shops. That's why WebFX is here.
With over 20 years of digital marketing experience under our belt, we can help you build a social media strategy to make the most of your online store. Just give us a call at 888-601-5359 or contact us online to get started!