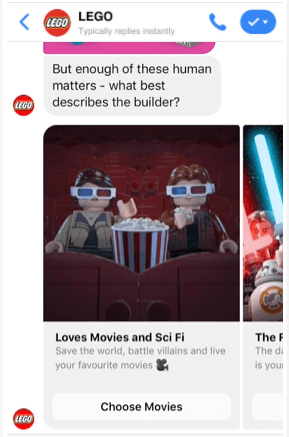 Facebook Messenger Chatbots: How to Use FB Chatbots
Over 65% of U.S. adults use Facebook, making it one of the tops platforms for connecting with your audience. While commenting on your posts is a great way to engage with your business, some people will look for more personal ways to communicate with your company.
Facebook Messenger creates that opportunity for leads to connect with you one-on-one and get answers to their questions. When you're flooded with messages, however, it can seem challenging to answer them all.
You may even find yourself answering the same question dozens of times!
That's where Facebook Messenger chatbots can help.
On this page, we'll answer questions like:
What are Facebook Messenger chatbots?
What can Facebook Messenger bots do?
Why should I use chatbots on Facebook?
How can I use chatbots on Facebook Messenger effectively?
Keep reading to learn more about how Facebook Messenger chatbot marketing can help you grow your business online!
Our digital marketing campaigns impact the metrics that matter most!
Over the past 5 years, we've generated:
1.5 Billion
in client revenue
4.6 Million +
leads for our clients
1.8 Million
client phone calls

Learn more about our results
What are Facebook Messenger chatbots?
Facebook Messenger chatbots are automated responders that use artificial intelligence (AI) software to converse with users. You can program these bots to hold conversations with users who message your business through Facebook when you're not available to chat.
What can Facebook Messenger bots do?
Facebook Messenger chatbots don't give you a free pass to never check your Facebook messages. You still need to have humans ready to answer questions when possible, but the purpose of a bot is to catch questions that come through after hours, when all employees are busy, or during holidays.
Not only that, but there are some questions a bot just can't answer, and for that reason, you'll need to check your Facebook messages often.
Chatbots on Facebook Messenger can:
Understand questions
Provide answers
Track shipments
Make product suggestions
Book appointments
And more
Why should I use chatbots on Facebook?
Facebook Messenger chatbot marketing is hugely beneficial to your business. Here are four reasons to use Facebook chatbots for your business:
1. People prefer to communicate through chatbots
One of the biggest reasons to use chatbots is that your audience likes to use them. In fact, 55% of people prefer to talk to a business through chatbots.
Your audience likes to engage with chatbots, so why not use them to communicate important information?
2. You can filter questions
When you use Facebook Messenger bots, you can filter questions that users ask your business.
Do you get a lot of the same questions from people all the time? If so, chatbots can prevent you from having to answer those questions repeatedly.
You can program your chatbots of Facebook Messenger to answer simple questions. When you filter these questions out and leave them for the bot to answer, you can spend your time responding to more complex problems.
3. You can respond to your audience faster
People don't want to wait for an answer.
They want to get answers to their questions fast, especially if it's a simple question like "how much is shipping?" or "When does the sale end?" Chatbots enable you to provide answers to these questions fast.
When you answer questions faster, you'll have a more satisfied audience. As a result, they'll be more likely to trust your brand and convert.
How can I use chatbots on Facebook Messenger effectively?
Facebook messenger bots for business can be a useful tool in your arsenal. If you want to use chatbots effectively, check out these four tips!
1. Decide what you want your bot to do
If you want to use your Facebook Messenger bots effectively, you need to decide what you want your bot to do. As we stated earlier, your bots can't do everything, but they can take on quite a few tasks.
You must set parameters for your chatbots and what they can do.
So, if you run a clothing store, you may want to equip your bot to make clothing suggestions based on the brand or style. You could also equip your bots to answer basic questions about sizing, shipping, and returns.
Setting parameters for your bots will help streamline the customer service process.
2. Meet your audience's needs
If you want to be successful with Facebook Messenger chatbot marketing, you need to ensure your chatbots meet your audience's needs.
Your audience expects your bot to provide them with answers to simple questions on the spot. If you're not meeting those expectations, you may leave them feeling disappointed with your business.
As we discussed above, you need to set parameters for your chatbots, but you also want to ensure you're choosing the right parameters.
For example, let's say you own an office furniture store. Someone might expect that, when they message your business, you could give them a list of the colors offered for a specific desk or chair. If your chatbot can't do that, they may end up feeling disappointed with your business.
That said, you must figure out what matters to your audience when it comes to AI technology and buying products from your company. You may need to survey your audience and see common responses to get an idea for what's necessary with your Facebook messenger chatbots.
You could also poll audience members who recently interacted with a chat bot to determine if they were satisfied with their experience.
3. Always give users the option to talk to someone
Facebook Messenger chatbots are a great technological advancement for customer service, but some customers don't want anything to do with them. Some customers want to speak directly to a customer service representative and have human connection.
When you use Facebook Messenger chatbots, you should always give the customer an option to speak to a representative. You don't want your audience to feel discouraged by your brand because of a chatbot.
Chatbots also may not provide the most direct answer. So, if someone asks one of your "programmed" questions, but the answer isn't enough for them, they may want to speak with a representative to get more information.
4. Use your brand's tone in your Facebook Messenger chatbots
Your bots are an extension of your brand, so you should program your bot to speak in the same tone that you use on your website and in your social media posts.
There are two good reasons for integrating your brand's tone into your chatbots:
It helps your audience build brand recognition and get familiar with your company.
It helps create a sense of familiarity for those who already know your brand.
So, how can you integrate your brand's tone into your chatbots?
Program your chatbots to use a similar tone of voice as your business. Whether you take a fun tone, professional tone, or serious tone, you want to reflect that with your chatbots.
You'll also want to program your bots to use standard terms your company uses. So, for example, Poshmark calls their sellers "Poshers," so they would want to program that term into their chatbots if someone was messaging about an order issue or similar situation.
In this example from Lego, the bot uses phrases like "build-tastic" and calls the customers "builders."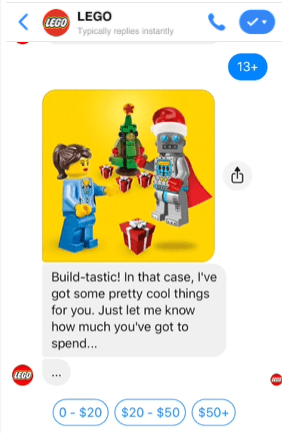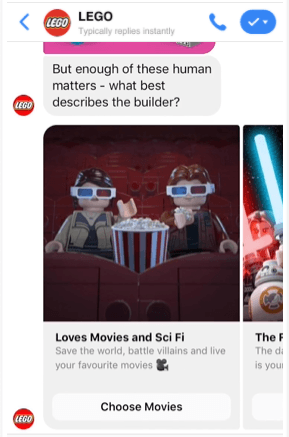 Get started with Facebook Messenger chatbot marketing today
Facebook Messenger chatbots create an excellent way for you to connect with prospects. You can answer questions, provide product suggestions, and help nudge them towards conversion.
If you're ready to get started with setting up chatbots, WebFX is here to help. Our team of over 250 marketing experts will help you set up Facebook Messenger bots that engage your audience and help move them towards conversion.
We've driven over $2.4 billion in sales and over 4.6 million leads for our clients. You can feel confident we'll drive results for you, too.
Contact us online or call us today at 888-601-5359 to speak with a strategist about getting started with Facebook Messenger chatbot marketing!