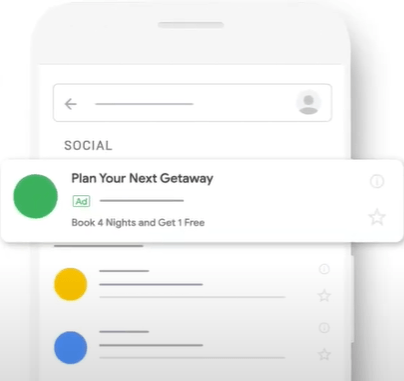 Google Discovery Campaigns: How to Create Discovery Ads
Google is one of the best platforms to advertise your business. From pay-per-click (PPC) ads to display ads, you have numerous ways to reach people interested in your products and services.
Google Discovery campaigns are another way for your business to reach new leads and help you grow online.
So, what are Google Discovery campaigns? And how can you set one up?
We'll answer those questions in this blog post, so keep reading!
P.S. Want to stay on top of the latest tips and trends with digital marketing? Sign up for our email list!
Our digital marketing campaigns impact the metrics that matter most!
Over the past 5 years, we've generated:
1.5 Billion
in client revenue
4.6 Million +
leads for our clients
1.8 Million
client phone calls

Learn more about our results
What are Google Discovery campaigns?
Google Discovery ads appear on the homepage of the Google app, the Google homepage on mobile, the YouTube home feed, and Gmail.
The Google Discovery feed includes topics of interest to the user based on previous browsing behavior, so the ads in these feeds are tied to what the user likes.
When you run Discovery campaigns on Google, you focus on creating visual ads that catch your audience's attention and get them to engage with your ad content. These ads enable you to reach people before they even search on Google or YouTube.
What do Discovery ads look like?
Discovery ads differ in appearance depending upon the platform. If you run Discovery ads, here's what you can expect them to look like on different platforms:
Gmail: Ads look and function like regular Gmail ads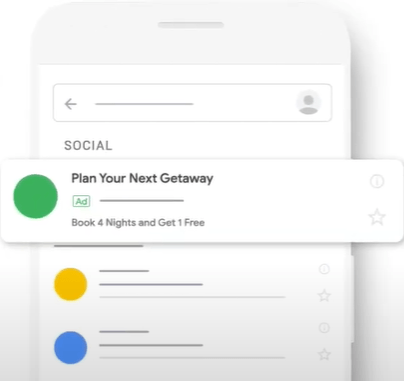 YouTube: Large images with some text with a yellow "ad" tag and a call to action (CTA) banner
Google: Large images with some text and a yellow "ad" tag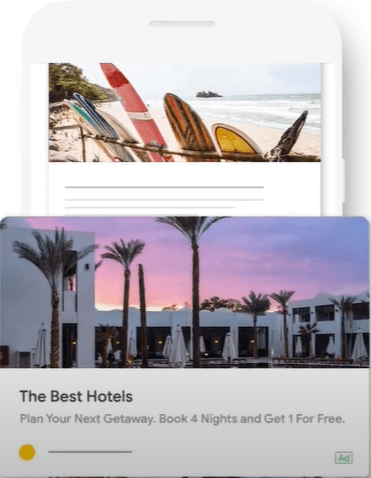 How do Google Discovery campaigns work?
If you run Google Discovery ads, you'll find that Google handles most of your campaign. Google decides how your ad should be run and determines where your ad should appear (based on your targeting options).
When you run an ad, you handle your budget, your target audience, and provide Google with creative options for your ad. Google handles the rest. It's a hands-off advertising approach, but it enables you to show your ads where Google thinks you will have the most success and reach the most relevant people.
To help you reach the right people, Google looks at web and app activity, the user's location, and more, to determine the right content for that user.
So, if someone has been browsing information about organic cleaners and you own an organic cleaning business, your Discovery ad could appear in their feed.
Google Discovery ads also work on a pay-per-click basis, so you'll only pay when someone clicks on your ad in their feed.
How to create Google Discovery campaigns
Ready to start running Google Ads Discovery campaigns? Here's how you can get started!
1. Decide who you want to target
One of the most critical aspects of Google Discovery campaigns is choosing your target audience. You want to ensure that you're targeting the right people so that Google will put your ads in front of them.
Google offers numerous targeting options for your business:
Demographics: If you know your target audience's age, gender, relationship status, and other demographic information, you can target them based on this information.
Remarketing: With the remarketing option, you target your display ads at people who previously visited your site or purchased from your business prior.
In-Market Audiences: With an in-market audience, you target users who started to browse and search for information or products in your industry. These are people who actively consider purchasing.
Life Events: With this targeting option, you target people based on life events, like changing jobs, graduating, getting married, and more.
Custom and Affinity: This targeting option enables you to reach people based on topics and interests that people browsed and searched in the past.
2. Set your budget and bidding
As we stated previously, Google Discovery ads operate on a pay-per-click model. So, when it comes to running Google Ads Discovery campaigns, you need to set a budget that gives you enough room to drive success with your campaign.
Also, you'll want to choose a bidding option that will help you maximize your budget.
The size of your budget will impact the success of your campaign, like with any other PPC advertising campaign. So, if you only spend $500 on your campaign, you won't drive the same success with a campaign where you spend $2000.
As for bidding, you have two bidding strategies you can use:
Target cost per acquisition (CPA) bidding: You should use target CPA bidding if your budget is at least 10 times more than your target CPA. So, if your target CPA is $10, You need to have a budget of at least $100. Google tries to drive conversions at a specific price point.
Maximize conversions bidding: With this bidding option, Google tries to drive as many conversions as possible for the lowest CPA possible. This option is better for companies that have small budgets or expect less than 10 conversions a day.
3. Review your additional settings
After setting your budget, bidding, and targeting, you'll want to review your additional settings to make sure you have your campaign set the way you want. Here are some settings you'll want to review:
Campaign start and end date: If you only want to run your campaign for a specific amount of time, you'll want to set a campaign start and end date.
Campaign time of day: If you only want your campaign to run specific times of the day or days of the week, you'll want to adjust this setting to your needs.
Specific actions: If you only want your campaigns to optimize for particular conversion actions, you need to change this setting for your ad campaign.
After reviewing your campaign settings, you can upload your ad content.
4. Upload your ad content
The last step for setting up your Google Discovery ads is uploading your ad content. You'll want to upload all the components of your ad so Google can compile a beautiful ad to show to your audience.
Here's what you need to upload:
Landscape images: Since these ads are visual and square-shaped, you'll want to upload images in landscape orientation. Make sure your images aren't blurry or poorly cropped. You also want to make sure you don't include a CTA on your image, or Google won't approve it.
Headlines: When you run Google Ads Discovery campaigns, you need to upload multiple headlines so Google can choose the most suitable one. You'll want to upload five different headlines for your ad.
Descriptions: Like headlines, you'll want to upload five different descriptions for Google to use. Google will use different combinations of your headlines and descriptions to create the best ad experience.
5. Review and launch your campaign
Once you have all your information uploaded, you'll review your Discovery campaigns on Google and verify that the information is correct. If everything is accurate, you'll launch your campaign!
Get started with Google Discovery campaigns today
Google Discovery ads are an excellent avenue for you to reach more people interested in your products or services. You can get your ads in front of these leads and help your business grow online.
If you aren't sure how to set up your Google Discovery campaigns for success, WebFX is here to help. We have a team of over 250 marketing experts that can help you advertise successfully. From Discovery campaigns on Google to PPC advertising to social media advertising, we can help you do it all.
Want to learn more? Contact us online or call us today at 888-601-5359 to speak with a strategist!