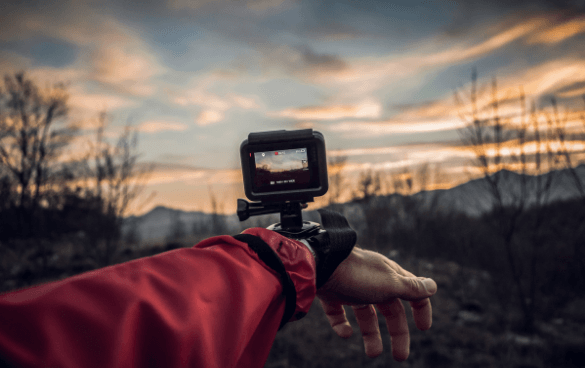 A (Thorough) Beginner's Guide to Facebook Video Advertising
Interested in Facebook video advertising but tired of having to hop between seven different websites to learn how to use it effectively?
So are we, which is why we've done the research for you and put together this beginner's guide to harnessing the power of video advertising on Facebook.
Why use Facebook video advertising?
If you aren't sold on Facebook video advertising, we'll let the statistics speak for themselves.
At Shipt, a grocery delivery company, the team used their video marketing know-how to produce a 14% conversion lift for their brand on Facebook.
In another case study, magnetic eyelashes retailer Glamnetic saw a boost in ad recall, brand awareness, and return on ad spend from their Facebook video campaign. More specifically, the company saw a nearly 11% boost in purchase conversions.
Now that you're convinced (and if you're not, you can check out more of Facebook's advertising case studies), let's get down to business.
You'll come away from this blog post understanding:
Facebook video ad formats

Facebook video ad placements

How to set up your Facebook video ads

Some video advertising best practices
You may also notice some stunning Facebook video ad examples sprinkled throughout this post. For more video ad examples, you can check out the Facebook ads library (after you've read this post, of course).
3 Facebook video advertising formats
Facebook gives you plenty of variety when it comes to the
type of ad
and
its placement
.
We'll start with a list of a few different Facebook video ad types.
1. Boosted post
A boosted post looks just like any regular Facebook post, except it has a "Sponsored" tag that separates it from organic posts.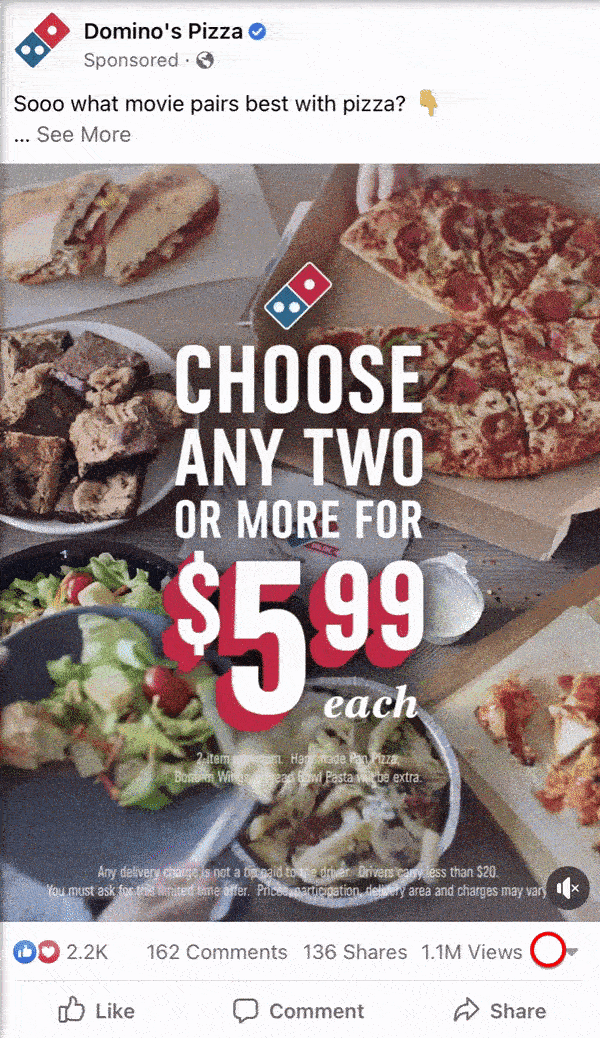 For reference, an organic post shows up without having been paid for, such as a status shared by one of your friends (assuming your friends aren't paying to have people look at their posts).
If you previously uploaded a video to your Facebook page, you can turn it into a boosted post to get it in front of a larger audience.
If you just so happen to be scrolling through your business's Facebook page on your phone, you may notice a button that says "Boost Post."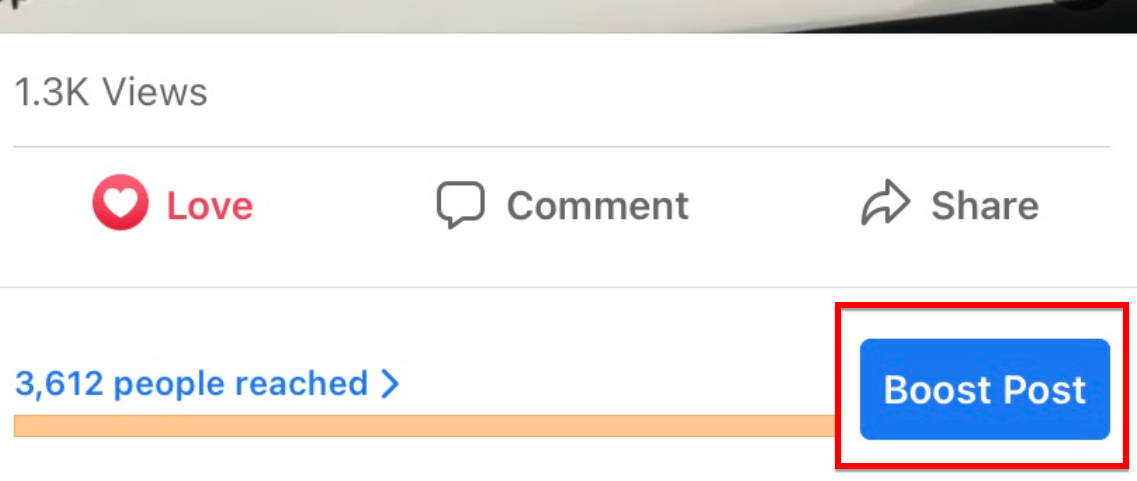 If you tap that button, Facebook will take you to a page where you can set your budget, goals, and launch your video post as a fancy new ad.
2. Slideshow ad
Facebook Slideshow ads let you stitch together existing photos, videos, and audio clips to create a short video for your brand.
You can easily and quickly create this Facebook video ad format using Facebook's advertising tools.
If you don't have your own assets to upload for your Slideshow ad, you can take advantage of Facebook's library of images.
3. Carousel ad
With a Carousel ad, you can use a combination of videos and photos to create an interactive experience for your audience.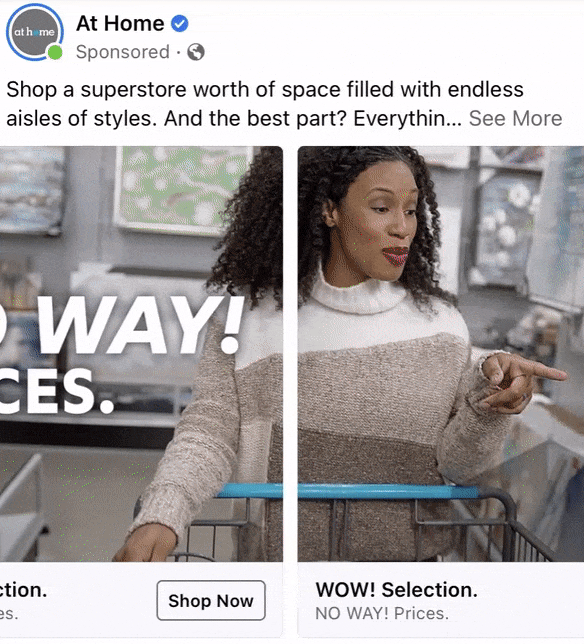 Facebook users who see the ad can swipe through your content and even click the call-to-action (CTA) button of your choosing.
It's best practice to use a majority of your own footage or images for any ad type rather than anything you grabbed from a stock library or Facebook's collection.
Just picture a video advertising campaign for a grocery store.
If they used generic footage of a smiling shop worker, they might get some attention. But if they introduced their audience to their team with some quick clips, the video would feel more personal and likely connect better with the viewer.
5 Facebook video advertising placements
Believe it or not, you have plenty of options when you're ready to choose where your Facebook video will go.
Keep in mind that your video placements, campaign goals, and formats are tied together, so you may not be able to use every video format in every location on Facebook.
1. In your News Feed
The Facebook News Feed is the timeline of content you see when you initially log on to Facebook.
While you scroll, you may stumble upon boosted posts featuring a brand's video, such as in the Domino's example earlier.
When it comes to Facebook video ad specs, specifically the length of your News Feed video, you're "limited" to a whopping 240 minutes.
You don't need to create a four-hour video. In fact, you really shouldn't.
We'll discuss optimal video length a bit later in this post.
2. In your video feed
If you click or tap on a video, you may notice Facebook suggesting other videos you might enjoy.
If you look closely, you may see some video ads within that seemingly endless feed of videos.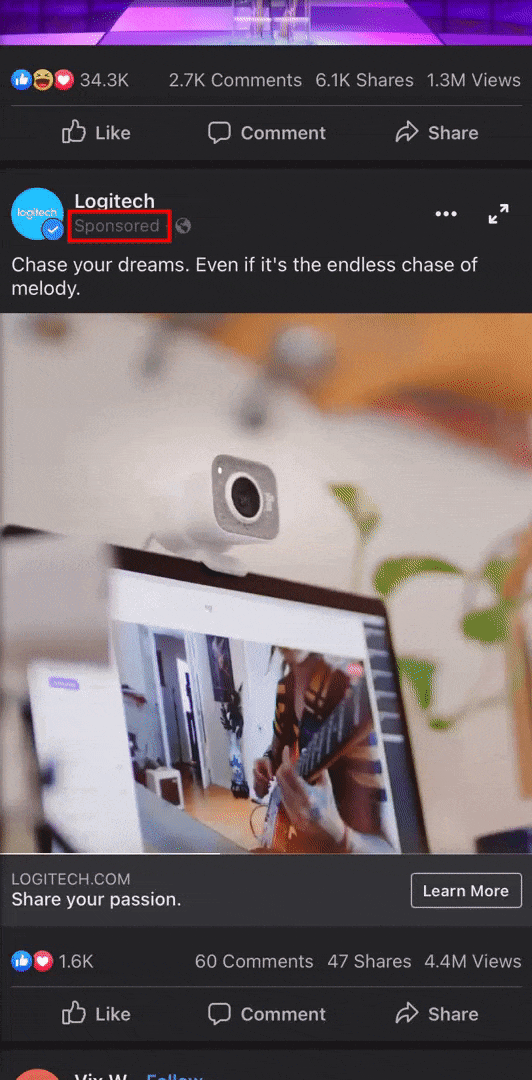 Video feed ads can be anywhere from one second to four hours long, but please don't create a video of either duration.
3. During a video
The technical term for a Facebook video ad that plays during another video is an "In-stream" ad.
If you've ever watched a Facebook video, only to be presented with an ad about halfway through, you've seen an In-stream video ad.
These ads can be anywhere from five seconds to 10 minutes long.
4. In Facebook Stories
Facebook's Stories feature lets users share content with their friends that disappears after 24 hours.
While swiping through your Stories, there's a good chance you'll stumble upon an ad from a brand you know.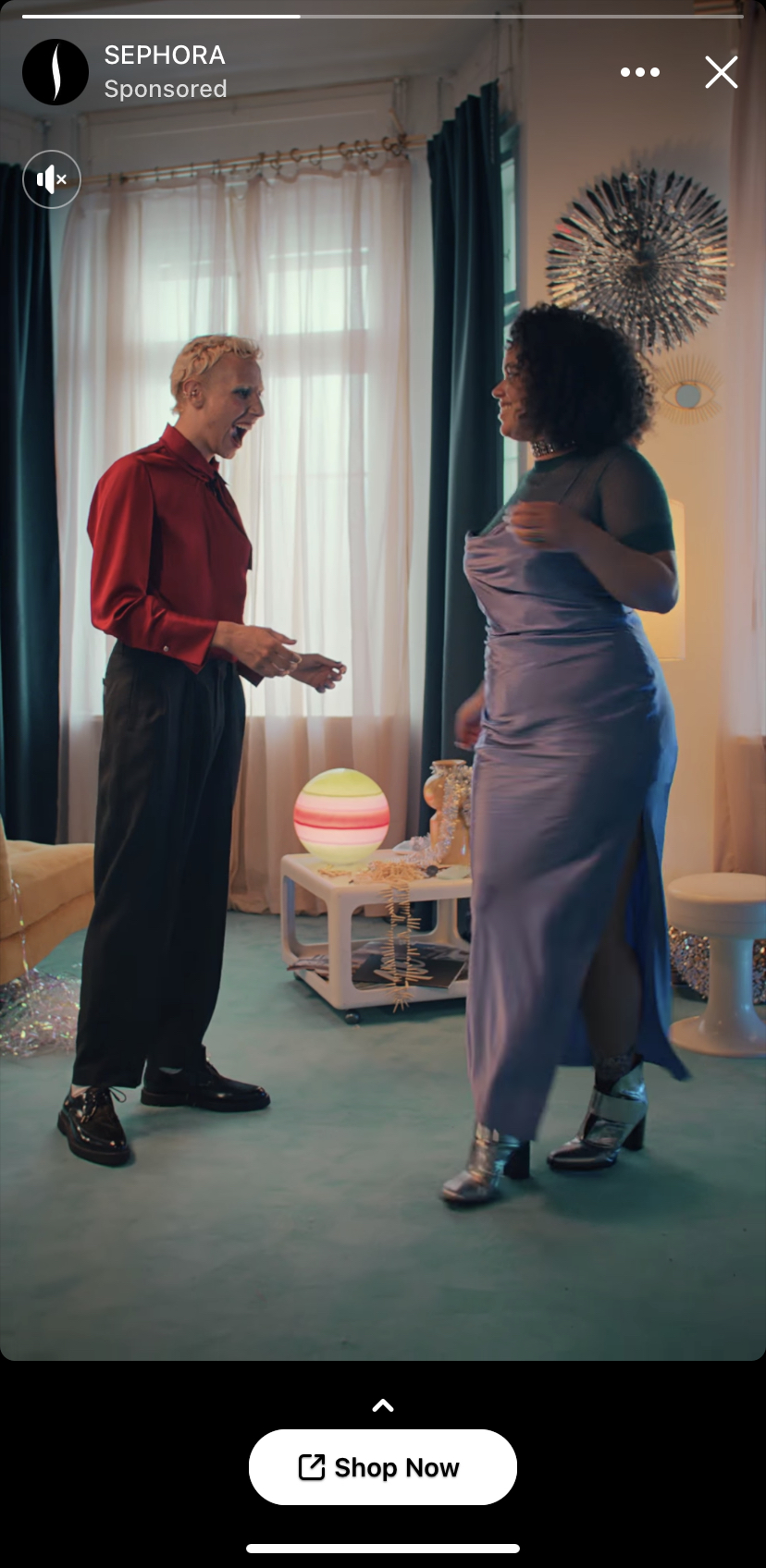 Like the other ads, these ads tell you they're an ad with a "Sponsored" tag and feature a call-to-action of the advertiser's choosing.
5. Within Facebook Marketplace
Lastly, if you've ever forayed into the Facebook Marketplace scene, you may have seen sponsored content related to your searches.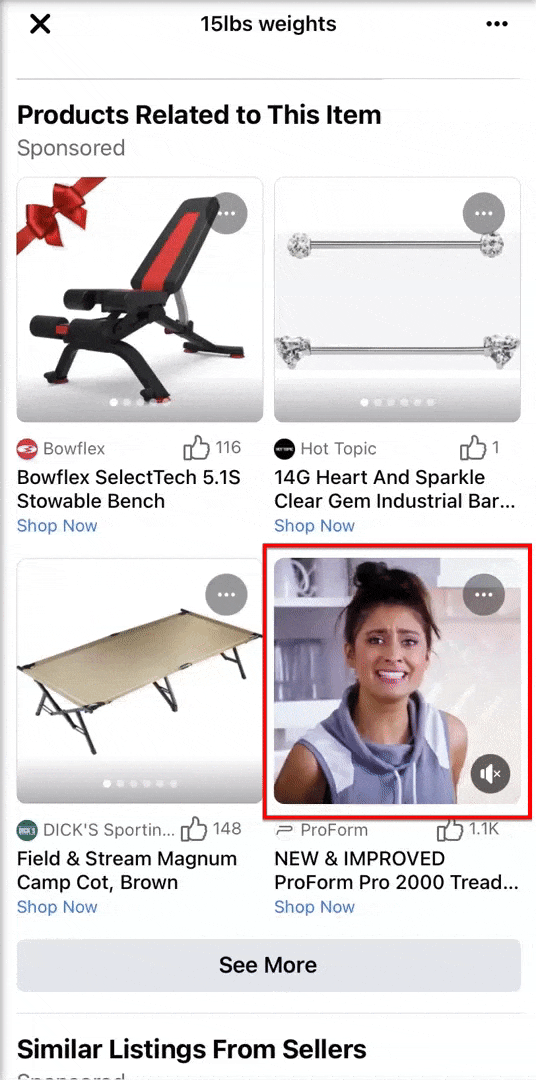 In addition to sharing photos with their sponsored listings, businesses can utilize video to grab people's attention.
You can learn more about the basics of Facebook ads (including goals and targeting) in our video on that topic.
How to get started with Facebook video advertising
When you're ready to take your video advertising to Facebook, you shouldn't upload the first video you have and throw money at it.
You'll likely end up frustrated with your campaign if you take that approach.
Instead, create a plan to help you achieve your campaign goals.
1. Outline your concept, your goals, and your audience.
Your video concept needs to hook people within the first few seconds. People have a lot of content to scroll through, so you need to give them a reason to stay.
Ask yourself what makes your business, product, or service unique.
Can you use comedy or an emotional story to connect with video viewers?
If you have a story to tell, keep it short.
Facebook recommends not utilizing the full length of every video format. Just because you can make a feature-length video doesn't mean you should.
The Shipt video campaign mentioned earlier in this blog post used a 15-second video to spark success if that isn't enough proof of short-form storytelling success.
2. Determine which format and placement will tell your story best.
If you want to tell the emotional story of a girl who adopted a puppy from your shelter, you might not want to stitch together a few photos in a Slideshow ad.
Knowing what you want to achieve through your video campaign will help make your format decision much, much easier.
Remember, the format will also affect your ad's placement, so once you have your concept and goals in mind, the rest of your campaign should fall in line.
3. Set up your Facebook video advertising campaign in Facebook Business Manager.
If you have a page for your business on Facebook, you should have access to Facebook Business Manager.
From there, you can manage your page and access your ads via Ads Manager.
Once you've opened up Ads Manager, select the "Create" button to start a new campaign.

You'll then be prompted to select your campaign objective and fill out other relevant campaign information, like your budget and timeline.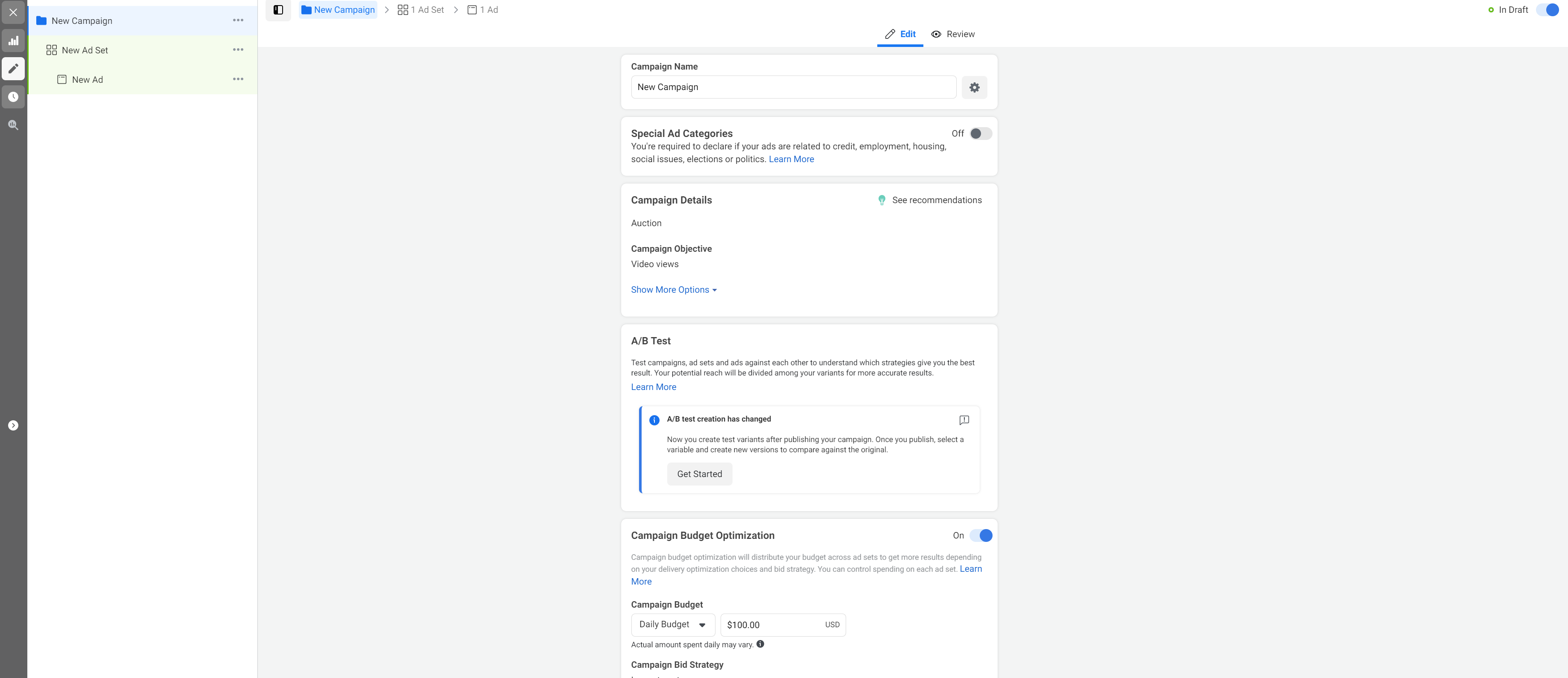 You'll also choose which type of video you'll use and upload any multimedia elements you have.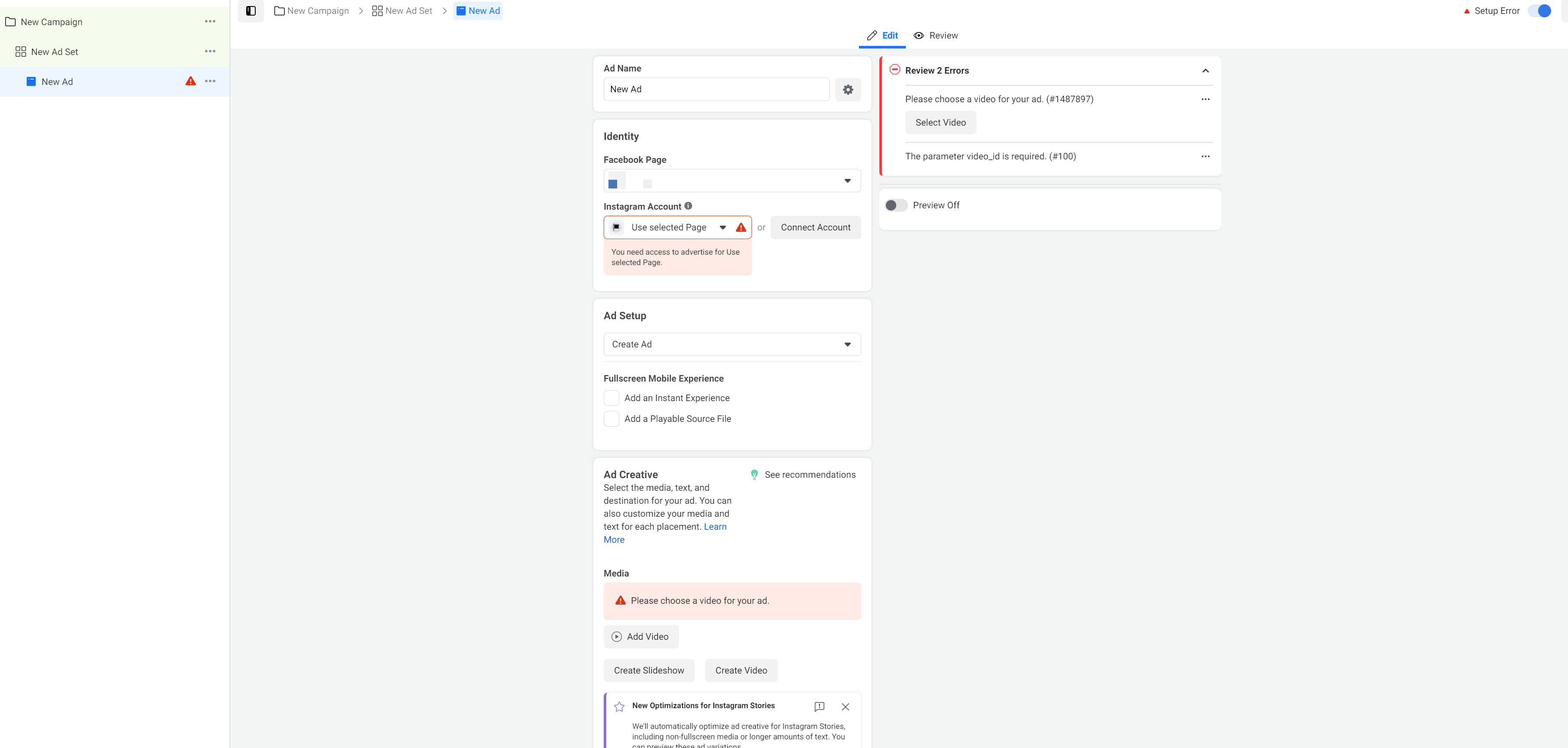 Once you have all the information updated, you can launch your campaign.
But you're not out of the woods yet.
4. Monitor your video ad's performance.
The magic of digital advertising is that you have access to real-time data on how your efforts are paying off.
Don't launch your campaign and forget about it. Check on it regularly to make sure it's getting the results you want.
You should have set goals in the beginning stages of your campaign, such as a set number of clicks or conversions you wanted to earn.
If your campaign isn't achieving your goals, you may be targeting the wrong audience or your budget may be too low. You'll diagnose problems with your data.
You can experiment to see how your Facebook video advertising campaign can get better.
The Facebook video ads cost
With online advertising, you can set your own budget and make adjustments as needed.
Truth be told, the average cost of Facebook ads varies depending on the bidding model you use and other factors like your audience, the ad placement, your industry, the ad quality, and the time of year.
Facebook bidding models include:
Cost-per-click (CPC)

Cost-per-thousand-impressions (CPM)
Generally, for a CPC campaign, the average click costs just under $1.
If you're paying on a CPM basis, you may spend just over $7.
Again, you may not see those numbers for your own campaigns.
If you're still reading, that's all for Facebook video advertising!
We have a team of Facebook experts here at WebFX, and we'd be happy to help you grow your business with a custom Facebook advertising strategy.
Not to mention, we're a Facebook marketing partner, so we know how to create campaigns that drive results for your business.
Don't hesitate to reach out to our team to learn more!