15+ Best Twitch Stream Overlay Templates in 2020 (Free & Premium)
Twitch is well-known as a video game streaming platform but it's actually much bigger than that. Now it's populated by all kinds of content creators and professionals. Most of them are even using Twitch as their main source of income.
You'll notice that all these Twitch streamers have their own unique and personalized streaming setups. They have creative overlays for the facecam with colorful and branded designs. This helps the streamers to set themselves apart from the millions of other streamers.
Usually, you have to hire a graphic designer to get a customized Twitch stream overlay designed for your channel. It will require a big investment, which is harder to afford when you're just starting out. Thankfully, there's a more affordable solution to this — Twitch overlay templates.
Twitch stream overlay templates are pre-made overlay designs that you can easily edit, customize, and upload to your stream setup. It's that easy. Have a look in our handpicked Twitch overlay templates collection below to find a design for your Twitch channel.
Tigerspawn – Twitch Stream Overlay Template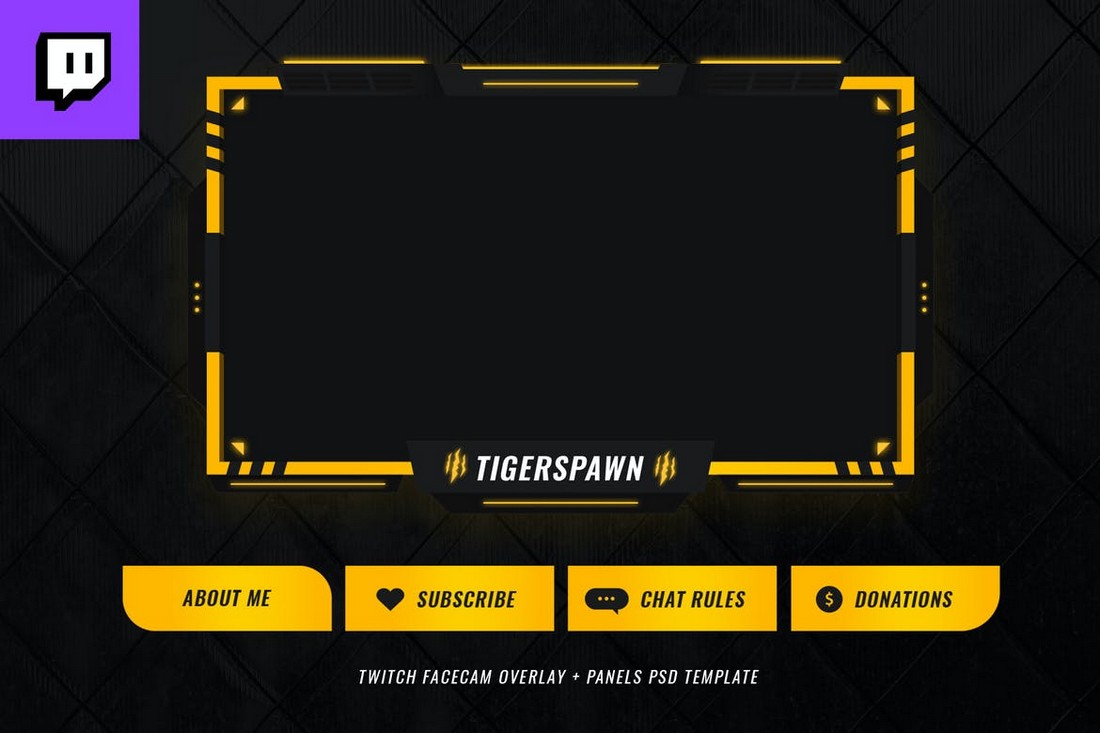 Using a bright and colorful facecam overlay is a great way to highlight your cam footage against a dark background. This is why this Twitch stream overlay is most suitable for video game streamers. Especially if you're playing games with dark themes like horror games this overlay will effectively highlight your facecam. You can easily edit this template using Photoshop as well.
Americans – Twitch Stream Overlay Template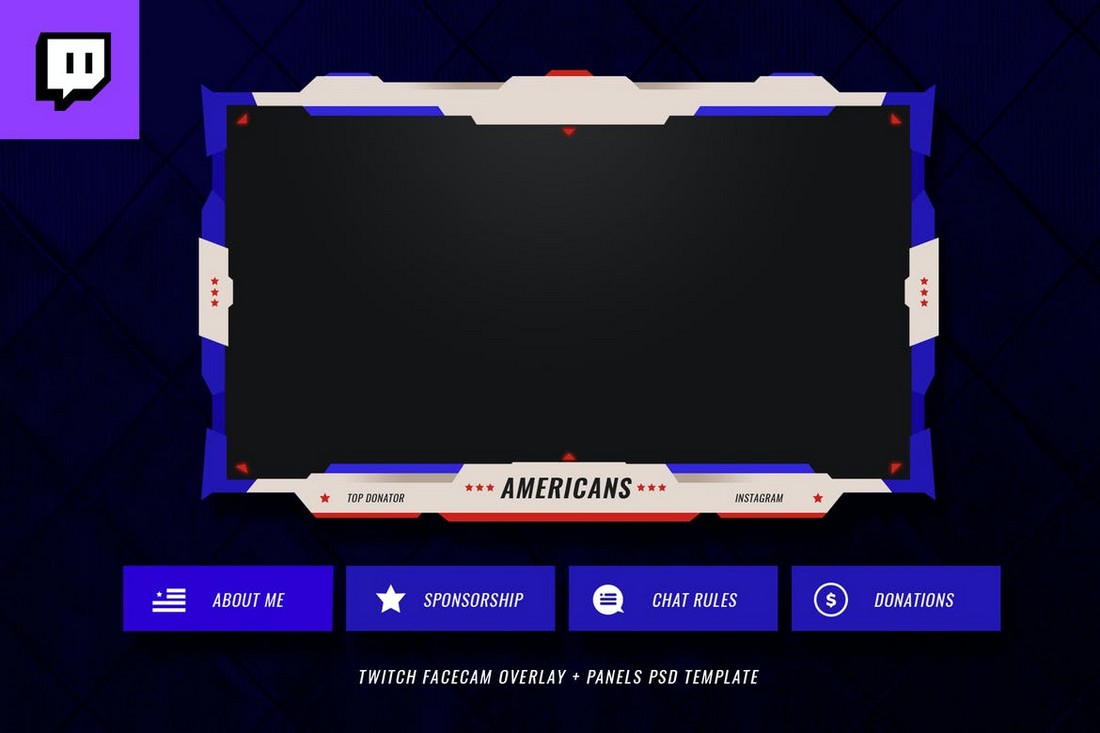 Want to show off your patriotism through your channel? Then this overlay template will be perfect for you. It features a very patriotic design with multiple colored sections. The best part is you don't have to be American to use it. You can easily change the colors to your preference using Photoshop.
Twitch Overlay Template for eSports Teams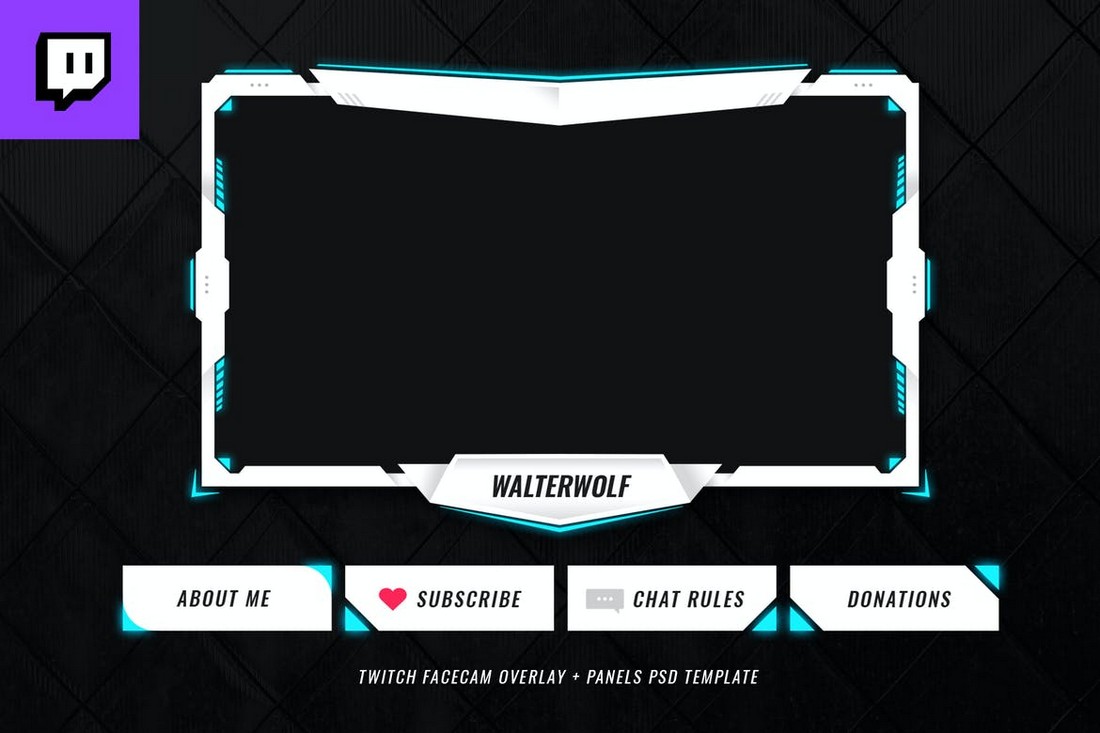 Most of the gaming content creators on Twitch prefer to team up with eSports teams and even participate in tournaments. This Twitch overlay seems like a great choice for such teams to have a unifying overlay design for all of the members. The clean design and color choices make it even more perfect.
Angelions – Twitch Facecam Overlay Template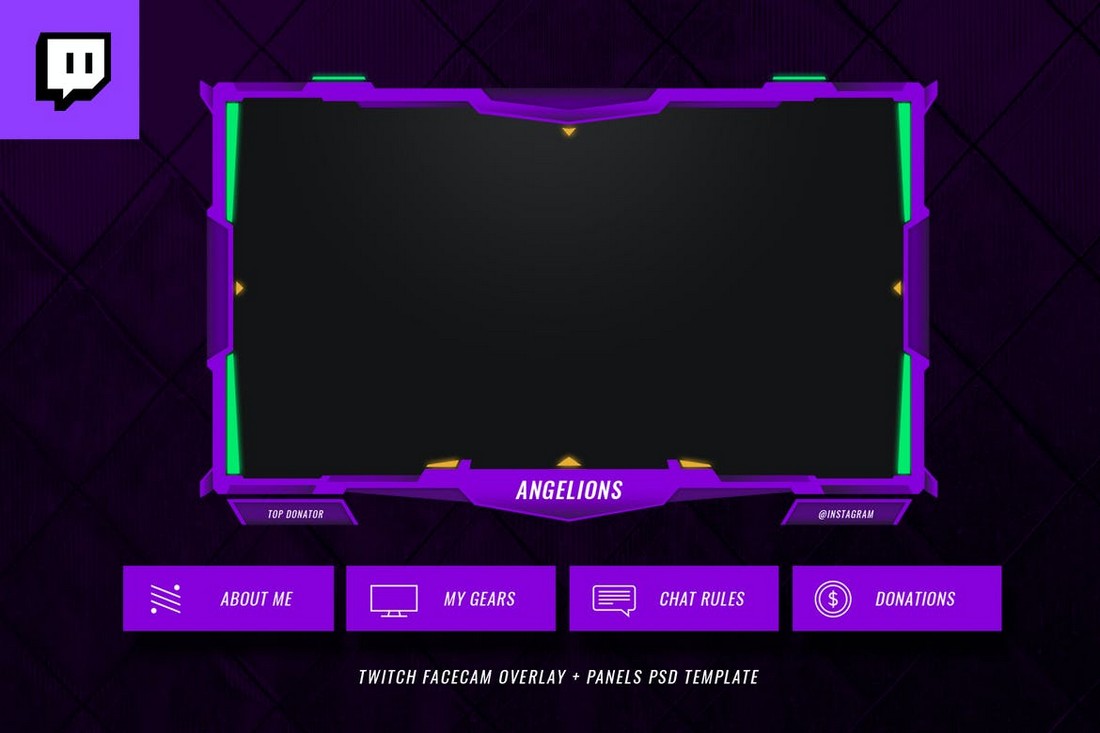 No matter what type of a gamer you are, you can use this multipurpose Twitch overlay template to create a stylish facecam overlay for your stream. It's highly customizable and comes with easily changeable colors. It even includes instructions on how to edit the template using Photoshop.
Minimal Twitch Stream Overlay Template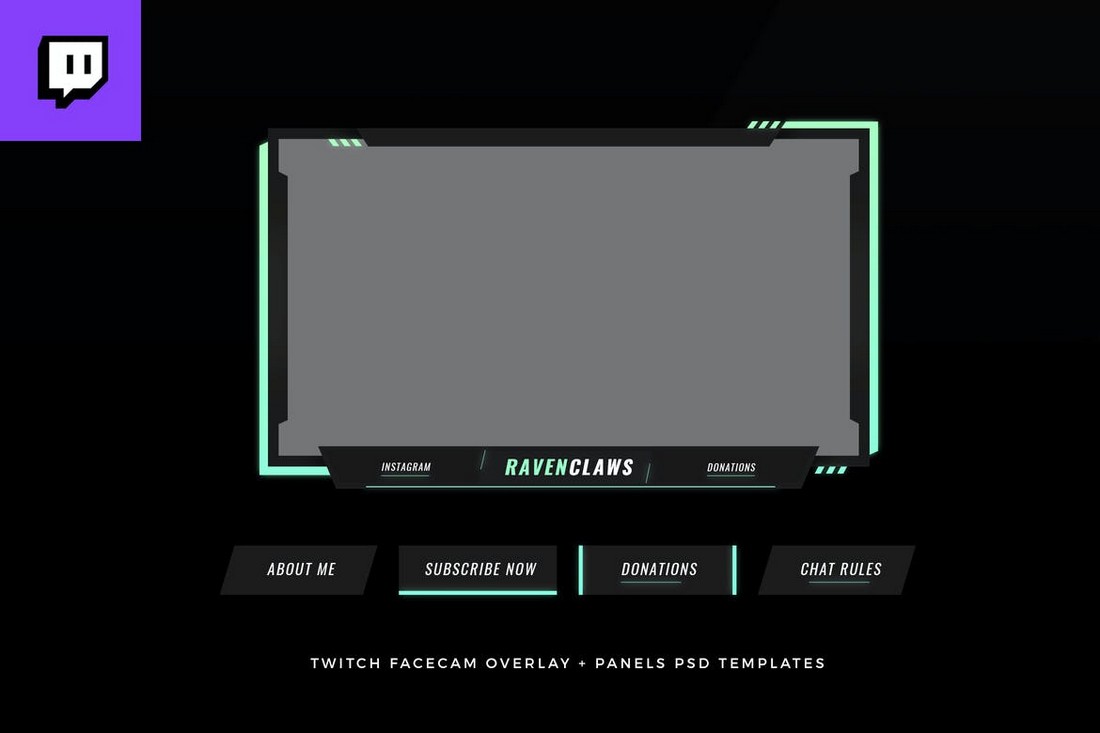 Sometimes, you don't want your facecam footage to take the attention away from your background stream. This overlay template is made just for those streamers. It features a minimal design that allows you to highlight your facecam in a more decent way. The template comes in PSD format and it's customizable as well.
Free Twitch Stream & Cam Overlay Template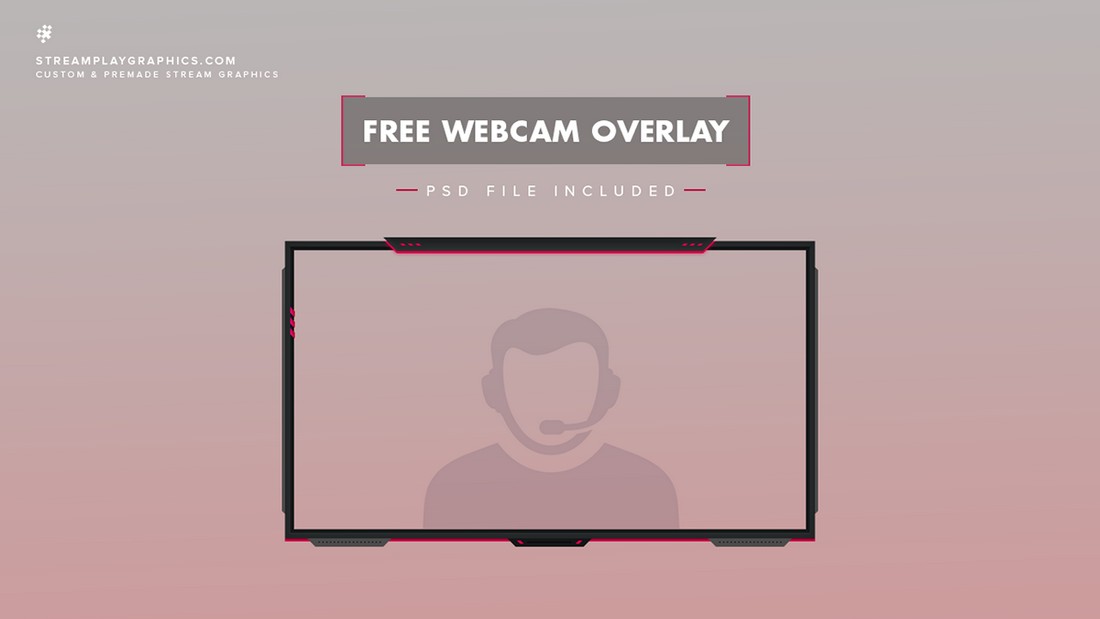 This is a free Twitch overlay template that comes with both a fullscreen stream overlay and a facecam overlay. Both templates are free to use and include customizable layouts for changing colors and text.
Free Twitch & YouTube Stream Overlay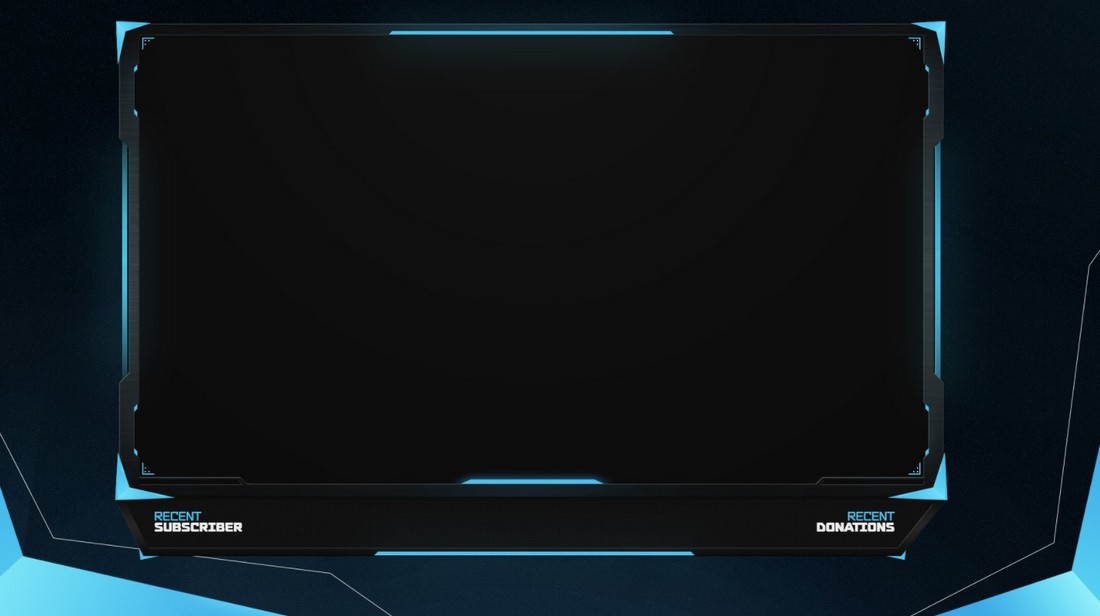 If you stream on both Twitch and YouTube, this free template kit will come in handy. It features matching Stream overlay designs for Twitch and YouTube streams. The templates are easily customizable to your preference.
Tokiyo – Twitch Stream Overlay Template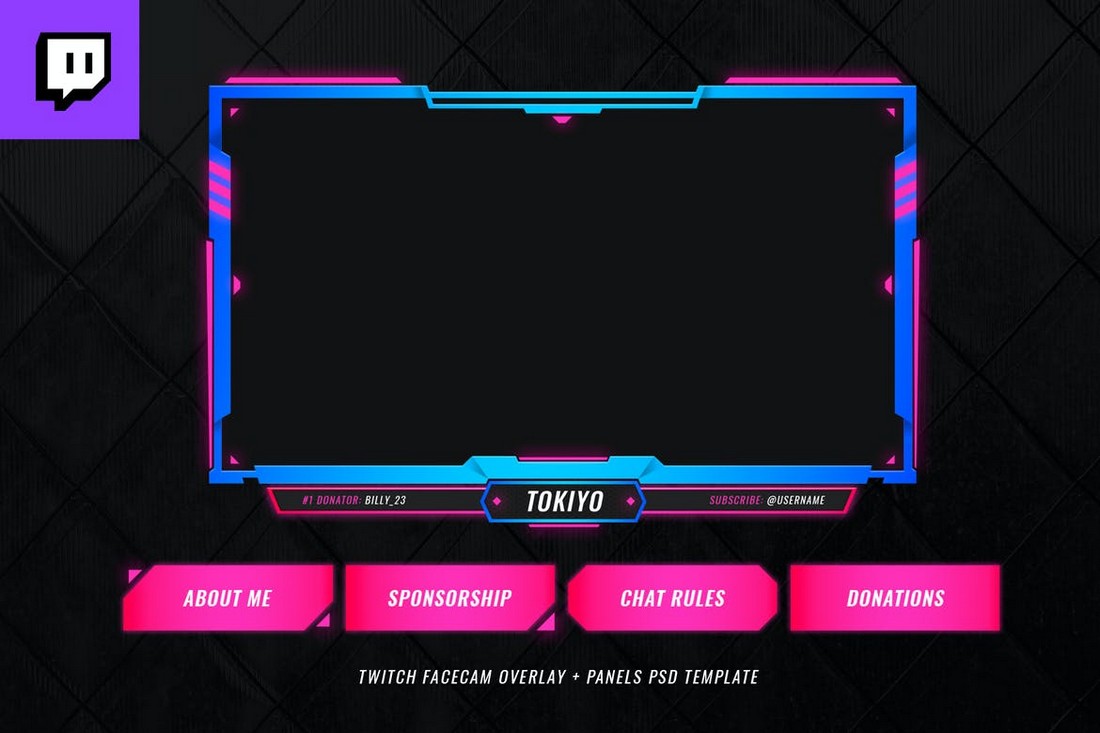 This Twitch stream overlay has a very creative design that makes it a great choice for variety streamers. It doesn't matter if you stream games, play instruments, or even host Karaoke parties, the overlay design will suit them all. The template comes in a PSD file with organized layers to let you easily customize it.
Colorful Twitch Stream Overlay Template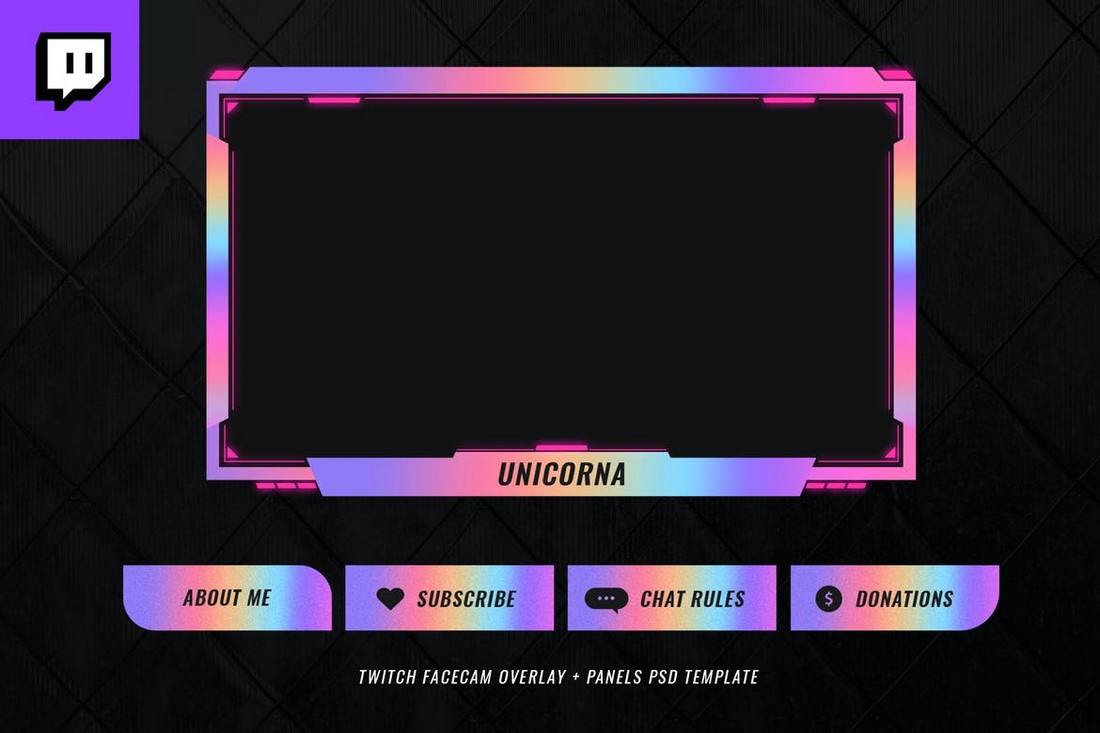 Show your audience that you support diversity or just simply make your stream more colorful with this bright Twitch overlay template. This template is ideal for streamers of all ages, genders, and ethnicities. Of course, the colors of the overlay can easily be customized as well.
Dark Twitch Overlay Template for Gamers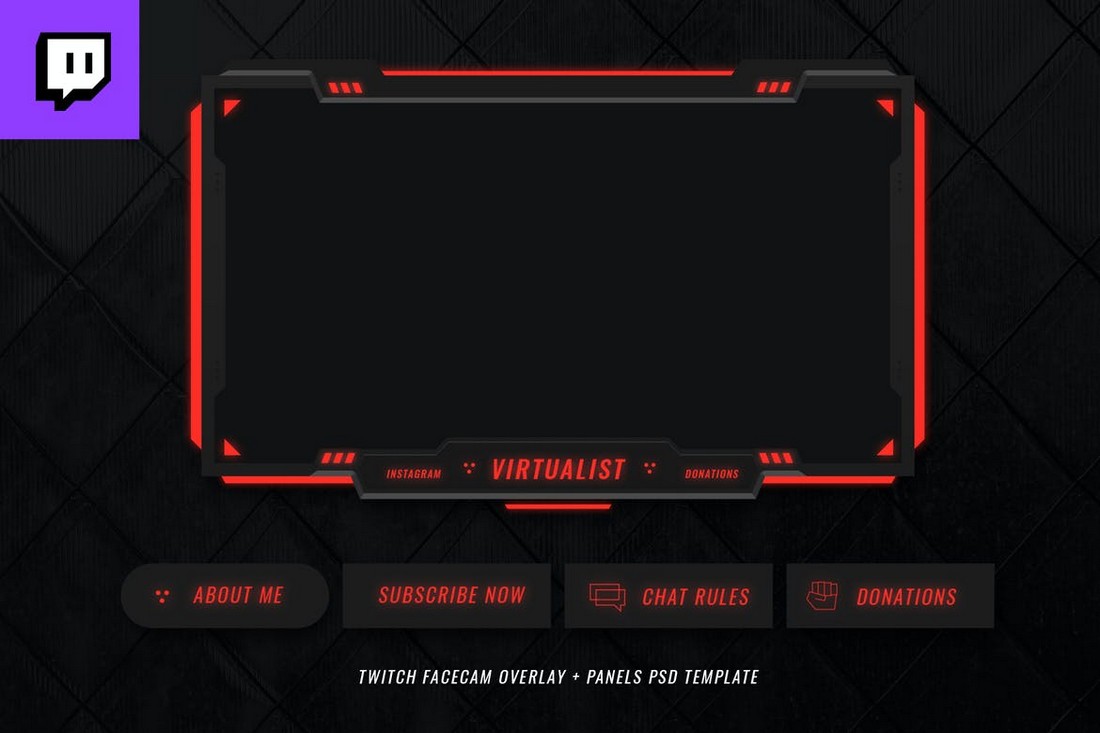 Looking for a dark overlay design with a bold look and feel? Then this overlay template is made just for you. It comes with a bold and dark layout that will surely help highlight your facecam streams. The template can be edited to change the colors from red to any other color you like.
Modern Twitch Overlay Template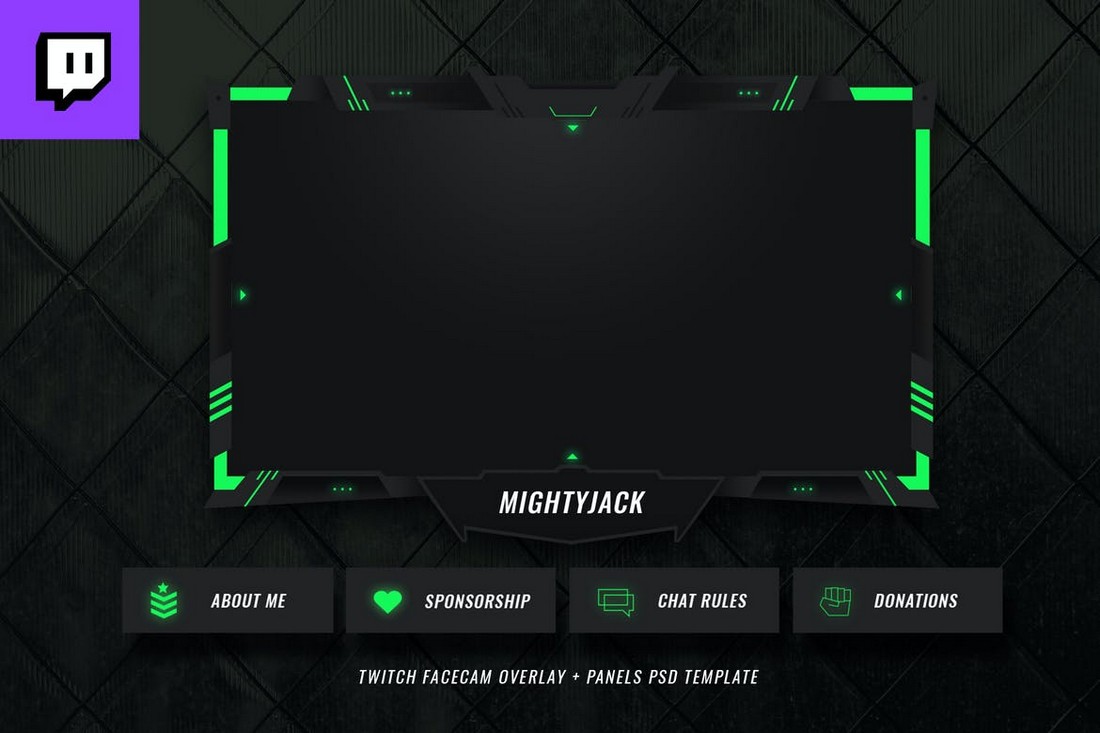 Make your stream stand out from the crowd using this attractive Twitch overlay template. It features a stylish design full of shapes and colors that will make your facecam stream more attractive. The template is perfect for gamers, DJs, music streams, and even for artists.
Simple Twitch Facecam Overlay Template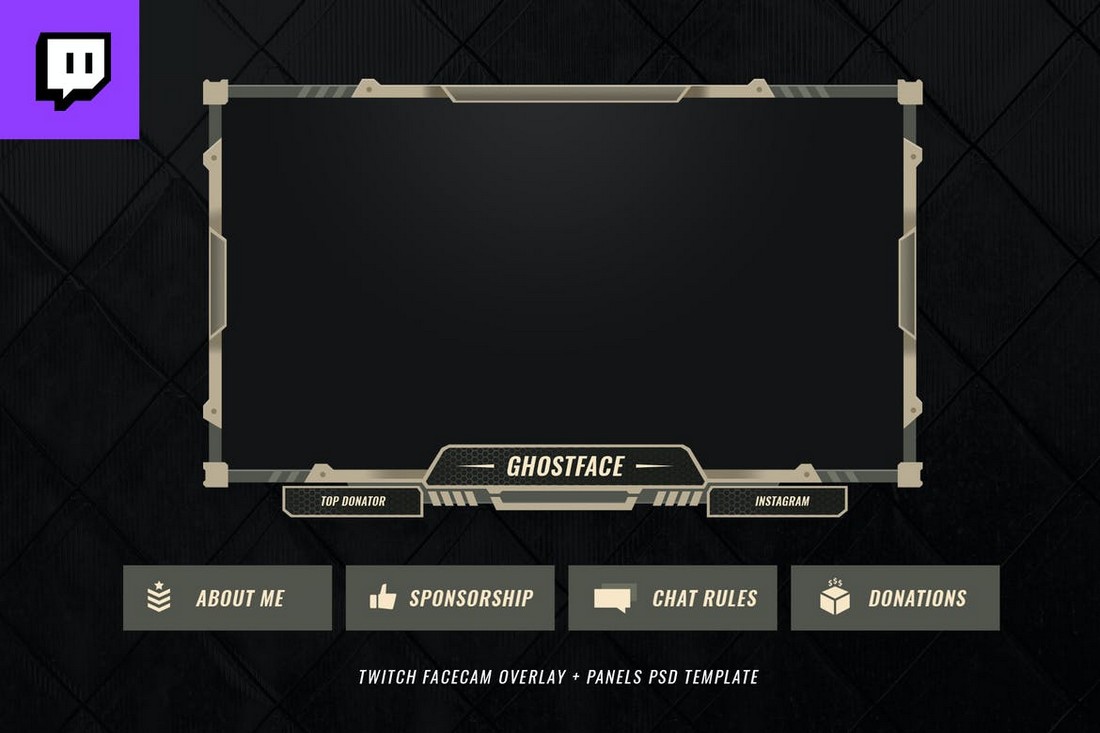 A simple and a decent facecam overlay template for Twitch. The clean and minimal design of this overlay template makes it a suitable choice for all kinds of Twitch streamers. And it comes with matching button designs as well. All of which can be customized to change colors and fonts.
Free Twitch Stream Overlay Template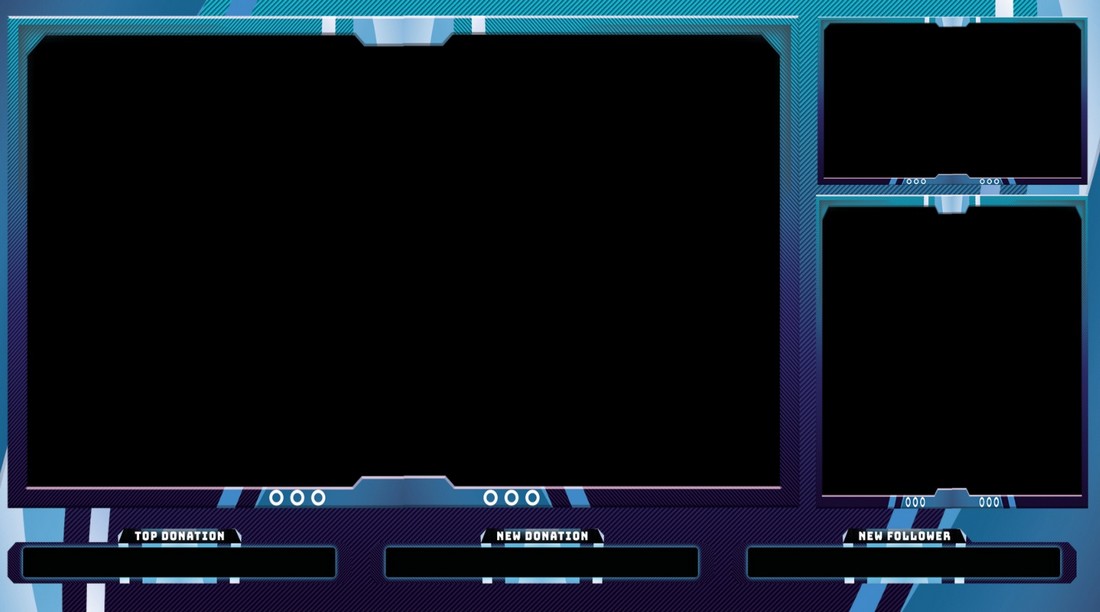 You can grab this free Twitch stream kit free of charge. It includes multiple templates you can use to customize your whole stream setup, including your stream overlay, facecam overlay, buttons, donation alerts, and more.
Free Twitch Stream Overlay Templates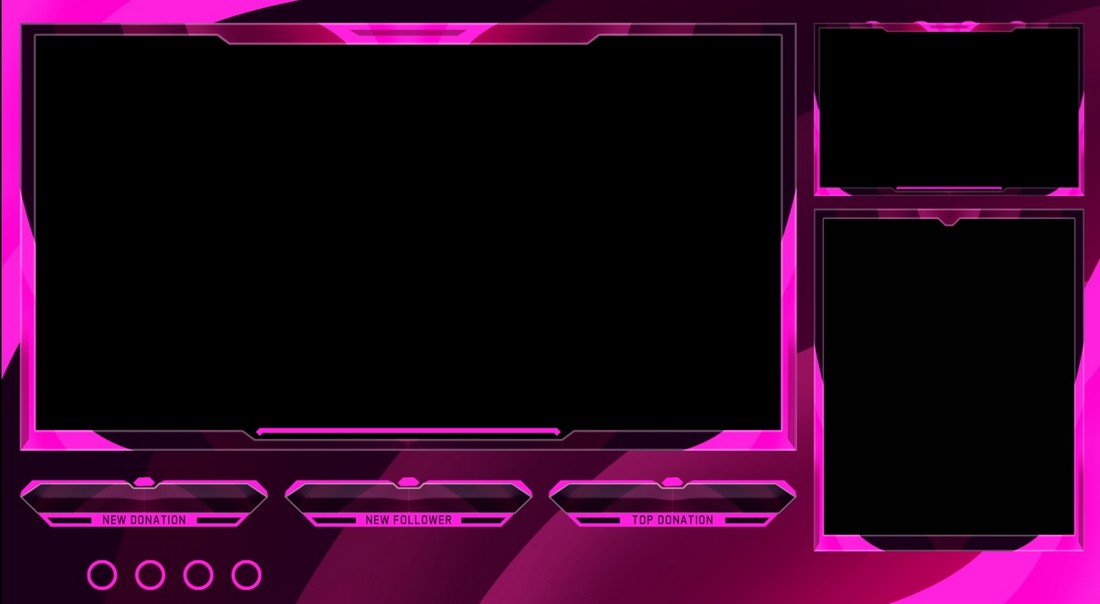 Another free Twitch stream overlay template you can download and use for free. This template comes with a feminine design that makes it a great choice for beauty streams, gaming streams, lifestyle streams, and much more.
Creative Twitch Stream Overlay Template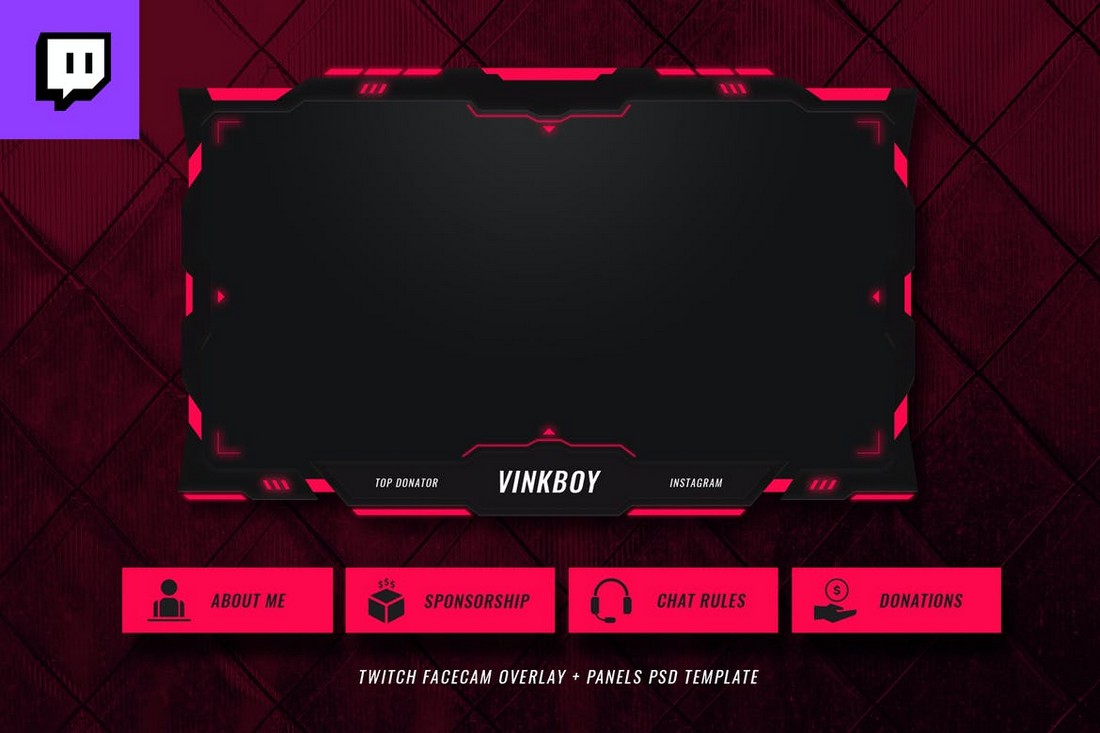 This creative Twitch overlay template features a genius design that highlights your stream more effectively. The colored panels surrounding the border are designed to highlight your stream in darker backgrounds. It comes in a fully-layered PSD file.
Red Twitch Facecam Overlay Template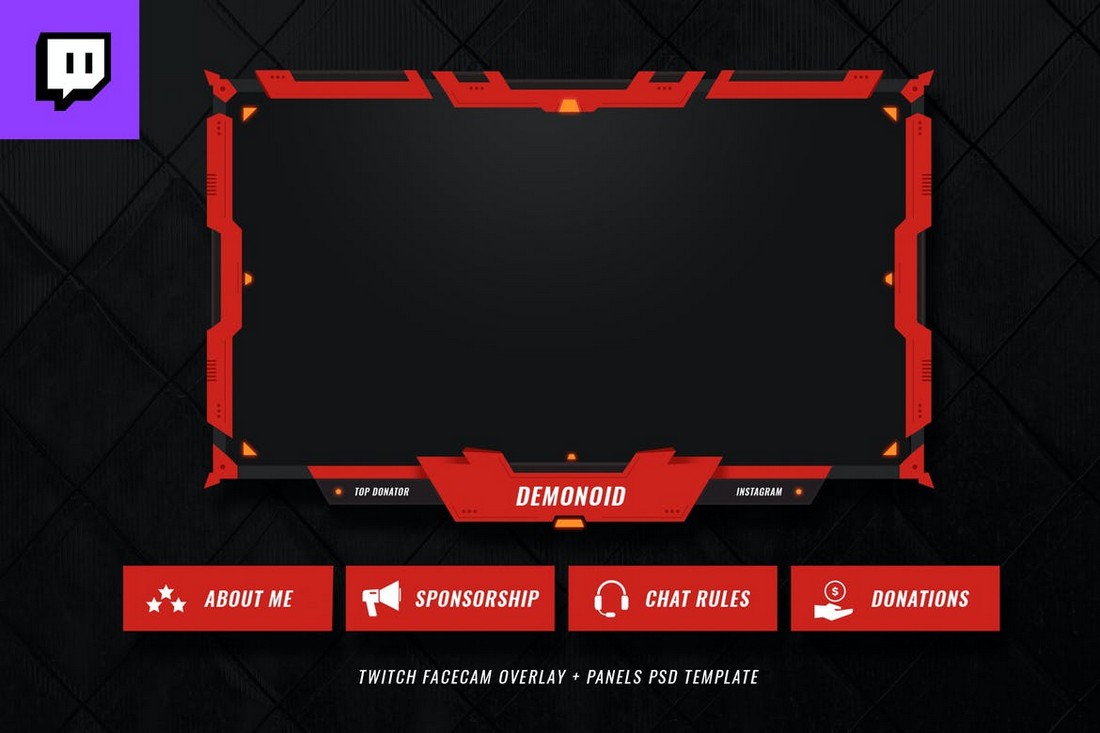 The dark red color adds a gritty tone to this facecam overlay. This makes it a great choice for gamers who play shooters and more mature video games. Or you can easily change the colors to suit your different styles of streaming content as well. You can customize it using Photoshop.
Neon Twitch Stream Overlay Template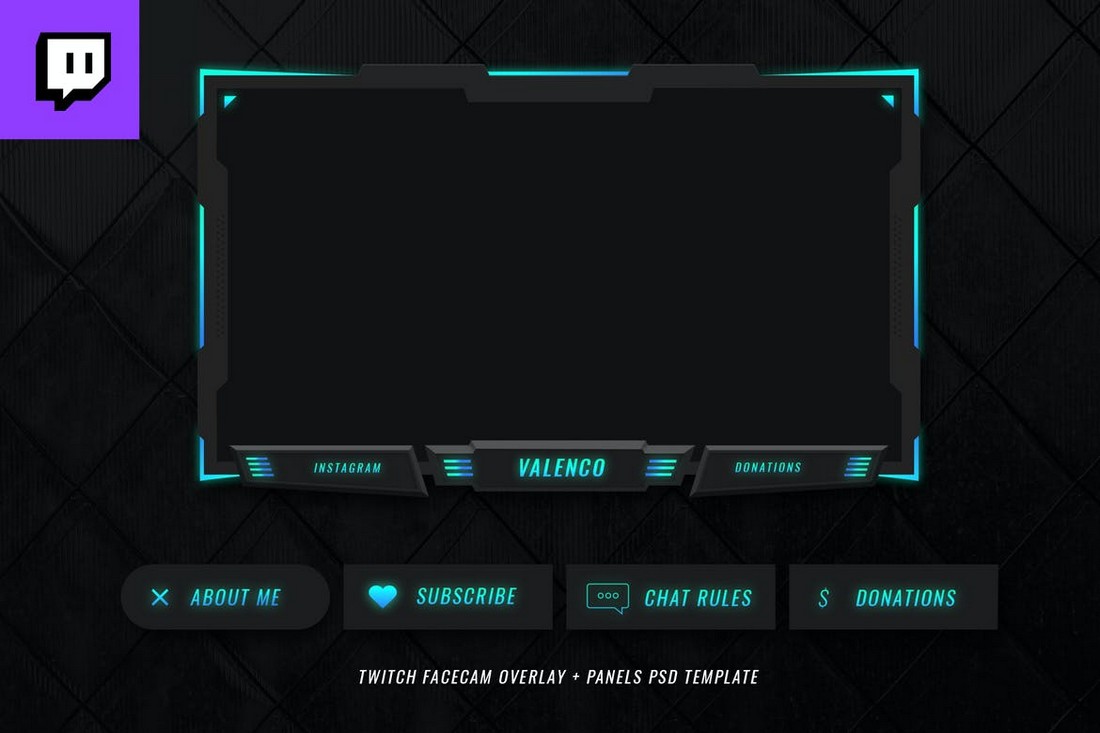 This Twitch stream overlay is also perfect for variety of streams. It comes with a bright neon-colored design that you can customize to fit your branding. It also includes a free Google Font and instructions on how to edit the template.
Free Multipurpose Twitch Overlay Template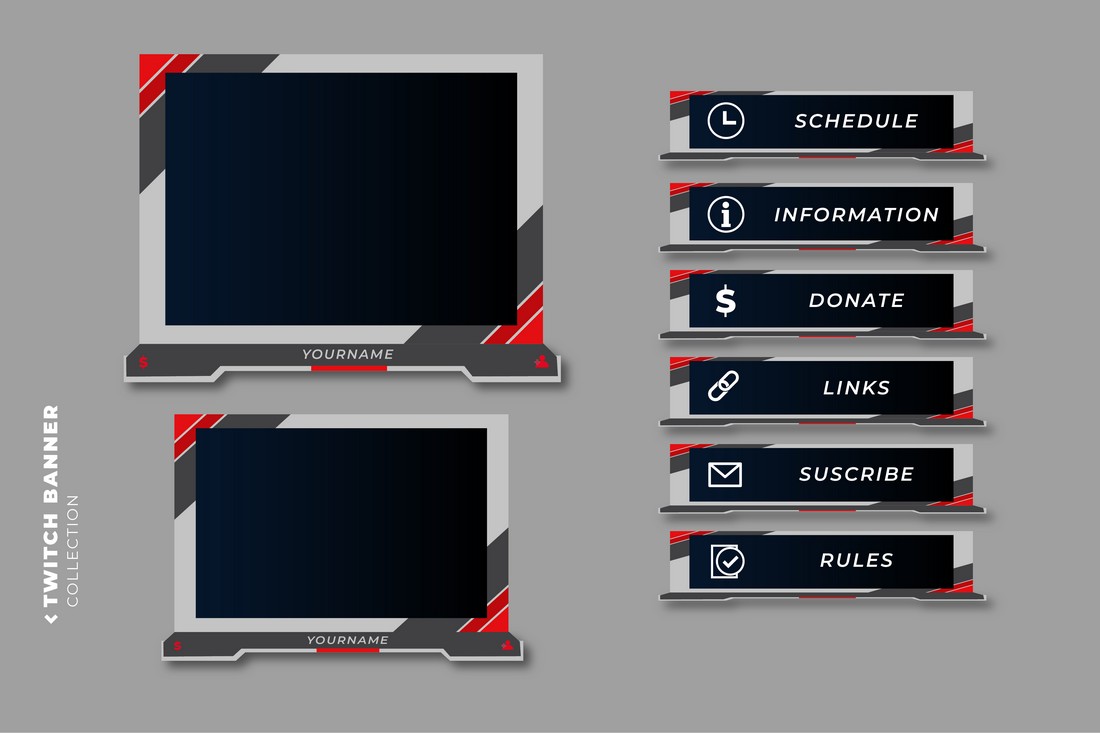 This Twitch overlay template kit also free to use. It includes matching stream and cam overlays as well as button and link designs. This template can be customized with Adobe Illustrator.
How To Add a Twitch Stream Overlay
Adding a custom overlay to your stream is done through your streaming software. If you're using OBS to stream on Twitch, follow the steps below to add an overlay.
First, select the Scene in OBS you want to add the overlay to
Then go to the Sources panel
Right-click inside the Sources panel and go to Add >> Image
Give your new overlay a name and click on Add
Then select your overlay image and click OK
For a more detailed and step by step guide, see this video tutorial.
If you also make content on YouTube, check out our best YouTube fonts collection. They are perfect for creating your video titles and thumbnails to get more clicks and views.