11 Current Marketing Trends to Know for 2020
As you ramp up your marketing efforts for 2020, it's more important than ever for you to recognize how the digital marketing landscape continues to evolve. From search engine algorithms to user intent, the factors that affect marketing are always shifting.
That's why we've compiled this list of emerging trends in marketing to look out for in 2020. Keep reading to get insight on how you can keep your marketing efforts up to date!
With over 1000 clients, WebFX is a leading voice in the online marketing industry. For more marketing tips from the experts, subscribe to Revenue Weekly today!
Our digital marketing campaigns impact the metrics that matter most!
Over the past 5 years, we've generated:
1.5 Billion
in client revenue
4.6 Million +
leads for our clients
1.8 Million
client phone calls
Learn more about our results
11 current marketing trends for SMBs
What are the emerging trends in marketing to look out for going forward in 2020?
Here are the top 11 current marketing trends you'll want to integrate into your marketing plan:
1. Content marketing
First on our list is a classic marketing technique that remains one of the strongest options out there — content marketing. Web content like blog posts and long-form content is still so successful because it gives users what they want and provides them with valuable information in response to their searches.
The key to content marketing is to target relevant users with valuable content. You want to target searches for keywords that relate to your business, and you want your content to be helpful — to actually answer users' search queries, so they'll click on it.
2. Semantic keyword research
Like content marketing, using keywords to enhance search engine optimization (SEO) is nothing new. When you choose keywords for your site, you need to ensure that you're matching the user search intent for the keyword. That's the idea behind semantic keyword research.
If someone looks up "how to repair a lawnmower," you can't insert that exact phrase into a piece of content that does nothing but advertise your lawn mower products. Your page needs to provide relevant information tied to how to repair a lawnmower.
When you don't match the user's search intent, your site won't rank well in search results. To understand the search intent for a particular keyword, just Google the keyword and see what content already exists for it. The highest-ranking content should give you a good idea of what to emulate.
3. Ranking for position zero
One of the objectives of SEO is to land your content at the top of the search results. To rank at the top of the search results, many businesses aim for "position zero." Position zero, also known as the featured snippet, is a box that appears at the top of the search results.
This spot is an incredibly desirable position to reach, not least because the click-through rate (CTR) for the first organic result goes down by 8% if there's a featured snippet. You can achieve this spot by including short, direct answers to questions in your content.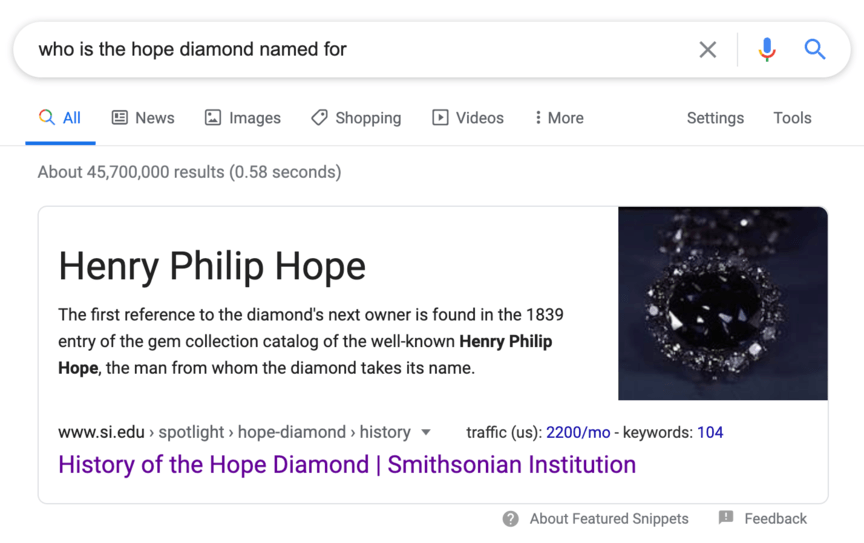 4. Personalization
In 2020, customers seek personalized ads that are tailored to their specific personalities and interests. With so many companies reaching out to them, they don't waste time reading information that isn't relevant to their interests.
One of the simplest ways of doing this is to send out personalized email advertisements. Personalization increases the conversion rate for emails by 10%. You can segment your subscribers to send emails that tailored to the subscribers' interests.
Another way to personalize your emails is to add the subscriber's name to the email. It's a simple touch, but it can have a huge impact on whether someone chooses to engage with your content.
5. Interactive content
Another of the emerging trends in marketing is the desire for more interaction. Rather than looking at a static image on their screens, users want to find places on your website where they can interact with the graphics.
A simple example of this would be to use an interactive pricing tool instead of a chart, one where visitors can plug in different numbers to get a customized quote.
6. Video marketing
Possibly the best attention-grabbers in the marketing world today are videos. If you've ever tried to read a book or focus on a task while a TV is on right in front of you, you know how hard it is not to let your eyes shift to the fast movement and flashy visuals on the screen.
The same concept is at play in marketing. When a user is scrolling through their social media feed, for instance, it can be easy for them to whisk right by text- or image-based ads, but a video that starts playing as soon as it appears will be much more likely to catch their eye.
In fact, using videos in your email marketing can increase your click-through rates by a whopping 300%, making videos one of the foremost advertising trends in 2020. To implement videos into your marketing plan, you can look into creating some YouTube bumper ads or uploading Facebook autoplay video ads.
7. Voice search optimization
In 2010, most people were searching Google by using a computer keyboard to type things into the search bar. By 2015, they were using the keyboard on their phone. By 2020, these changing trends in marketing have led to more and more people relying on voice search.
With the advent of technologies like Amazon Echo and Google Home, people now often search by speaking out loud, giving rise to a wave of sentence-length keywords. More than 55% of users are now using voice search when looking for local businesses.
You might consider targeting more of these sentence-like keywords in your content.
8. Shoppable posts
Social media has been a hotspot for advertising for several years now, but one of the most interesting emerging trends in marketing is shoppable posts.
From Instagram Shopping to Facebook Marketplace, many social media platforms are now releasing programs that allow you to buy products directly in the app, without going to a business's site.
To set this up, you'll first need to have a business account on your platform of choice. Then you can set up the shoppable posts within your account and start uploading products.
9. Social media stories
Stories are another of the current marketing trends to stem from social media. Originating on Snapchat and then quickly spreading to other platforms, stories feature photos or videos that are only displayed for a short period of time.
Stories give you a great opportunity to cash in on users' fear of missing out. Since the stories disappear after a period of time, people feel more compelled to engage with them, so they don't miss the content. If you use these stories to share information about a sale, you'll compel more people to take advantage of the sale and buy your products.
To get started, all you have to do is design some ads and offers to post on your social media stories!
10. Browser push notifications
Sometimes users visit your site and then begin to leave without buying or signing up for anything. In those cases, you can provide the user with a final request for interaction to draw them back to your business. Push notifications have been around for a while, but they're still as popular as ever.
As a user moves their cursor up to click away from your site, you can arrange for it to trigger a box that appears with some sort of offer, such as signing up for an email list. Doing this can ultimately provide you with a higher number of leads.
11. Website security
In today's world, online security is more important than ever. The need for security is even higher for sites where users transmit financial information, and if your site includes an online store, you'll want to make sure your customers feel safe using it.
For this reason, it's always a great idea to make sure you're applying adequate security measures. Getting an official security certification from a group like PayPal or VeriSign is a great idea, but at the very least you need to make sure your site has the HTTPS protocol — Google will penalize you in rankings if it doesn't.
To obtain this protocol, you have to prepare a certificate signing request and request an HTTPS certificate from a certification authority. Once you have the signed certificate, you can install it on your website.
93%

of customers are extremely satisfied with our results.

WebFX has consistently driven more customers to my business year over year. It continues to climb. I'm very happy!

Check out more testimonials
Get help with your online marketing from WebFX
Are you struggling to make any of these advertising trends work for you? No worries — WebFX has your back.
With over 20 years of experience in the digital marketing industry, we know all the ups and downs of the current marketing trends, and we have the skill and commitment to make them work for your business.
To get started with us, give us a call at 888-601-5359 or contact us online today!