How to Create an Effective Marketing Portfolio in 2020 with Examples
Ask any recruiter what they look at when selecting candidates, and they will name real cases. Data, the results of your work in numbers, examples of work – that's what really matters.
While programmers can show a piece of code, and designers can show their profile on Behance or Dribble, how can marketers prove they have relevant experience? With the help of a marketing portfolio, of course.
Let's figure out how and why to create a portfolio, and what it should contain to be really effective.
Key Reasons to Create Your Professional Marketing Portfolio
You might say, "Why would I need to create a marketing portfolio when I have a resume and cover letters?" Here's why:
To receive interesting offers

even when you are not actively looking for work. According to

CareerArc

, 75% of professionals are passive job seekers. If you do not mind changing your current place of work for a more interesting project, an online portfolio can attract recruiters without any effort on your part. They'll just find it on the internet.

To leave a link to your beautiful portfolio

on social media. Do you know that

1 in 10 hires

comes from social media? Adding links to your portfolio on social media will increase your chances of getting noticed by a recruiter.

To stand out from other candidates

. HRs receive

200-300 resumes

for each job opening. No one has time to thoroughly read all of these requests. A bright portfolio immediately catches the eye and contains all the most important things from the recruiter's point of view.
Marketing Portfolio Examples
Okay, you need a marketing portfolio. But what should it look like? Let's take a look at some inspiring examples of some cool marketing portfolio sites.
Digital Marketing Portfolio Example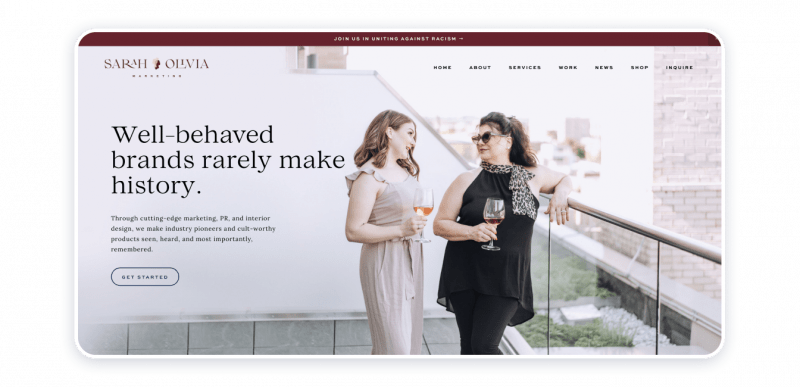 Sarah Olivia Marketing is a mother-daughter owned digital marketing agency. They work with small craft brands.
Highlights:
A separate Works section with cases in different niches.

Stylish design.

The brands that Olivia and Sarah work with are listed.
Social Media Marketing Portfolio Example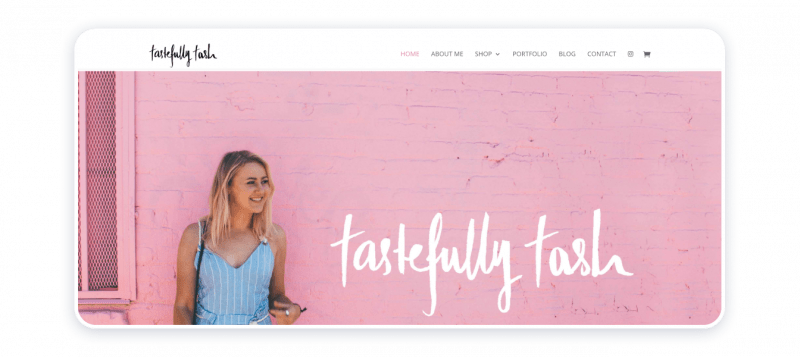 Tasha Meys is a social media marketer, photographer, and influencer. She has a very girlish site with a great portfolio.
Highlights:
Emphasis on Tasha's personal brand.

The cases are divided into 3 categories: Art, Lifestyle, and Foodie.

There is a

blog

(this increases visibility in search results).
Online Marketing Portfolio Sample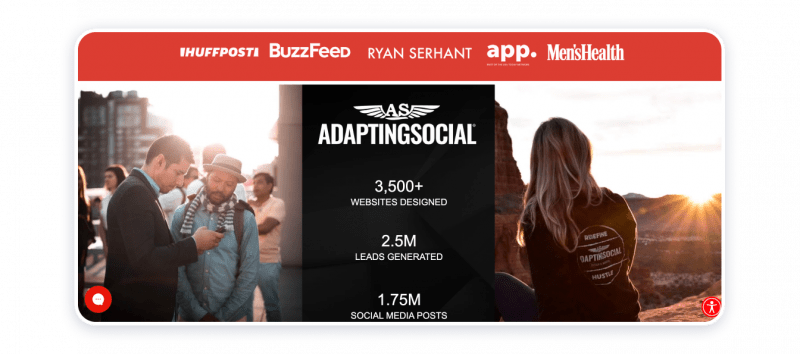 Adapting Social is a big company providing a lot of online marketing services. It has a multipage website covering all areas of its work.
Highlights:
Video on the site cover.

A section with all the clients of the firm.

Video testimonials from clients.
Business Marketing Portfolio Example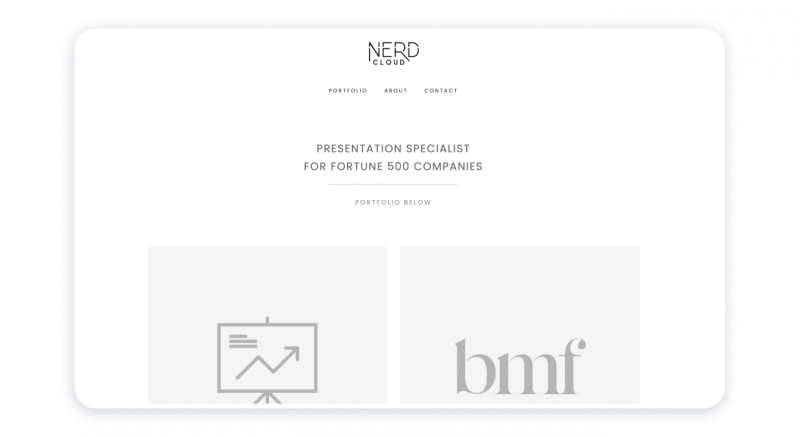 This is a cool online portfolio of a specialist who has taken a very narrow niche: creating presentations for companies.
Highlights:
Very minimalistic design in gray.

The site consists of the About, Portfolio, and Contact blocks – nothing more.

The names of the brands with which the marketer has worked are indicated.
Marketing Director Portfolio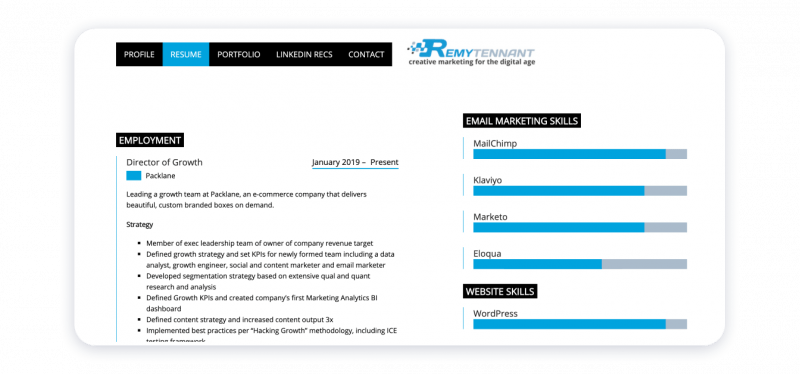 Remy Tennant is an experienced marketer from Berkeley, CA. And he created a very minimalistic yet compelling personal website.
Highlights:
Ability to download a CV from the main page.

Testimonials from Remy's clients from Linkedin.

Projects have tags relevant to the topics.
Fashion Marketing Portfolio Example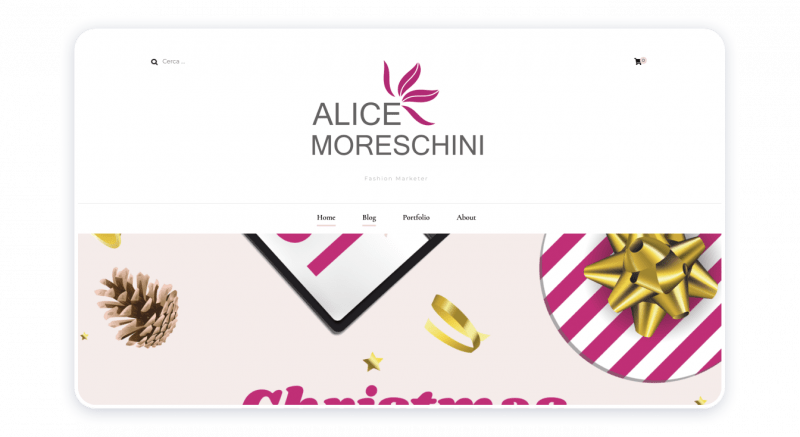 Fashion is always about the visual component. Therefore, a fashion marketing portfolio should be bright and stylish – just like the website of Alice Moreschini.
Highlights:
Nyce girlish style.

The site includes a blog.

The content is written in two languages with parallel translation.
Email Marketing Portfolio Sample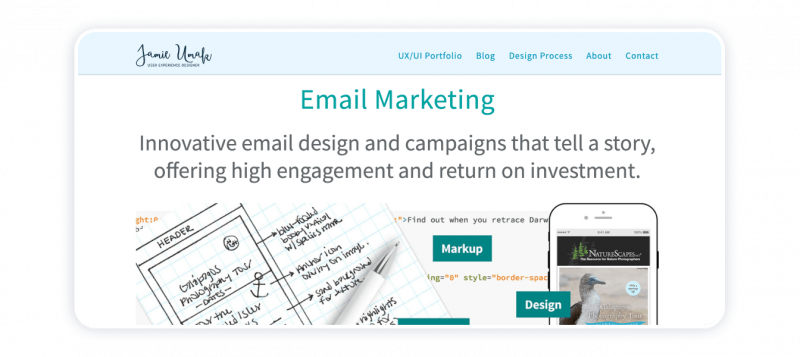 Here is an example of a very high-quality and detailed design of an email marketing portfolio.
Highlights:
There are specific numbers with the results of email marketing.

The entire design process is described in detail.

The skills that were required to complete this work are listed.
Entry Level Marketing Resume Example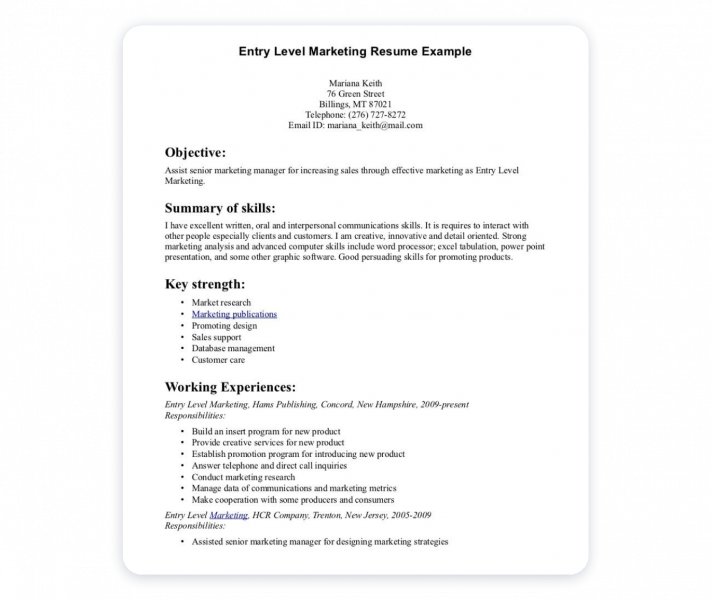 What if you have little or no marketing experience but are ready to learn? Take a look at this sample of resume, it will allow you to be honest about yourself and get the attention of recruiters.
Highlights:
Mention of the entry-level of the applicant.

Emphasis on passion about marketing and willingness to learn.

The skills that the applicant already has are listed.
Marketing Portfolio For Interview
When it comes to interviews, you don't have much time to introduce yourself. Therefore, you can prepare such a structured CV.
Highlights:
The last 2 jobs with achievements are indicated.

Skills are briefly listed.

All information fits on the first screen or printed page.
Creative Marketing Portfolio Example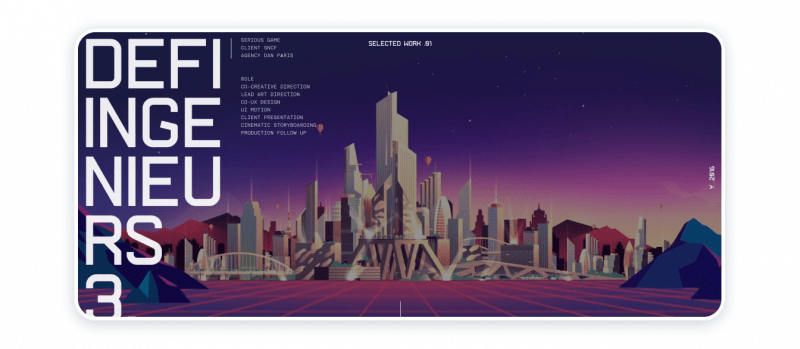 Those working in creative marketing are expected to have an equally creative portfolio. Check out what an unusual website Yul Moreau from Seoul has!
Highlights:
Dynamic single-page design.

For each project, the role and applied approaches are described.

Lots of videos.
Marketing Design Portfolio
What should a marketing designer have in a portfolio? Samples of work, of course. Look at the website of Tim Smith, designer from London.
Highlights:
Miniatures of completed projects are in the form of cards.

There is a New mark for recent projects.

In the Profile section, there is a very detailed description of the specialist's experience and education.
Product Marketing Portfolio Sample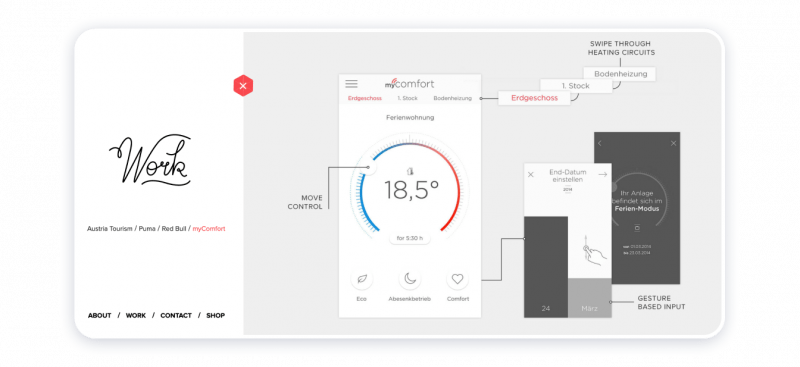 For including product marketing samples in your portfolio, be sure to add details. For example, show the process of product development, like in this example.
Highlights:
The product development process is shown in detail.

There is an About section with brief information about the specialist.
Content Marketing Portfolio Example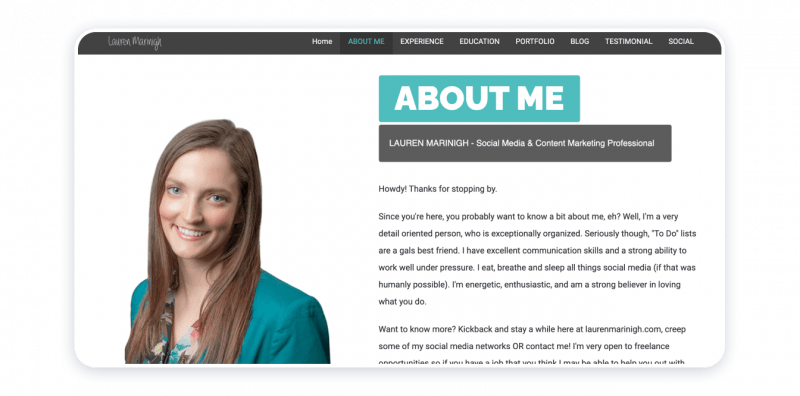 Lauren Marinigh is an experienced content marketer and social media manager. She created a pretty cute one-page website for her services and work samples.
Highlights:
There is a separate section with information about education.

The site has a blog and customer reviews.

Each example of work opens in a new window.
Advertising Portfolio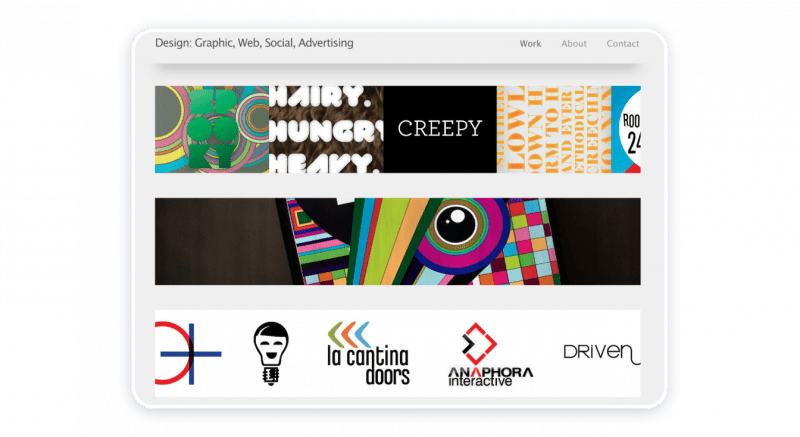 When it comes to advertising, two things matter – design and results in numbers. So your portfolio may be very simple yet convincing.
Highlights:
Examples of works are made in the form of tiles.

There is a concise About section and a contact form.
Portfolio Marketing Management
A marketing manager is expected to provide not only visual examples of work, but also the description of the actions performed, approaches, and results. Take a look at Alex Hodschayan's site for an example.
Highlights:
Simple and straightforward website design.

An expanded explanation for each work example.

The cases are grouped by type of work: branding, logos, websites, etc.
Social Media Manager Portfolio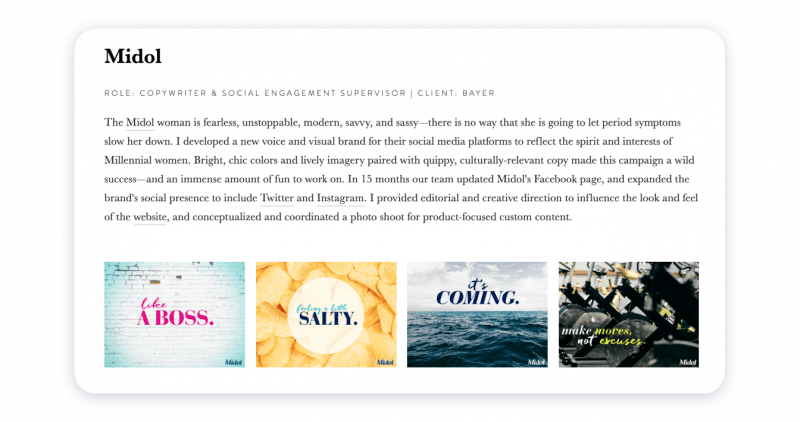 In social media management, the main criteria are visuals and engagement. A nice example of a marketing portfolio in this case is the site of Maya Francis.
Highlights:
A detailed description of the goals and objectives of the project.

Examples of visual works.

The role of the contractor and the name of the client are indicated.
Product Manager Portfolio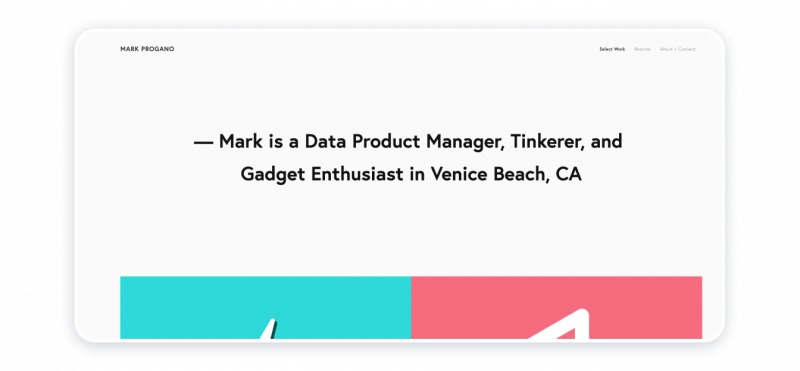 Take a look at this super-simple yet highly effective product manager website. We love that it was created solely as a portfolio, without unnecessary information.
Highlights:
4 selected cases, not dozens of small projects.

A minimum of personal information on the home page.

Ability to download a resume from the website in PDF format.
How to Make a Marketing Portfolio?
A website is an optimal format for your marketing portfolio in the modern world. You can add new projects to such a site at any convenient time and leave a link to your website on any platform, including your social networks. You can create your marketing portfolio on Weblium for free, in literally a few hours.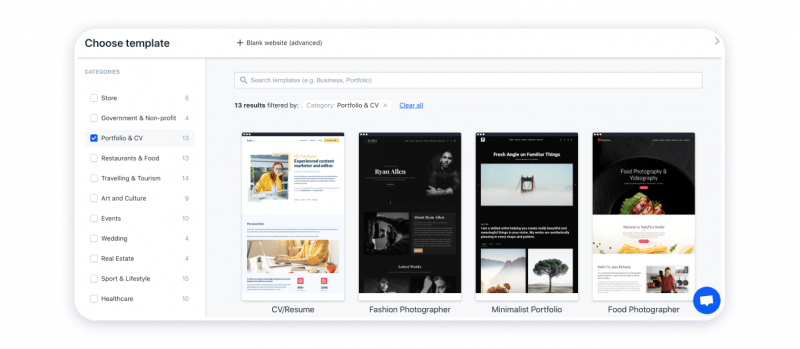 Step 1. Customize Your Marketing Portfolio Template
Choose the Template
Keep your portfolio concise yet informative. Here's what exactly should be on such a site:
Short bio

. Tell what you do, where you live, and what achievements you have in a few lines. You should convince the recruiter from the very first words that you are a great specialist and an interesting personality.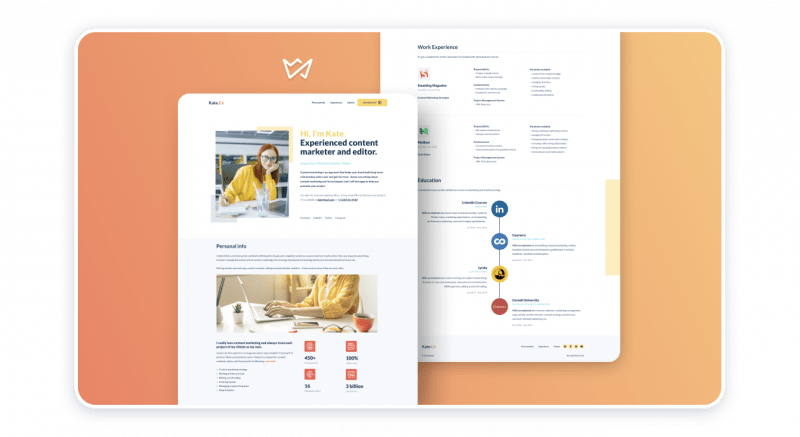 Photo of you

. People love to see other people. If this is your personal portfolio, your photo should be on the main page.

Contact details.

Indicate all your contact information and add links to social networks.

Testimonials

. If you have any feedback on your works, put it on your website.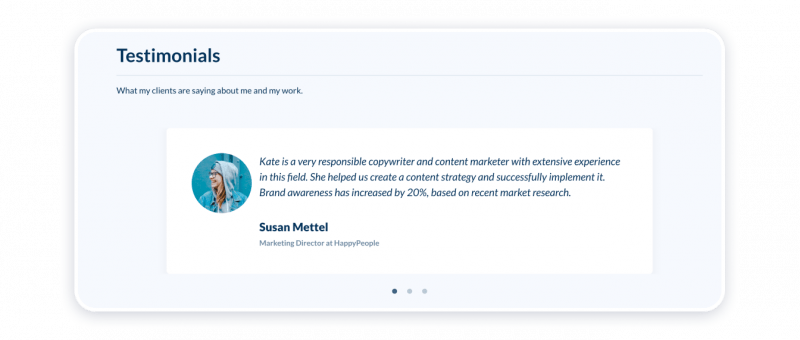 Downloadable CV

. If you are open to new offers, add a CV and the ability to download it by clicking on the button.

Cases and samples of your work

. This is the main attribute of your portfolio. Don't add all projects, it is better to select the best cases. We will talk about this in more detail below.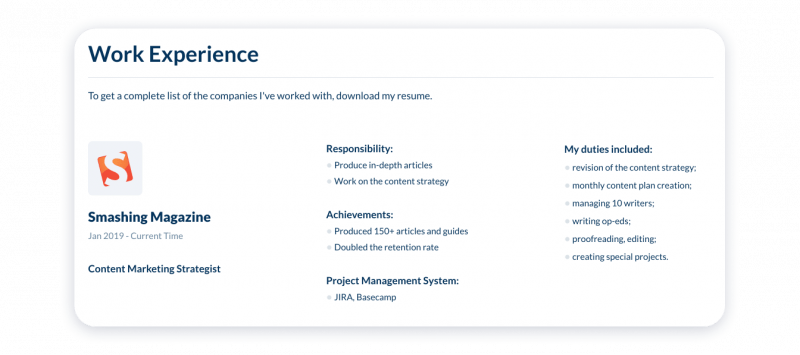 Step 2. Showcase Your Best Marketing Samples
Your work samples are the meat in your portfolio. You can create a separate page for them or add 4-6 your best works to the existing one-pager. When selecting and adding your work samples, consider the following:
Add cases with great results first

. Show examples of your work that will interest visitors of your site from the very first glance. For example, it is worth mentioning the marketing campaign you developed for a large brand at the very beginning, or how you achieved +100% of followers on Instagram in a month, etc.

Showcase your innovative ideas

. Maybe you've managed a new project launch or rebranding? Convince your site visitors of your creativity and ability to think outside the box.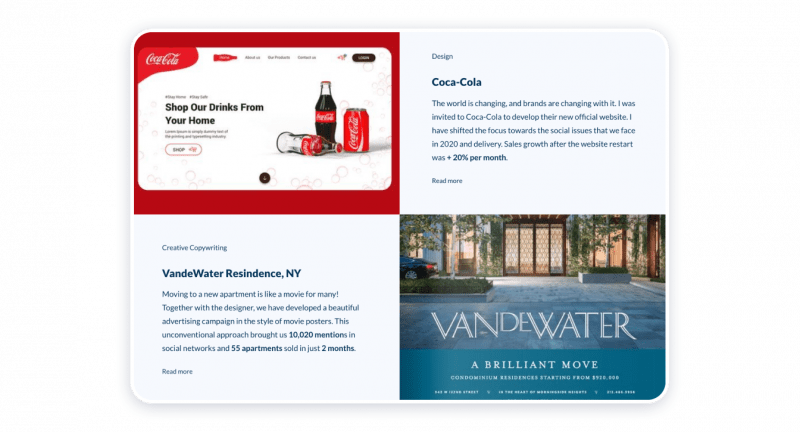 Step 3. Tell The Story Behind Your Marketing Samples
A screenshot of some website or an advertising banner will not tell the recruiter anything. Add descriptions and facts to each example. You can also blog on Weblium to tell more details on the different projects you work on.
Start a Blog Now
Make sure you've added the following elements to every example in your portfolio:
Project objectives

– tell what was expected of the project, what was the input.

Your role and tasks

– what exactly did you do in the framework of this project?

Challenges and insights

– what problems have you encountered and how did you solve them?

Process

– what did the process of creating this project look like? Describe all the stages briefly.

Final results

– indicate what real results you have achieved and back them up with screenshots.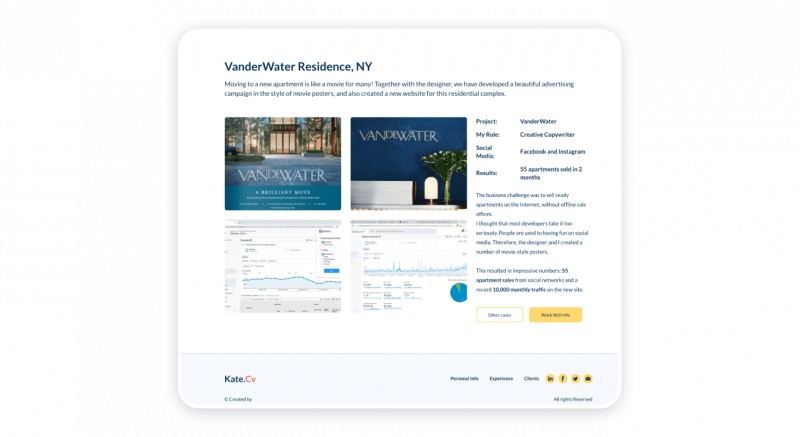 Step 4. Upgrade Your Marketing Portfolio to Make it Really Stunning
If you are a marketer, you should be able to use digital marketing tools, right? Show that you are truly a professional by adding an element with a twist to your website. For example, a pop-up with a contact form to impress your potential employer with your skills in using this conversion tool. You can easily make and set an effective pop-up in a matter of several minutes on Weblium.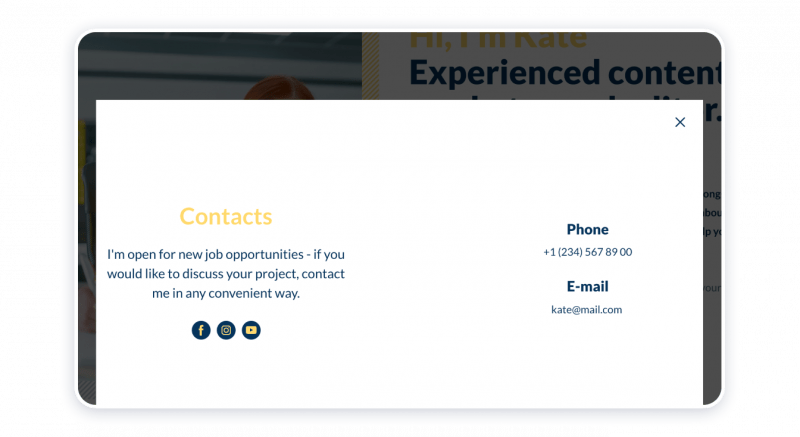 And here's the final touch. Your site will look more solid if it is hosted on a personal domain. For example, katewindsor.com. Your own domain is included in the Weblium Pro subscription. But this feature is optional. You can create your portfolio site on Weblium for free. If you create it for yourself or to show it directly to potential employers, this will be more than enough.
Create Portfolio
Marketing Portfolio Templates
The easiest way to create a marketing portfolio is to use the templates on Weblium. We have dozens of portfolio templates for every taste. Pick any and add your own cases – and voila, you've got a beautiful and compelling personal website! Below are some of our templates.
Social Media Marketing Portfolio Template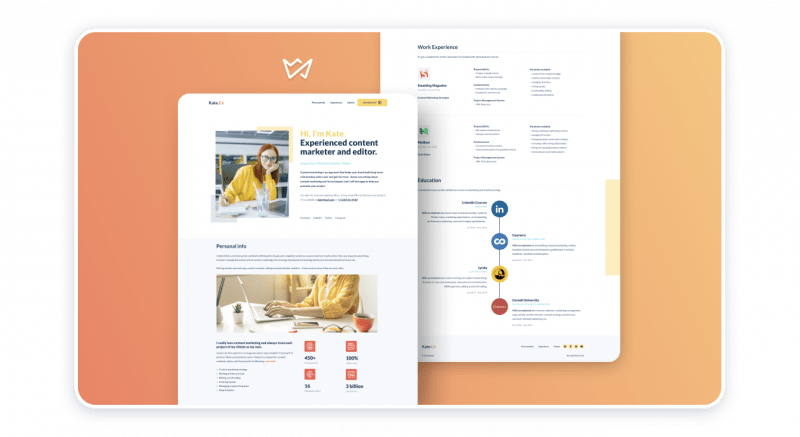 Though this is a template for a content marketer's personal website, it is very easy to turn it into a portfolio of a social media manager as these areas are really close.
Highlights:
Cheerful colors.

CV Download button.

Beautiful visualization of work experience and education.
Personal Marketing Portfolio Template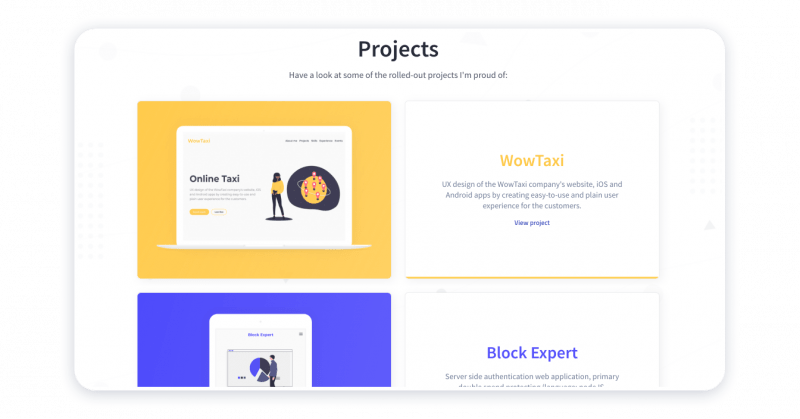 We love this template for its simplicity and versatility, as literally anyone can use it for his or her marketing portfolio.
Highlights:
A block with reviews.

Contact form.

Each case opens on a new page.
Digital Marketing Portfolio Website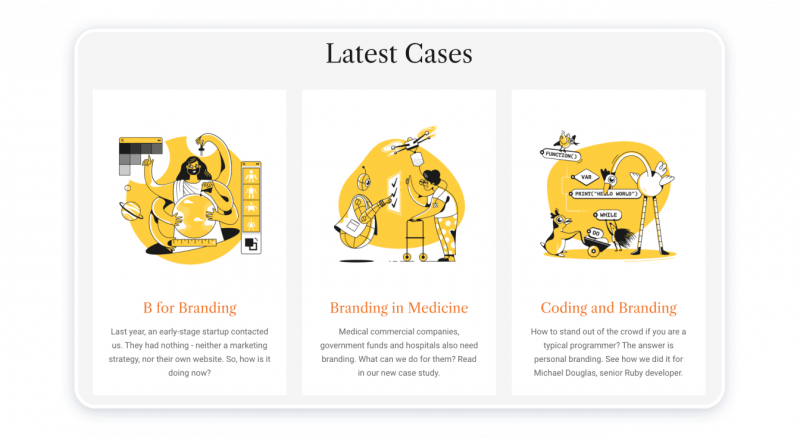 This stunning website template is perfect both for individual marketers and agencies. Though it's a full-fledged website, it has a Cases section, where you can describe your recent projects.
Highlights:
Unusual, stylish design.

You can describe fully all your skills, services, and prices.

There is a block with reviews.
See All Templates
Summary
Whether you are looking for a job or just want to collect your best work examples in one place, having a portfolio is always a good idea. To create a marketing portfolio, you don't need to code or pay designers. Choose one of the templates on Weblium or create a site from blocks from scratch – and get the most interesting offers from recruiters!
Create Marketing Portfolio
Related articles:
Graphic Design Portfolio Website
Why Do You Need a Portfolio Website and How to Create it?
Business Portfolio: What is It and How to Make One (with Examples)
Copywriter Portfolio Examples: 9 Best Examples and Where to Start
20+ Best Portfolio Website Examples in 2020