New Year & Christmas Graphic Design Products for 2021
Are you ready to the upcoming New Year party? Have you prepared some christmas graphic design products to create rinvitation cards? Not yet? That's too bad. But you still have time to get prepared.
Recently we have brought to you a gallery of the best free design resources for Christmas. But free resources are often just samples of their premium versions and are inferior to the latter in terms of versatility. In most cases, premium design goods come with extended license, while free resources don't. An extended license allows you to create derivative works and sell them, which is extremely important for professional designers.
Today's article is for those, for whom free stuff is not enough. Have a look at the best premium design deals created with love: 30 bundles featured on the best marketplaces and deals websites: design toolkits, ready-made greeting cards, elements, textures, and much more.
Grab them before it's too late!
Also, visit our section with holiday website templates, which will allow you to build an online store selling gifts, or an online invitation for your party.
---
Amazing Merry Sugar Font
Let us show you a unique decorative font perfect for the frosty season! Stylish Merry Sugar will help you create a real fairytale atmosphere. It is an excellent choice for your postcards, wintertime newsletters, and scrapbook titles. You may also surprise your audience with beautiful handmade cards and personalized stationery composed with this font. Besides, downloading this web asset from us, you get a lot of advantages:
Fast installation.
Easy customization.
Reliable service.
High quality of any item.
Online support for any issue.
Download
---
Unique Christmas Sale
This banner with a trendy layout composed especially for the X-Mas season can help you redecorate your online store and make it look more festive. Your customers will indeed feel this holiday spirit you want to share. The following template comes in seven standard sizes. Each of them includes the essential blocks: offers and discounts, coupon codes, shopping buttons, and much more. Besides, the other cutting-edge features are always at your disposal:
HTML5 Framework.
Free Fonts included.
Smooth Animation effects.
Video Tutorial & PDF Help Files.
Google Optimization.
Download
---
Bright Advent Calendar
Discover an atmospheric winter calendar numbered from 1 to 25 and available in four eye-catching color variations. Composed in a hand-drawn style, it is an excellent solution for various flyers, invitations, brochures, posters, backdrops, and much more. This template includes all the necessary files and is user-friendly so that any person can easily download, install it, and enjoy its advanced functionalities. People from many kinds of industries will benefit from using this product:
Home & Family.
Design & Photography.
Travel & Books.
Outdoor activities.
Theme-based pages on any topic.
Download
---
Multipurpose Happy Holidays
Selecting our expanded illustration set, you get everything needed for creating the best project. The pack includes 16 high-quality and fully-editable christmas graphic design, perfect as trendy website backgrounds, unusual patterns & textures, impressive frames, etc. You may apply them to almost any occasion, and they will finely fit it. All the images are hand-painted and come in a separate file for the users' convenience. They also feature the following characteristics:
Highly resizable elements.
Print-ready.
PNG format of graphics.
300 dpi resolution.
Unlimited colors & patterns.
Download
---
Fairytale Christmas Time
Beautiful Christmas Time offers you a unique set of 80 elements composed in watercolor style. Its frames, borders, and patterns will surely surprise your audience and make your platform stand out from a variety of others. All the items are print-ready and come in a separate file to provide you with convenience and usability. Moreover, you may easily edit any image's sizes or colors to create a result perfect for your page itself. Its scope of use is extensive:
Creative backgrounds.
Greeting cards.
Craft projects.
Quotes & personal blogs.
Posters, etc.
Download
---
Retrostyled New Year Icons
Do you need a set of stylish icons for your website or presentation? Then you should opt for this particular product. Alongside premium quality and creative layout, it boasts many essential characteristics. All items are highly resizable and perfect for both light and dark backgrounds. Besides, two greeting elements are also available for you. This web asset is an excellent choice for people with different levels of experience in web design:
Creative illustrators and designers.
Business owners.
Bloggers.
Both tutors and students, etc.
Download
---
Charming Christmas patterns
Find a beautiful X-Mas pattern for every taste! As many as 100 skin variations are at your disposal. Choose the item you do like and embellish your web platform to the most magical time of the year! The quality and rich color scheme will surely surprise you as well as stylish design solutions. You may apply them to any occasion, starting from atmospheric backgrounds for your blog, social media, an online store to DIY projects and materials. Every pattern is:
Premium-quality;
Easy-to-edit;
Ready to print;
Perfect for any user.
Download
---
Mega Snow And Winter Bundle
Find everything you need in one particular bundle! It will provide you with the best frosty season objects for your web page layout. This multipurpose asset is a must-have for web designers and photographers. With magic brushes available in a set, you will create a thousand snowscapes with falling snow and realistic frozen effects. All items come in high resolution and offer you a variety of premium settings. The other prominent features of the following bundle include:
Four customizable overlays.
Winter photo pack suitable for any subject.
Snow line elements.
Download
---
Minimalistic Christmas Product Mockup
Gorgeous winter plants, beautiful flowers, shining stars, and magical snowflakes… All of this describes our unique web asset that can help you create a real wonderland atmosphere. The defined scene creator is photo-based so that you can compose the best images with a photorealistic effect. All the items it includes boast high quality, well-organized layers, and a fully editable layout. Our mockup will be perfect for:
Online stores & business projects.
Both professional photographers and amateurs' portfolios.
Blogs & social media.
Download
---
Fascinating Winter Collection
A real frosty fairytale is waiting for you! To create it is even easier than you could imagine. Just install this incredible web asset and share your holiday spirit with your beloved people. With this product, you can design beautiful invitations, banners, posters, postcards. Do you want to surprise your friends with something more interesting? Then print visuals from the following asset on a cup, a pillow, or a T-shirt. Any of your ideas may come into reality. Our collection includes:
25 illustrations;
40 patterns;
45 textures;
7 postcards.
Download
---
Creative Christmas Graphic Design for Sayings and Wishes
If you are looking for a unique bundle with funny and witty sayings for the X-Mas holidays, we are happy to say that this particular product would entirely meet your expectations. A lot of exciting wishes and funny phrases are waiting for you. You may print them on a mug, T-shirt, stationery. Besides, they are suitable for posters, banners, and various cards. A list of their advantages will also surprise you:
Eight popular formats included.
RGB color scheme.
300 dpi files resolution.
Constant free updates.
Instant downloading.
Download
---
Stylish Christmas Graphic Design for Gift & Labels
Funny labels are a magic bullet for your web project. They may diversify it and create a real holiday spirit. These elements will become a perfect addition to your site design concept. As well, not only your audience but also your dearest people and closest friends will surely appreciate the selected labels. Besides, downloading them from us, you open unlimited possibilities, such as:
Professional assets developed by the best web designers;
Guaranteed quality and instant help of our specialists when needed;
Constant updates and budget-oriented offers for any taste.
Download
---
Elegant New Year's Paints Icon Set
Explore a world of gradient lines, finely decorated layers, and stylish layout solutions. Our set of icons contains 20 elements for any taste. Moreover, all of them are easy-to-edit so that you can change the colors of the lines if necessary. For this purpose, Adobe Illustrator is the best choice. Even the newbies in web design will easily handle it. Many users may benefit from the following web asset. Among them are:
Business owners & Educators;
Travel agents & Tour operators;
Illustrators & Photographers;
Bloggers, and much more.
Download
---
Marvelous Watercolor Snowflakes
Our aquarelle asset containing numerous snowflakes skin patterns is an excellent choice for any user who wants to create a beautiful web space. All the elements are hand-drawn by our professional designers. They all come in separate files so that you may easily edit the item you need. Without any special efforts, you can compose a Christmas graphic design poster, an invitation for a party, various greeting cards for both your family and coworkers, stylish frames, and much more. All the elements are:
User-friendly;
Fully customizable;
Light-weighted;
Ready for printing.
Download
---
Trendy Jingle All The Way
Our clipart is very extended and allows you to get everything needed for composing a stylish and modern project. It includes over 60 PNG visuals and 12 patterns perfect for creating different invitations, planner covers, logos, postcards, and other artwork types. All the parts are fully customizable and come in individual files. Along with that, the additional benefits will also surprise you:
Hand-drawn graphics.
User-friendly textures.
Transparent background.
Instant installation.
Download
---
Sophisticated Winter Fair
A modern template for designing fair flyers is the right choice for users with any web design experience level. Just several clicks and you edit the sample text, modernize the color scheme, and select your preferred style. We guarantee that all the essential characteristics are provided, but adding your graphics and photos is also possible. Make the flyers that would surprise your audience. Explore its multiple features:
US-letter and A4 page formats.
Three elegant layouts.
Straightforward sample text placeholders.
Download
---
Professional Gift Point
Stylish Gift Point is perfect for logo design. It will fit both large-scale business company projects and small start-ups. Besides, you may use it for any other areas, such as digital apps, software, IT services, online stores, and much more. Three color variations are at your disposal. Select the one that reflects the main principles of your project and take its advantages, including:
Straightforward and easy installation.
Vector-based elements.
Extended scope of use.
Highly scalable components.
Download
---
Funny Christmas Greeting Cards
Discover a unique collection of three holiday banners with cute animals! You can't help but love them. Your audience and the nearest people will not be left untouched. The bright colors and funny caption texts may create a New Year's mood, so you can confidently use these products for creative postcards, invitations, flyers, brochures. They are also great for numerous posters, backgrounds, placards, and even more. On top of that, all the files included boast premium characteristics:
Unlimited colors.
With/without text versions.
Instant download.
No coding experience needed.
Download
---
Terrific Happy Holidays
Have you already prepared your website for the upcoming holidays? If the answer is no, we are happy to assist you in doing this. With our Happy Holidays template, creating a festive and magic atmosphere does not demand too much effort and is trouble-free. It is ready for use and comes in four variations of neon shades. The selected asset components are a real catch for composing banners, advertising backdrops, titles and headlines, emblems, etc. Who can benefit from our template?
Creative designers;
Stores owners;
Marketing managers;
Blog authors.
Download
---
Cozy Winter Vibes
Are you willing to turn your website or personal platform into a cozy space for your readers and customers? Do you agree that a warm and comfortable atmosphere may make them feel at home? Then our Winter vibes collection is what you need. With stylish visuals that are carefully drawn by the professionals, you can cheer your readers up and compose top-notch artworks of any type. Opt for this versatile clipart, and get its best characteristics:
Over 65 high-quality products.
PNG format of graphic elements.
JPEG format of patterns.
Download
---
Merry Christmas Ball T-shirt
Are you already seeking for a festive mood? Use a Merry Christmas Ball t-shirt template to develop a customized present for your friends, colleagues or family.
Use this unique design to print festive t-shirts, mugs, postcards, scarfs or serviette to delight people around you.

Create unique seasonal decorations for home and office in your own style.

Apply a preset design to develop company's merchandise to remind your clients about your services with small presents.
The item is available in 8 formats and in vector enabling to change its size. A 300 dpi resolution guarantees a high quality of prints. Choose your favorite or corporate colors and order a package with an editable text to customize it with a logo or famous sayings.
Did Somebody Say Christmas T-shirt
Looking for a Christmas gift? Do not forget to check our templates for bundles and unite set of wares completing each other by a customized logo. A solution that:
turns 1 present into 2, 3 or even 5. You can either use a template for several items that will go to one friend or divide the bundle into separate gifts for several people in one family, team or company;

turns usual wares into a customized present through a unique hand-drawn design.
Choose one of eight available formats and print this holiday template to mugs, t-shirts, hoodies, mouth-pads, water bottles or whatever you plan as a gift. The bundle has a 300 dpi resolution and includes vector which enables you to change its size without losing the quality of a print.
Christmas Funny Stickers, Badges Illustration
If you like badges with funny images and captions, download these 11 Christmas svg badges. Among them you will find a snowman, gifts, sledges, a boot, a uniform with glasses, a mustache and a beard, a Christmas tree, a deer and other New Year's attributes.
You can change their size, color, and overlay on top of your photos on Instagram, Facebook, Tumblr, etc. Print the illustration on a t-shirt or cup, add your inscription using free fonts.
Each image is a circle in which the phrase is inscribed and a picture is present. Each of them can be changed in size and placed on the surface. This can be a cup holder, emblem, a call to buy or participate in the action. In addition, they are all different, but made in the same style, so they are perfect as a bundle.
Christmas VirtueMart Template
Boost the sales via launching an online-shop using a Christmas VirtueMart Template. Just load your Christmas-related items into a template designed in relevant colors after joyful holiday motives.
This bundle includes:
slides PSD and sample content;
integration with calendar and Google maps;
dropdown cart and categories accordion;
an opportunity to register users, collect customers' contacts via a relevant form and login service.
It also enables vendors to organize your wares into a customized catalog attracting consumers of different ages via its festive design and holiday mood. The template helps to sort items into groups according to clients' age and gender. You can also use the blog section to place the mood text and listicles encouraging people to make Christmas purchases.
---
100 Fireworks Overlays: Everlasting festival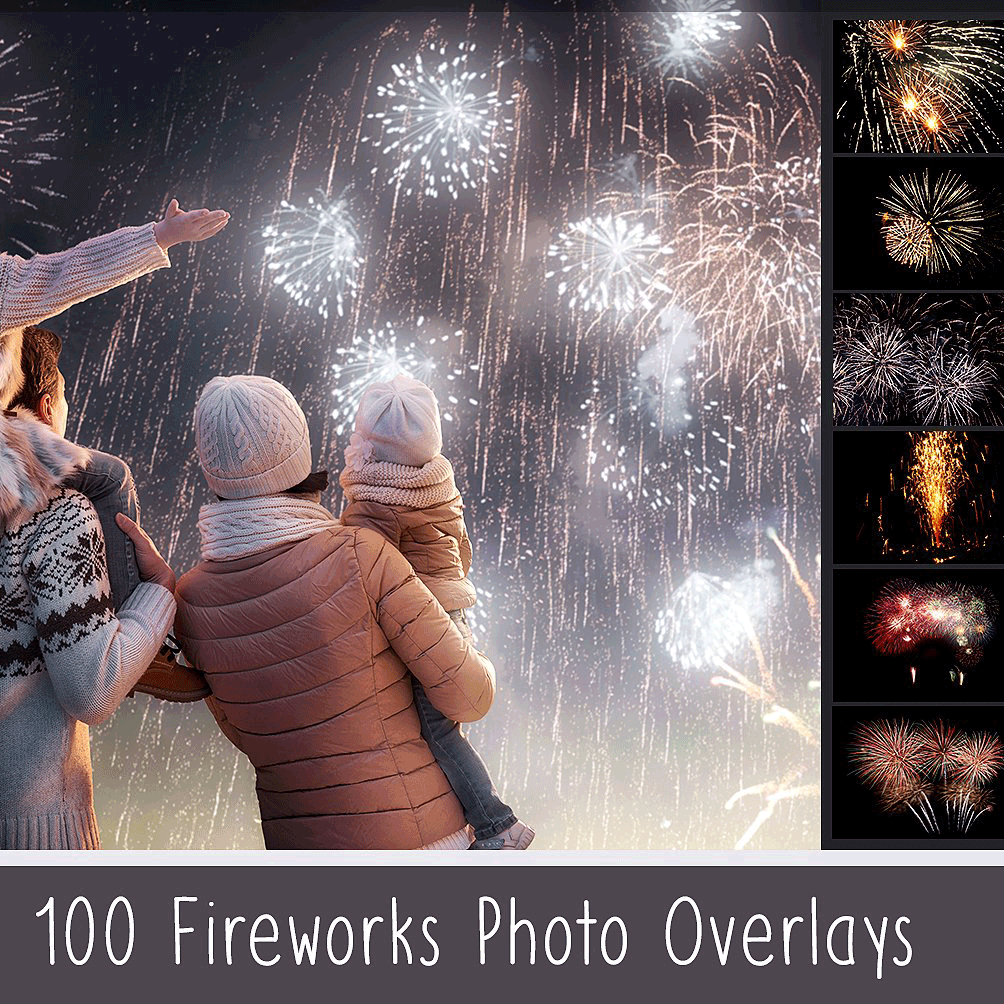 Fireworks are always a celebration. Add bright colors, glistening sparks, magical radiance to your life. Let the images of significant events shimmer with a wonderful flicker. The package provides 100 different sequin shots, everyone can choose according to their taste. With these images, you can easily not only edit your pictures, but also create wedding invitations, greeting cards and much more.
Why use graphics packages? This is a huge selection of items assembled on one site for your convenience. Everyone will be able to turn the necessary image into a fairy tale, because JPG file blending modes can be applied to almost any image editing program. Currently, almost all designers work with ready-made visual elements, because drawing from scratch is a time-consuming task. It is also disadvantageous to buy all the items separately. What for? After all, we have collected for you a whole package of bright graphic elements to help you turn pictures into a fairy tale.
---
32 Falling Snow Photo Overlays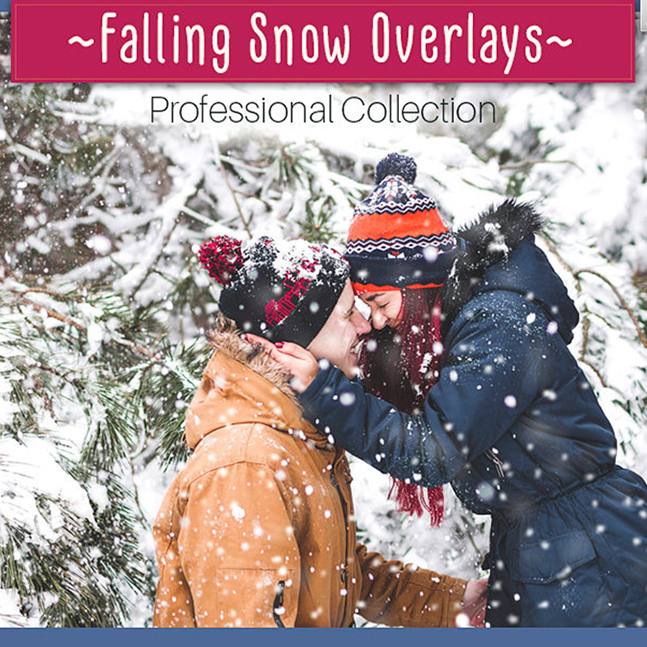 As soon as snow fell on the street, we immediately strive to take a photo. But what if there is not a single snowflake in the sky, and you need to get them in your image right now. Do not despair, there is a way out. By downloading Falling Snow Photo Overlays you will get 32 ​​overlays in JPG. With them, you can easily add snow and shine to any photo without difficulties.
Here you will find circles of different diameters resembling raindrops on a window. And different types of precipitation: small formless grains to large balls. Lightroom users will need a plugin that allows you to work with layers. In addition, you can use the free software as a PicMonkey photo editor.
---
Snowflake & Christmas Overlays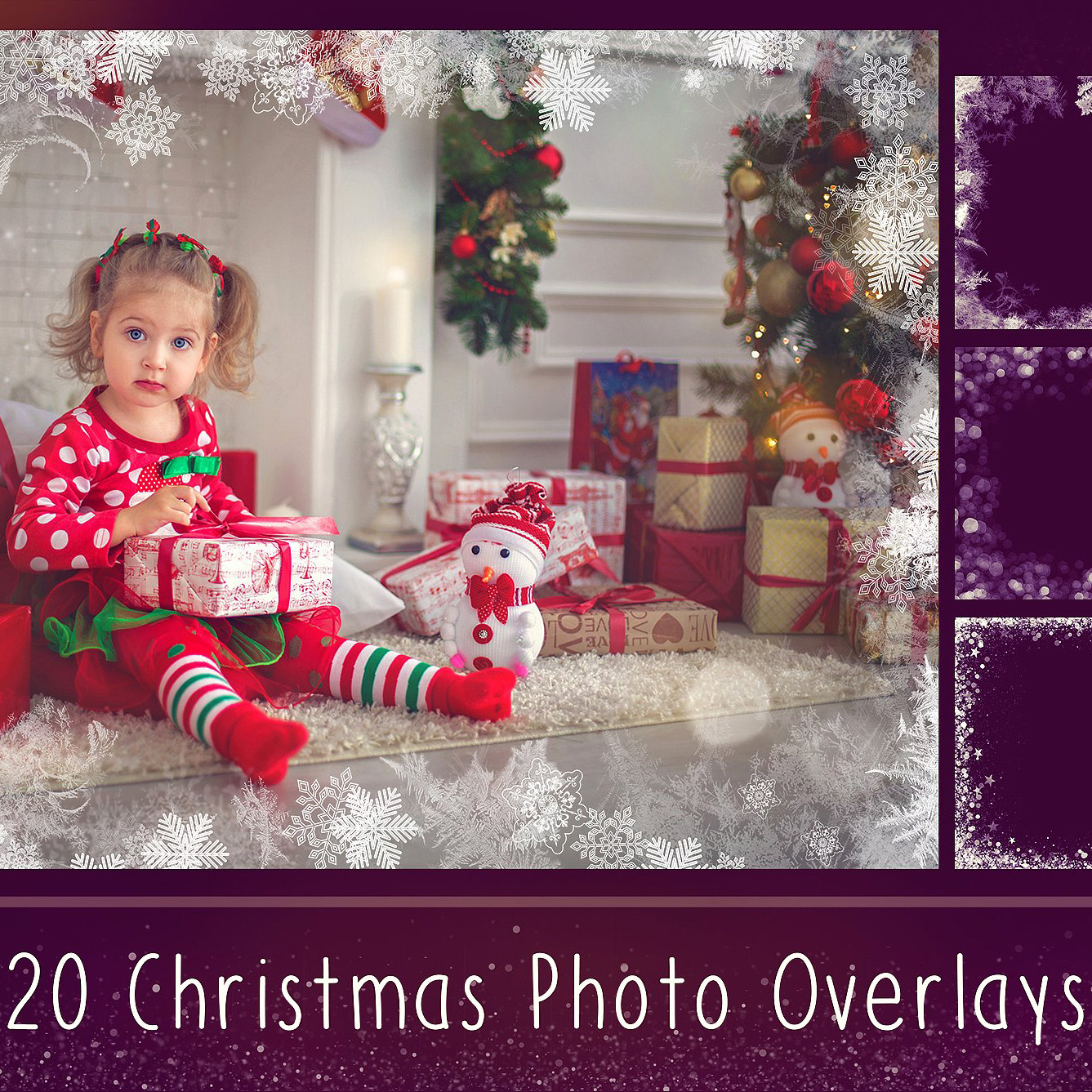 On the eve of Christmas holidays, many will certainly want to capture themselves, their family, children in beautiful pictures. Look how magical the snowflakes look. They are so transparent, tender, airy, as if winter itself had worked on their creation. You definitely look through the frozen window and see a happy family Christmas idyll.
Everyone wants the holiday to leave pleasant memories, but what if not a wonderful photo of your family will help in this? This bundle is a great opportunity to make pictures unforgettable. And what could be better than a greeting card created with the help of our Christmas overlays, with which you congratulate your family? Out of the 20 proposed overlays, everyone will find interesting for themselves.
---
Festive Lights: 40 String Lights Photo Overlays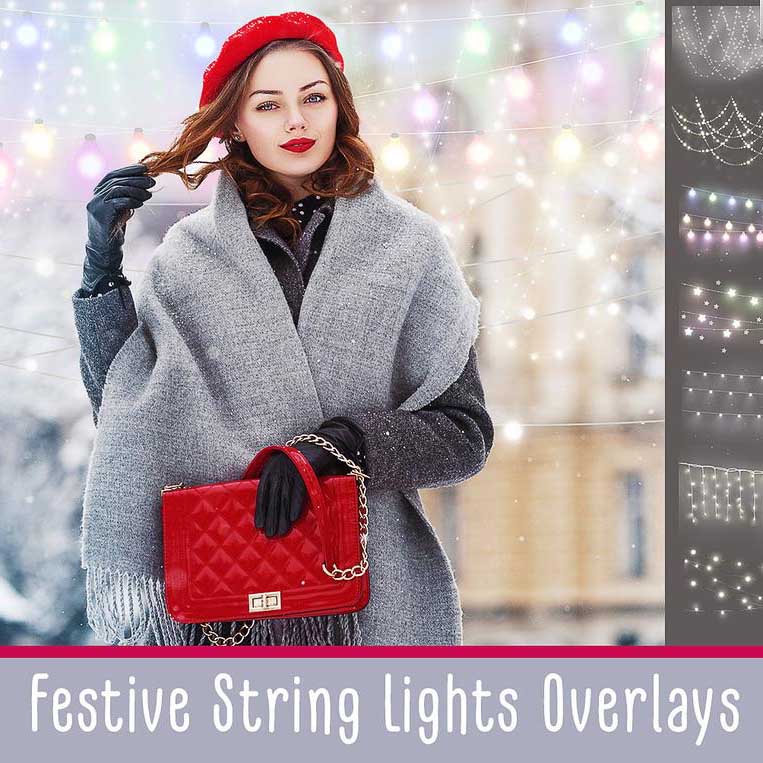 It seems that you have done everything to get a beautiful photo. But in the end, the picture was still dull. To make it brighter and give a New Years' atmosphere, download this bundle. It is suitable for decorating not only a window display and paper marketing materials, but also for decorating a Christmas tree in your home.
In this case, you can always change the color of the lights, as well as increase their size and contrast. With this set your illustrations will sparkle with new shades. You will get 41 photo overlays in PNG format, transparent background, high resolution (5100x2500px - 300dpi). Compatible with any software that allows you to work with layers. Such a festival of lights will certainly give the pictures a sparkle and cause a feeling of comfort on Christmas Eve.
---
Christmas Clipart: Tangerines Vectors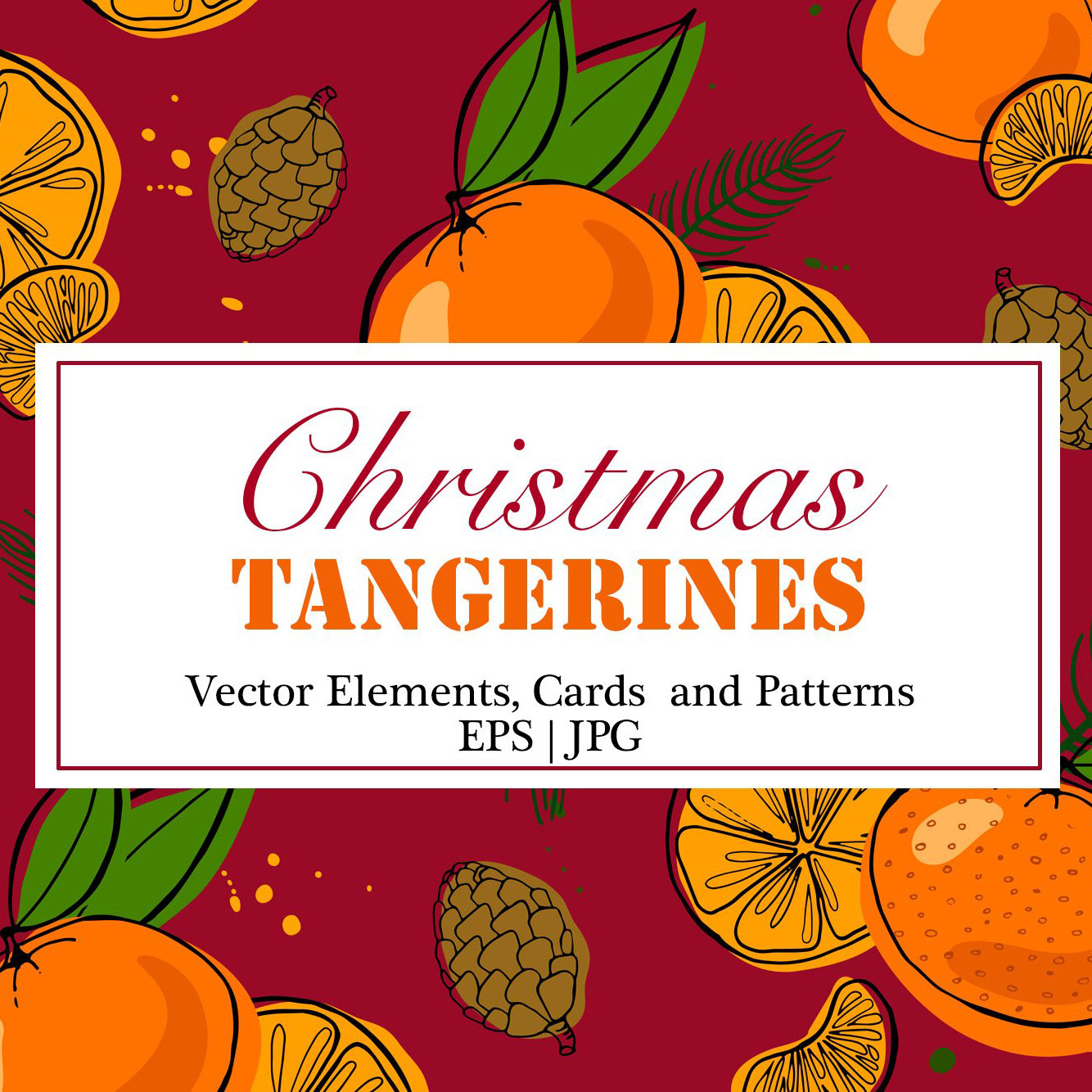 The most popular citrus fruit on winter holidays is tangerines. Bright orange peel, juicy slices in combination with cones and fir branches — this is what you can portray. The combination of elements will look great on napkins and gift packaging. You will get 13 christmas elements, 10 templates for cards "5x7", 4 pieces in size "4.7x4.7", 12 seamless patterns on different backgrounds and 1 wreath illustration in EPS format.
Professional photographers worked on this images. They created high-resolution pictures, in order to use them, you just need to open the EPS or JPG file and place your inscriptions on the objects. In addition, the proposed range of images includes 10 templates for cards "5x7", 4 templates for cards "4.7x4.7" and 12 seamless patterns on different background inJPG format.
Using this bundle, you can quickly upgrade your gift wrap. You can use a combination of spruce branches and cones, while using the background. Such a still life will look great on a postcard. Print your masterpiece on the printer and make friends and relatives happy at Christmas.
---
Christmas MockUp Photos Collection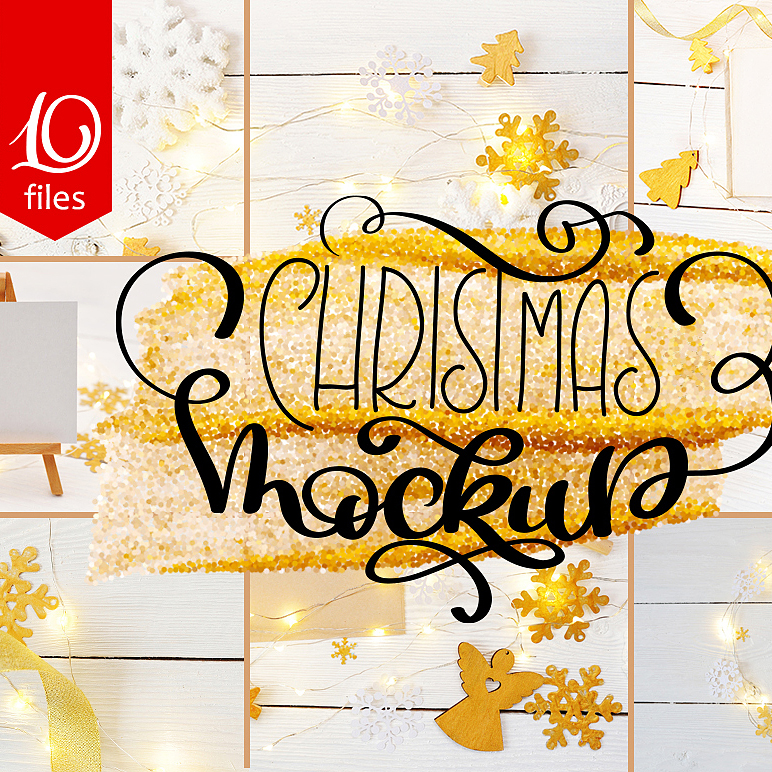 Ahead of the Christmas holidays. Do you have an online store and you plan to present it beautifully before the holiday, or do you just want to congratulate your relatives with your own created holiday card? Then that bundle is just for you. 10 masterfully created images will bring your brand to a more professional level, because a quality presentation is the key to success. All that imagines are made in light, pleasant colors, using Christmas garlands, looking at which you will not leave the feeling of approaching the most magical holiday of the year. Ribbons, angels, snowflakes — these are all attributes of Christmas, and all this is on our layouts.
To save your time and money, we have collected all the necessary elements in one package. You do not have to look for them individually or create them yourself. You just need to insert your design into the already constructed elements.
---
Christmas Unicorn Creator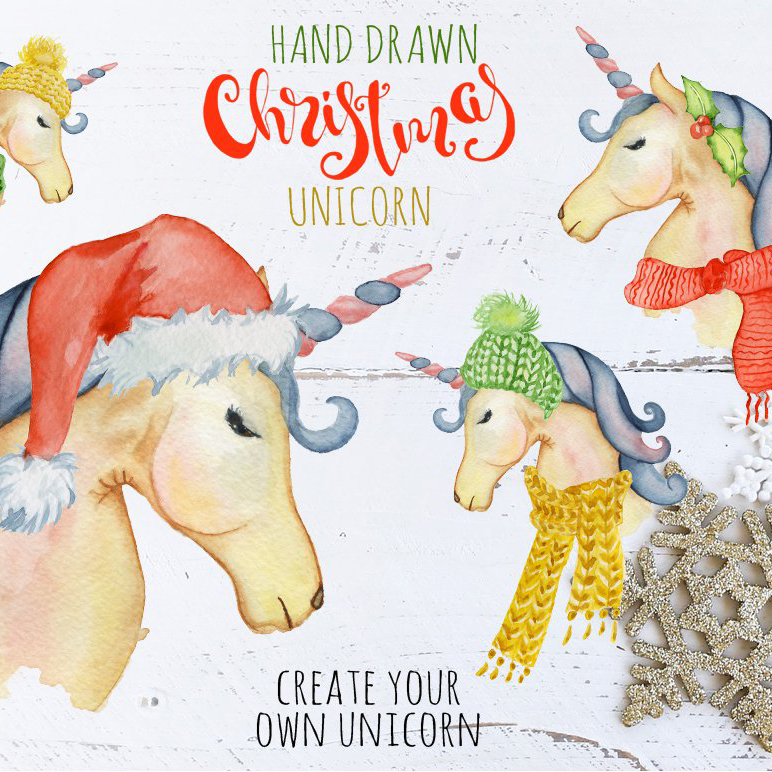 These are Watercolor hand drawn illustrations. Create your own unicorn bundle yourself. Here you will find his images. A fabulous animal in a hairpin and with a warm scarf, which means that winter has come. It's time to get ready for Christmas. A set of 8 individual elements and 21 Pre-made compositions in PNG format with transparent backgrounds will help you with this.
In addition, you will receive 1 PSD file with all elements each on it's own layer. This will allow page layout and create masterpieces. The unicorn is a wonderful symbol of fulfillment of desires. Make gift wrapping, postcard, envelope, invitation and other paper products in this style. Use a unicorn as a logo element. This will bring good luck and increase the conversion of the site where you post it. It looks like a great chance to develop many projects for a minimal amount of money.
---
Christmas Advent Calendar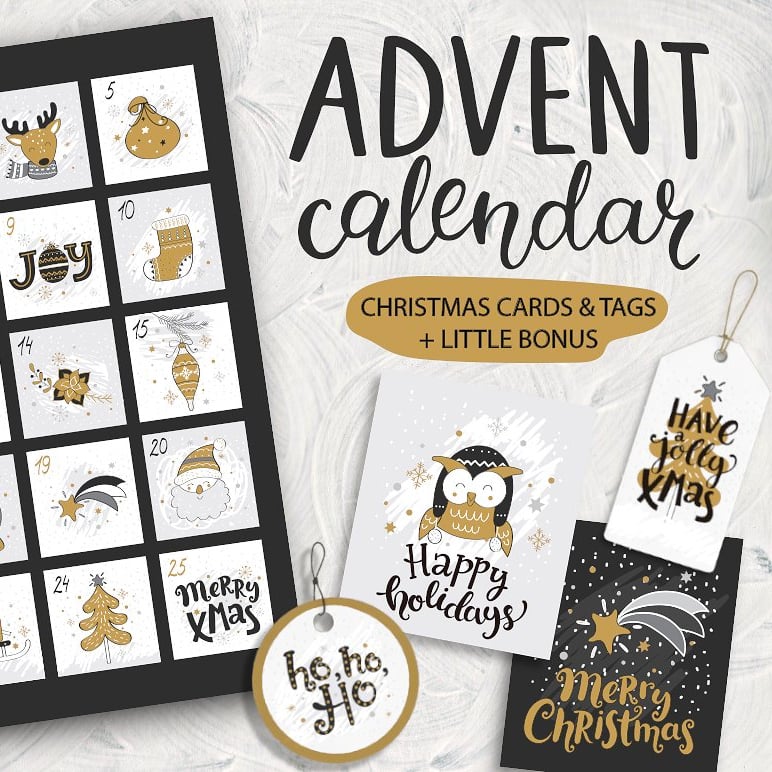 Now you can not be afraid to miss New Year or oversleep the new year. After all, you have this amazing Christmas calendar. You can mark each winter day with one of 12 pre-made cards in EPS, AI or JPG format. In addition, by combining them into one composition, you can print postcards and party invitations. Choose one of the 3 patterns and don't forget to pick a tag for it.
Here you will find illustrations with a deer, Santa Claus, mittens, Christmas trees, snowmen. The size of the pictures is 5000 × 5000 px and 300 dpi. But you can change it at your discretion. Design your calendar so you don't miss Christmas.
---
Christmas Happy Holiday PNG Watercolor Set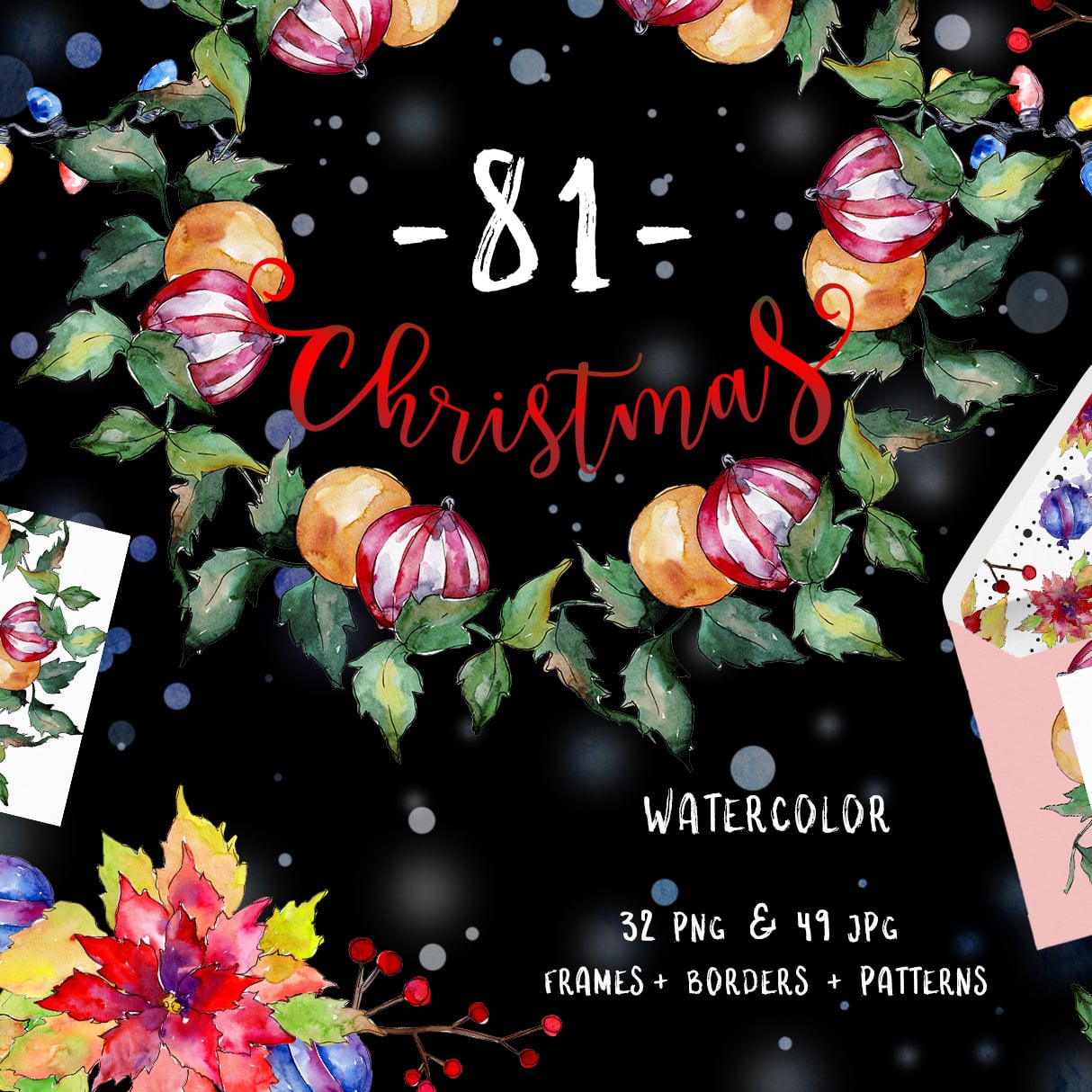 This bundle consists of various images on the theme of Christmas and New Year. You will get 32 ​​png and 49 jpg pictures. Among them are balls, garlands, flowers and poinsettia branches. Create an exclusive bundle using patterns. Print images on products and sell them. It can be paper cups, napkins, packaging design, cases for phones, pillowcases, duvet covers and other things.
All pictures are drawn by hand. You can compose them and create an original frame. Inside, put the inscription "Happy New Year!" and scatter red berries of viburnum or mountain ash around. Choose any background and now the card is ready. The bundle can be used to create a logo, flyers, poster. Decorate all the festive materials to emphasize the individual style and share the Christmas mood.
---
Christmas Photography: Amazing Holiday Photos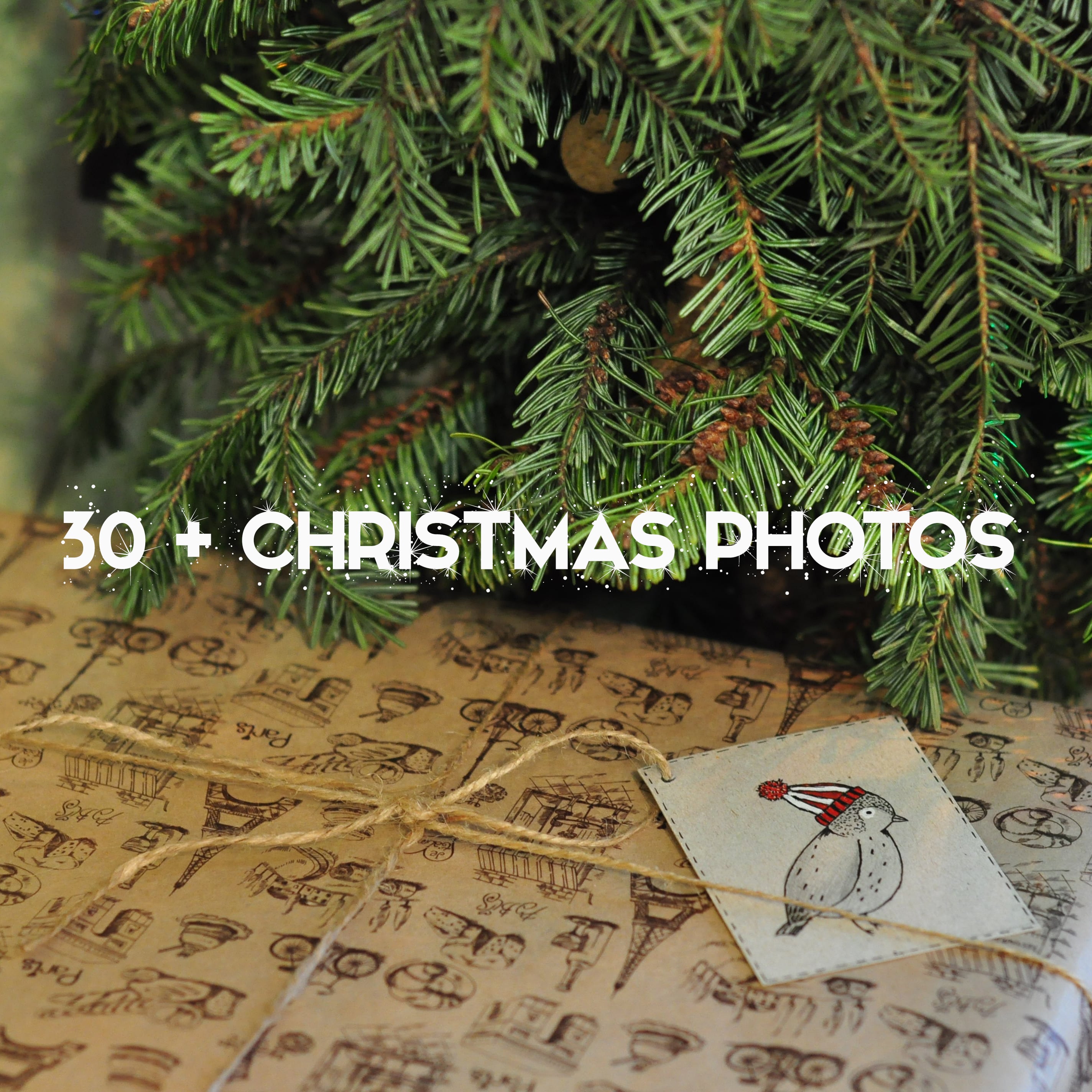 You have received more than 30 photos. Here you will see a spruce tree with a garland, a gift in a beautiful package, a label with a bird, a letter of congratulations. Decorate the tree with deer balls. Cut mittens from paper, make a garland and hang on the wall, put candles and enjoy the beautiful design of the room. Use pictures as a background for family photos. Design scrapbooking, posters, flyers and other public items to promote your product more efficiently.
There are pictures of animals here. This can strengthen customer confidence and expand the segment. Almost all people love cats and want to see Christmas.
---
Wrapping up
Now, it's your turn to speak up. What is more important for you: the price of a product, or its functionality? Would you prefer a free or a premium design resource (given that its price is reasonable)? Leave your comments below this post.